Description of the following video:
[Audio: Up-tempo rock music is heard throughout.]
[Video: A female student looks through clothing racks in Paw's Closet; occasionally, she holds something in front of herself and looks in the mirror.]
[Text appears in the upper-left corner: IUPUI Presents]
[Text appears along the bottom: Paw's Closet is free and open to any IUPUI student with a CrimsonCard.]
[Text appears: Students can select up to four garments and two accessories per visit.]
[Text appears: Located in Cavanaugh Hall, students can shop at Paw's Closet twice a month.]
[Video: The student looks at the jewelry section and chooses a bracelet.]
[Text appears: Paw's Closet offers business and casual clothing.]
[Video: The student walks toward the camera, carrying her finds and smiling. She looks at some more clothes on the way out.]
[Text appears: Strong response: Hundreds of students have used Paw's Closet and donations pour in every month.]
[Text appears: Paw's Closet hours are 10 a.m. to 1 p.m. Tuesdays and 3 to 7 p.m. Wednesdays; follow @iupuipawscloset]
[Video: A shot of the student's new clothes, a navy blazer and skirt plus the bracelet, followed by her wearing the new outfit.]
[Screen goes to black]
[Words appear: IUPUI, Fulfilling the promise, iupui.edu]
[End of transcript]
Like a fresh new suit, Paw's Closet has been a perfect fit for IUPUI students.
The outlet inside Cavanaugh Hall has serviced hundreds of students since its opening, with three-quarters of those registered as repeat customers looking for items to impress during that upcoming job interview. Paw's Closet also offers casual clothing for students in need of something to wear to class.
Erika Thomison, Paw's Closet chairwoman, said the benefits of Paw's Closet are becoming fashionable across campus. A recent "pop-up shop" event drew 130 students, and donations have poured in so much that clothes and accessories are now only accepted once a month. The next donation date is April 25. Donors can drop off items from noon to 3:30 p.m. in Room 310 of the Campus Center.
"It's been very successful," Thomison said. "Making that change from student to young professional can be expensive. We're happy to be here to help them get started."
Open to any IUPUI student with a CrimsonCard, Paw's Closet is open for shopping from 10 a.m. to 1 p.m. Tuesdays and from 3 to 7 p.m. Wednesdays. Appointments outside of those hours can be made by phone, 317-278-7166, or email, pcloset@iupui.edu. Summer hours – 10 a.m. to 2 p.m. Wednesdays – start May 8.
Menswear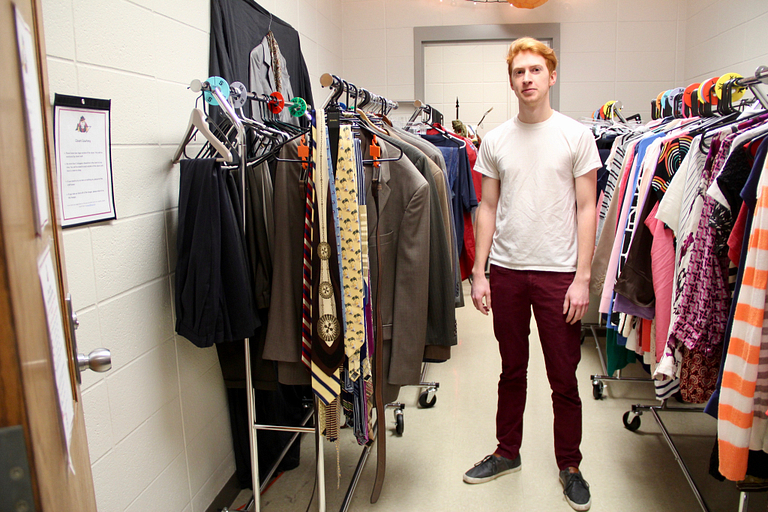 During Tuesday's hours, Matthew Marret, a Paw's Closet student volunteer and media arts and science senior, selected a button-down shirt, tan slacks and a brown leather belt for his spring business-casual look. Students are allowed four clothing items and two accessories per visit, and they can select items from Paw's Closet twice a month.
The most popular men's accessories are neckties and belts. Other men's clothing choices include suits, jeans and shoes.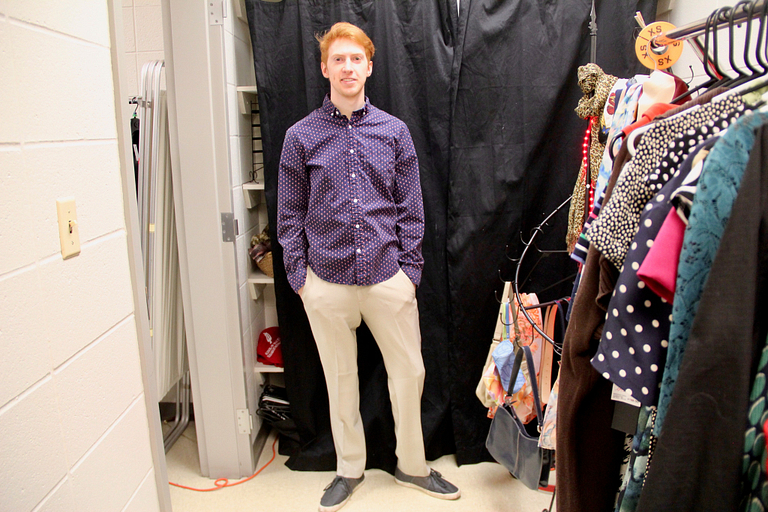 Womenswear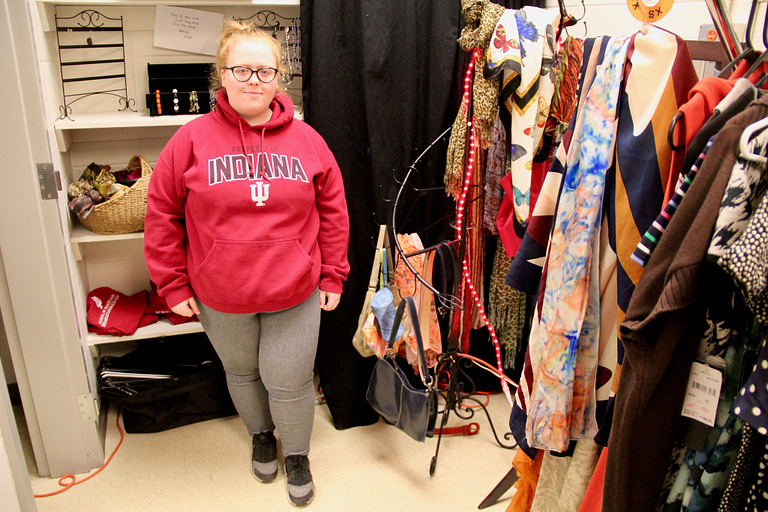 Annie Trimpe, a student volunteer and a sophomore studying psychology, selected a matching navy blue blazer and skirt combination with a chunky blue bracelet. Paw's Closet has a nice selection of jewelry to help make outfits pop. Unopened packages of pantyhose, new shoes and scarves are also available to complete the clothing selections.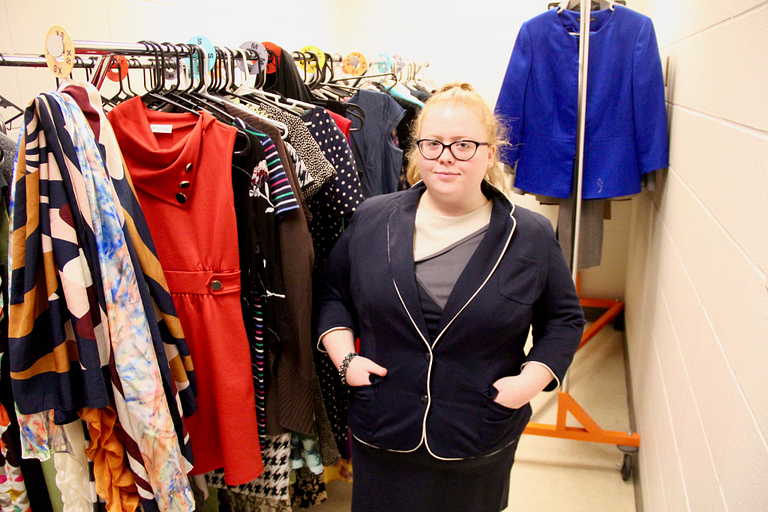 Pop-up shops
Paw's Closet often conducts pop-up shops on active parts of campus. Students also get to shop at these events. The next pop-up shop is set for 11 a.m. to 2 p.m. April 18 on the Campus Center's theater level.
Donation guidelines
All donations should be in good shape and be of current styles. Most clothing can be donated if gently used, but Paw's Closet will only accept new shoes, socks, earrings, and still-packaged stockings and undergarments.
Items that can't be utilized by Paw's Pantry are donated to the Barnes United Methodist Church.
Follow Paw's Closet on social media: