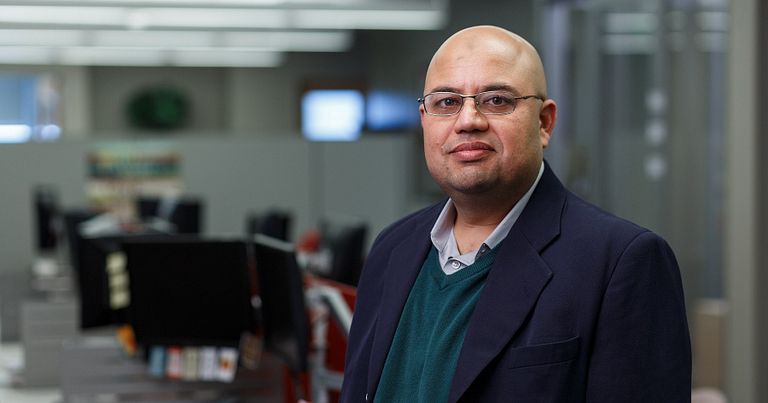 Shariq Siddiqui has been named as the inaugural director of the Muslim Philanthropy Initiative at the Indiana University Lilly Family School of Philanthropy at IUPUI, which will focus on understanding and helping to enhance Muslim philanthropy.
In addition to directing the initiative, Siddiqui will be an assistant professor in the school. He talked to IU Communications about the Muslim American community, how they give and how the Muslim Philanthropy Initiative will help Indianapolis.
Q: How quickly is the Muslim American community growing, both in numbers and as an active member of the nonprofit sector?
A: It's growing really fast. As a community, we have gone from nearly 1,200 mosques to over 2,100 mosques nationally. We are also seeing growth in nonprofits – we estimate that we have nearly 7,000 Muslim nonprofits nationwide.
Q: Generally speaking, do Muslim Americans give in a certain way or to certain areas?
A: The Lake Institute on Faith & Giving just funded a poll with the Institute for Social Policy and Understanding called the American Muslim Poll, and what we are finding are some really interesting things. American Muslims are very similar to most religious Americans in terms of commitment to social justice and poverty, but because they are a diasporic community, you'll see engagement outside of the U.S. as well.
The thing that I think is most remarkable is the timing of when they give. Muslim Americans probably give much more during the months of Ramadan. Most of us think of giving in December, because of tax reasons, but American Muslims tend to give more during these holy days.
Q: What work around this new initiative excites you the most?
A: We know very little, so it's uncharted territory. If you think about the American Muslim community, we're less than 1 percent of the population, but if you think about the scrutiny on American Muslims, it's much larger than 1 percent. So there's a great intensity of curiosity, an intensity of interest – who these people are, what they do, and how they engage in philanthropy and the nonprofit sector – from very little data. Answering those questions is what excites me the most.
Also, these organizations need a lot of help. Over the last year, we've trained 200 Muslim nonprofits, but as we put more intensity behind hiring a full-time person and so on, we should be able to have a greater impact. If you think about a sector with 7,000 nonprofits, it seems large, but if you think about the fact that in the last year, on a part-time level, we trained 200, imagine what we can do over the next five years.
The other interesting and exciting part is how there are people out there who want to raise money from American Muslims – the Red Cross, all these different organizations. We can provide training to them about how to raise money from an American Muslim population, how to engage with that community, how to involve them. So we're excited about the two-way relationship – one is to help strengthen the sector itself, and then the other is to think about the broader 1.4 million nonprofits that want to get engaged with the Muslim Americans but just don't know enough. We hope to provide them that education.
Q: How is that engagement different?
A: Ultimately, we're all Americans, but our histories inform our perspectives and how we act. The school broadly focuses on this range of diversity, equity and inclusion – how do we look at different populations, how can we figure out what is that other aspect of their lives and how do we bring that unique perspective to the table.
Q: How do you see your work benefiting Indianapolis?
A: There's a pretty significant Muslim population here – 15 mosques, four full-time Islamic schools and a great number of nonprofits. So right there, you have a community that's interested. We have an opportunity to do research, to do training and to recruit. We have already increased the number of Muslim students in our master's programs from that community.
There's also really strong interest from the Indianapolis nonprofit and philanthropic community to engage with Muslims. One example is the YMCA of Greater Indianapolis. A few years ago, its board decided they wanted to have greater diversity, equity and inclusion on their board, so they went out and recruited a Sikh member. Then they decided they needed to have a Muslim, and a few years ago they had me join the board. But they had to figure out who I was and how to find me.
We hope we can create those kinds of connections between the broader community here that wants to engage with Muslims.