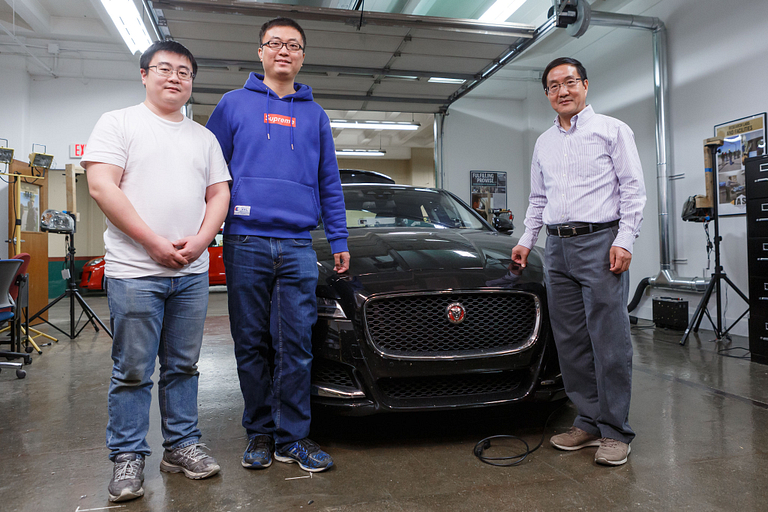 Autonomous vehicles are being tested on city streets. Car manufacturers are already adding automated features to their high-end models, but when will driverless cars become common? Whether it's years or decades, the safety measures for these cars are being developed and improved daily in the labs of Yaobin Chen, professor of electrical and computer engineering.
As part of the Transportation Active Safety Institute since 2006, Chen has been gathering data on driver behavior through his driving simulators on the IUPUI campus as well as his 6,000 square feet of space within The Stutz Business and Arts Center. It's there that he keeps a 2019 Lexus ES350 and a 2018 Jaguar XF modified with dozens of radar sensors and cameras trained to monitor objects, cyclists and pedestrians on the outside while logging the movements of the driver on the inside.
Chen and his team ride with drivers in these cars as they navigate downtown Indianapolis. Speed, weather, visibility, the route, and the driver's size and age are just some of the variables that are measured. This data is then analyzed in concert with carmakers around the world. Ford, Toyota, Audi, BMW, General Motors, Volkswagen and Volvo have funded various research projects led by Chen.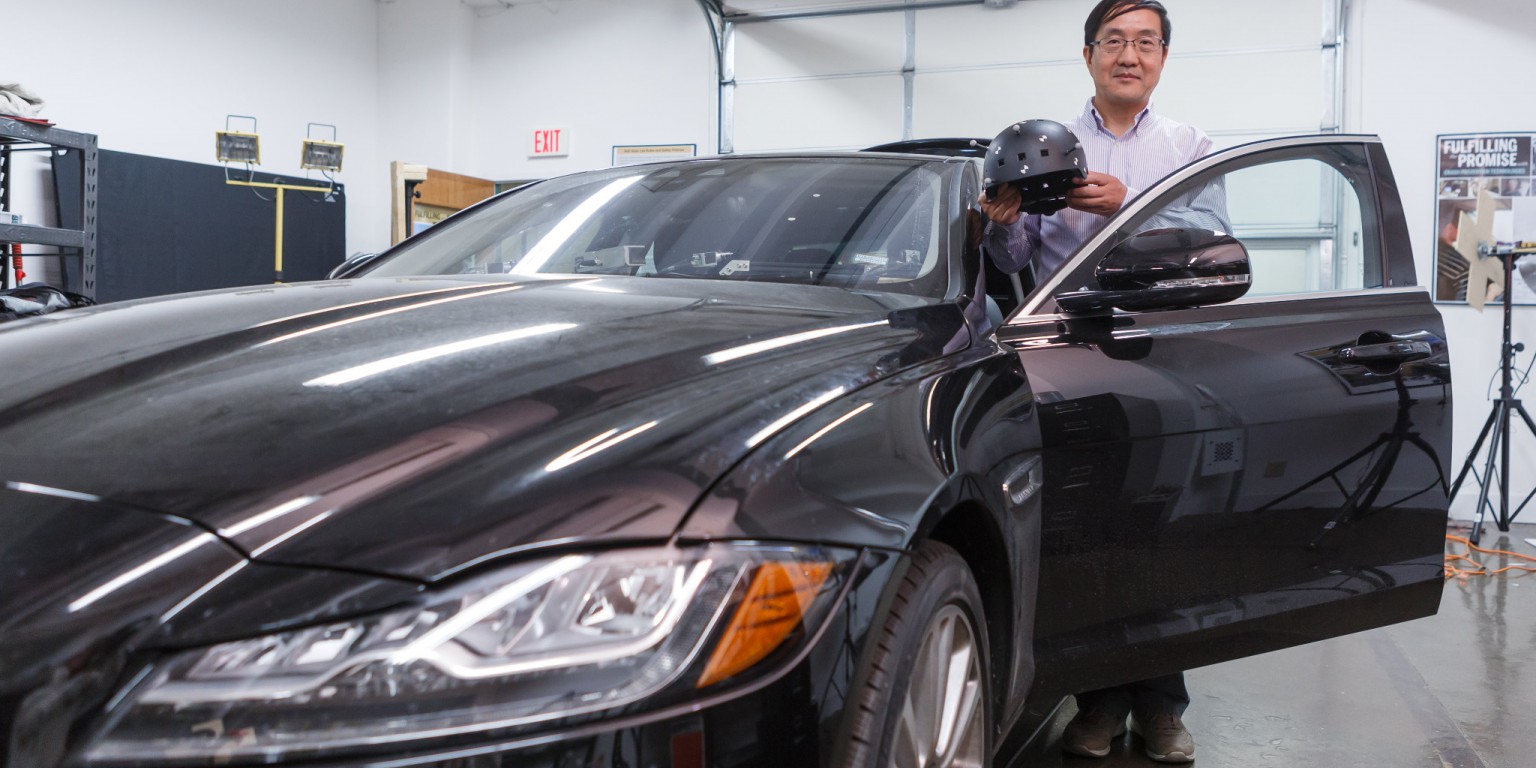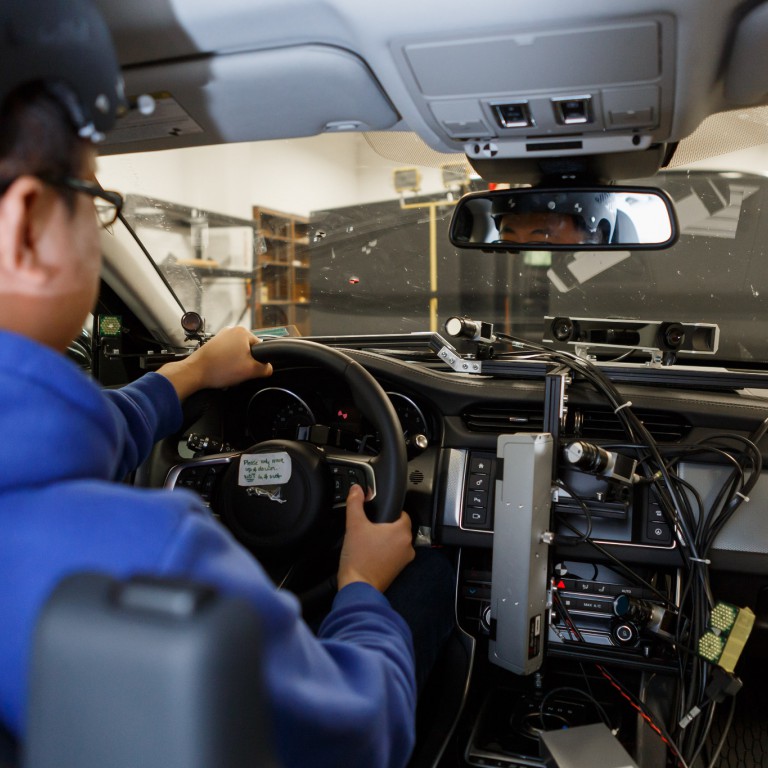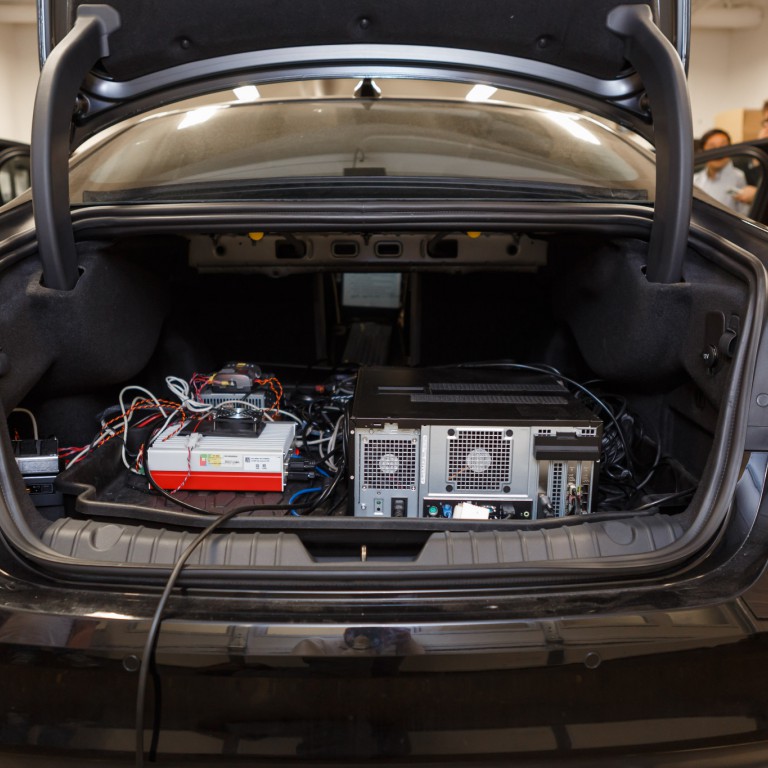 Photos by Liz Kaye, Indiana University
"One of the goals is to create standardized testing scenarios for vehicle testing," Chen explained, "to evaluate vehicle system performance with pedestrian detection, cyclist detection and autonomous emergency breaking systems. Eventually we collected about 100 terabytes of video data, vehicle data and other data."
This work has led to numerous breakthroughs that have made testing more efficient and precise for the carmakers. General Motors utilized some of Chen's research for its autonomous breaking systems in the 2019 Cadillac Super Cruise. Chen said the initial work for that project started in 2009. Audi (A8) and BMW (7 Series) implemented Chen's data into some of their 2018 models.
Current projects
In the Stutz building, Chen and his team are busy monitoring passenger behavior within autonomous vehicles. In a large Ford Transit-150 cargo van, four chairs swivel and move around the cabin to create different configurations and scenarios in which four passengers are traveling in an autonomous vehicle. The goal is to help Ford decide where to put safety features and what kind to use.
"Suppose we don't have drivers anymore, no steering wheels," Chen hypothesized. "Everyone is considered an occupant, but we still assume, theoretically, even a small probability of a crash. We have to assume there will be a crash, so we still need safety systems.
"There are no drivers, so the occupants want to enjoy all of the benefits they have. We assume they want to recline. We assume they want to talk to each other face to face, play cards, play games, eat. Right now, there is no regulation, but in case of an emergency, we need to look at how we can deploy safety systems like airbags."
Chen is also developing testing materials to simulate guardrails and concrete dividers that are commonly found on the sides and medians of highways. His lab utilized Google Earth data to process and pick the top five prominent objects and surfaces that a car could encounter if it were drifting off the road. This goal is to improve cars' autocorrection for a distracted or sleepy driver.
Using real guardrails and concrete dividers would damage the test car, so these pieces are made of foam and polycarbonate plastic before getting coated with a patented "skin" designed to be picked up better by car sensors and cameras.
Started with mannequin skin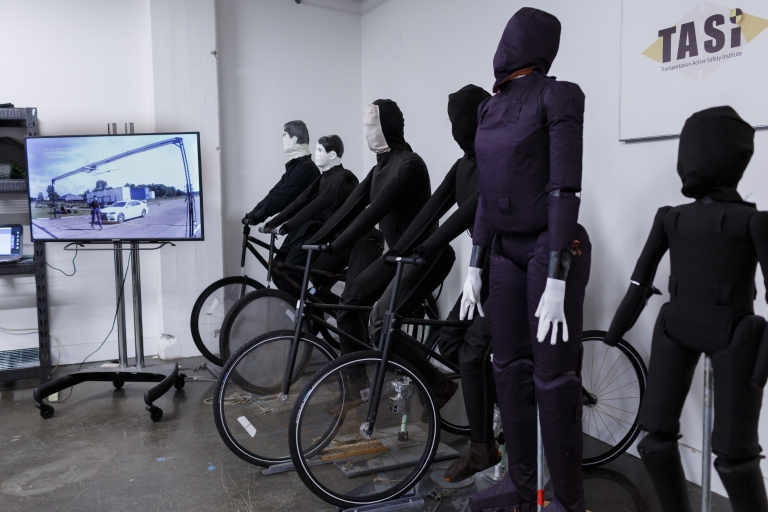 Chen invented the skin for test mannequins, which portray pedestrians and cyclists during field tests. Covering these figures in the skin allows radars to pick up human forms more precisely instead of blob-shaped objects. The skin is made of a thin metal, copper and fabric blend.
Driving around an airport
The mannequins are utilized during test drives at a decommissioned airport in Columbus, Indiana. On those old airstrips, vehicles encounter the mannequins "walking" or "cycling" along with the aid of a large rig. The cars record the action while plowing through the mannequins or braking before contact. The mannequins are designed to take a beating without damaging the car.
Stutz specs
Chen and his team occupy three spaces in the historic downtown Indianapolis building that once housed the Stutz Motor Company starting in 1911. Each space is about 2,000 square feet. It's not enough room to do a lot of driving, but that's what the airport test tracks are for. There are, however, exhaust pumps that equip the space for some driving inside. The space is vital for furthering Chen's research for safer driving, even without a driver.
"This is one of our expertise areas: human/machine interface," Chen said. "We don't know what's in the future, but we want to protect occupants as much as we can."