When their projects won the top prizes at the 2019 JagStart Student Idea Pitch Competition in April, master's degree candidate Radhika Ravindran and bachelor's degree candidates Samuel Kropp and Eli Hoopengarner joined a long list of IUPUI faculty, staff and students who have created, developed and commercialized innovative products and services.
This history began long before the campus was officially named IUPUI: Indiana University School of Dentistry researchers in Indianapolis created a patented formula in the 1950s that was commercialized as part of Crest toothpaste. Since then, IUPUI has seen the creation, development and commercialization of intellectual property in the fields of computing, engineering, life sciences, medicine, energy and more.
Student entrepreneurs
Undergraduate and graduate students like Ravindran, Kropp and Hoopengarner have participated in the JagStart competition since it was launched in 2012. Its focus has changed over time, sometimes acting as a business pitch competition, but each year it has showcased ideas from students across all IUPUI schools as well as those studying at IUPUC. Winning ideas have been as varied as Ravindran's Kibo technology to make reading books more engaging, technology that gives the user sensations similar to reading raised dots as in Braille and an app that encourages people to moderate their smartphone usage.
Students own their IP, and some commercialize their work by launching startup companies. Brandon Boynton and Zachary Balda launched their company, Vemity, as a business-to-business enterprise that offers artificial intelligence as a service to help clients leverage data they collect. Earlier in 2019, the company was purchased by Indianapolis-based Rover 180.
Faculty and staff entrepreneurs
IUPUI faculty and staff have also successfully commercialized their IP through the years. Perhaps the best-known example is Ali Jafari of the School of Engineering and Technology, who founded Angel Learning Inc. and CourseNetworking. The former was purchased for $100 million in 2009 by Blackboard Inc.; the latter is partially owned by the university.
Other recent examples of faculty and staff becoming entrepreneurs include:
Kevin Berkopes launched Crossroads Education, an education and logistics technology company, while working at the School of Science. Berkopes now works full-time at the company, which recently received a $750,000 grant from the Bill and Melinda Gates Foundation to incorporate its Learning Commons at four schools in Indianapolis.
Chauncey Frend of the Advanced Visualization Lab launched CyUtil LLC to commercialize a system called cy.PIPES, or Programmable Immersive Peripheral Environmental System. It allows developers to synchronize tools that provide immersive environmental conditions – like fans that create wind or lamps that create heat – with the visuals and sounds of their virtual reality or augmented reality system.
Terry Loghmani of the School of Health & Human Sciences and Sohel Anwar and Stanley Chien of the School of Engineering and Technology co-founded Health Smart Technologies Inc. The medical device startup's force-sensing instrument system quantifies the forces applied during manual therapy.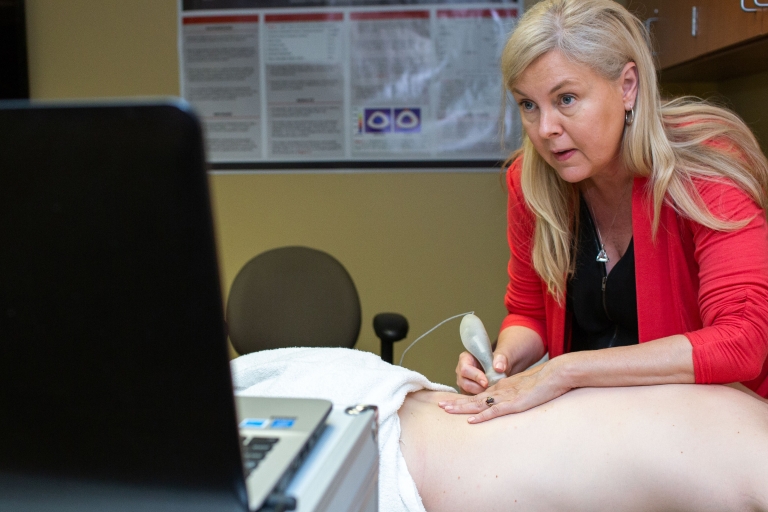 University support
As IUPUI faculty and staff develop their inventions, they have access to several resources to protect IP, market and license it, and even commercialize it as the basis for their own startup.
The IU Innovation and Commercialization Office is tasked with the protection and commercialization of technology emanating from innovation by researchers at all IU campuses and academic centers. The process of protecting, marketing and licensing IP begins when researchers disclose innovations either through a newly launched online system or by downloading a form from the Office of the Vice President for Research website. In the 2017-18 fiscal year, the office received 171 invention disclosures, completed 46 licensing agreements, earned $3.4 million in licensing and royalty revenue, and received 141 patents granted by the U.S. Patent and Trademark Office and global organizations.
The IU Research and Technology Corp. catalyzes entrepreneurial activities at the university and provides support for IU innovation-based startup companies. Recently, it launched The Quarry to leverage university assets and to identify mentors, commercialization partners and customers at partner sites like Dimension Mill in Bloomington, the IoT Lab in Fishers, Union 525 in Indianapolis and WestGate@Crane Technology Park in Odon.
IURTC personnel also manage the $15 million IU Philanthropic Venture Fund, which invests in IU-related ventures. It was originally envisioned in the Bicentennial Strategic Plan as part of the university's continuing efforts to contribute to the economic vitality of the state. Since being launched in 2018, the fund has invested $3.1 million in 10 companies. Those companies have raised almost $23 million in syndicated rounds of funding.
From before IUPUI became a school through its first 50 years, student- and faculty-led innovation has been a tradition on campus. With university resources available to support and encourage the work, the tradition is bound to grow stronger during the next 50 years and beyond.