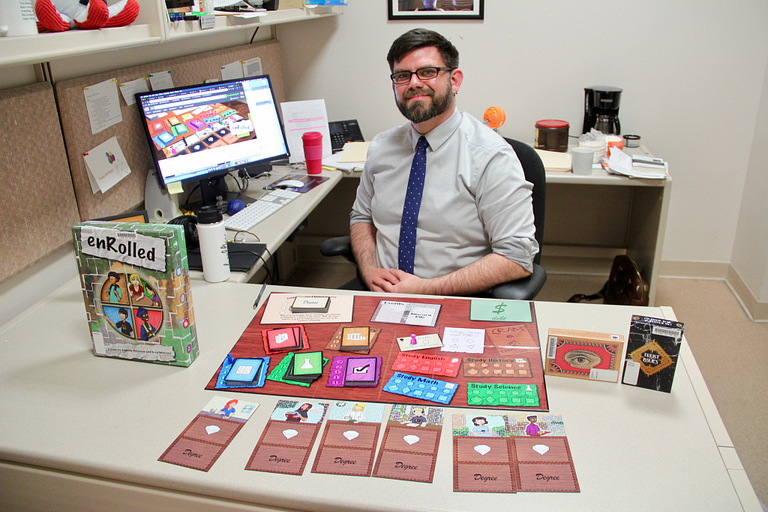 Since childhood, Gary Maixner has been a design-it-yourself guy. He's also the guy who actually reads a board game's instructions while the other players devour snacks and adult beverages during game night.
The web developer specializing in digital user exchange and accessibility for the IUPUI Center for Digital Scholarship has three published tabletop games on the market, but it all started out of necessity decades ago.
"My sister and I rented a book about Pokemon from the library, and we made our own Pokemon cards. We drew them up very crudely and played," Maixner recalled. "I was really interested in video games but didn't have access to any until middle school, so I would play Sim City in a notebook. Every day, I would come up with an event that happened in the 'city.' I was replicating it."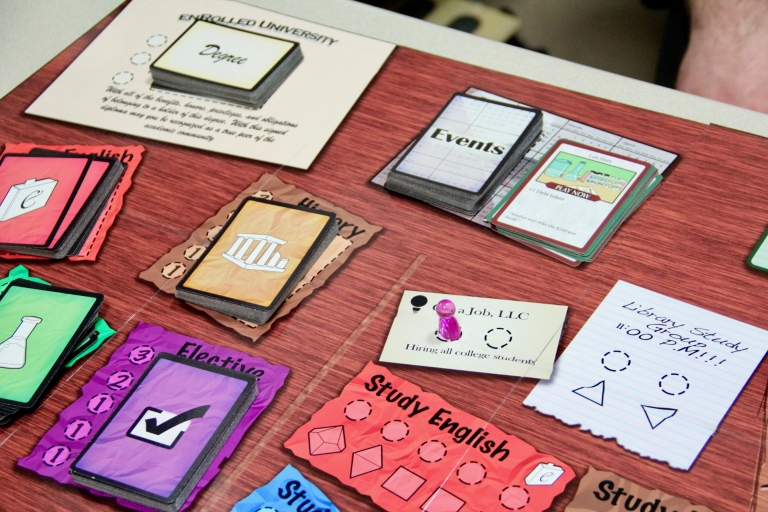 Maixner still draws the artwork for his games by hand before scanning it into Photoshop. While his knack for gaming, design and art has always been with him, it wasn't until the last handful of years that he decided to take the plunge and put his ideas on the market, primarily through The Game Crafter. The website sells his games, but it also helps independent game designers choose paper stock, sizes of cards and other vital details for their games.
Created under the company name Wunderkind Games, Maixner's three games are two card games, Search&Destroy and Trust Issues, and enRolled, a classic board game with cards and dice. The trio are aimed at students navigating research, libraries and college life.
While Maixner's gaming interests are across the board, the student-focused academic nature of his games has been implemented in hundreds of classrooms around the world. The three games are also available for rental in University Library's Pop Shop.
Saved Ferris undergrads – from boredom
Maixner's first game, Search&Destroy, was created to add a little more interest in his library science presentations at Ferris State University in Michigan. A session on citations was met with blank stares from the undergraduates in his classroom.
"Teaching citations is awful. Students don't like it; no one likes it," Maixner said. "I went home to see if I could make an activity or a game or something. That kicked off thinking about it, and my colleague Mari Kermit-Canfield, the creative learning librarian at Ferris, approached me to make Search&Destroy. We just worked on putting this together in the classroom, and we've sold about 300 copies, including some in China and Qatar. We've presented it at international conferences."
The goal of Search&Destroy is to teach students how to search in library databases. To win, you have to be the last person to still have results on your search.
Maixner co-taught Introduction to Game Design through Ferris State's digital animation gaming program. To put more emphasis on game rules and play instead of just rendering graphics, he brought board game design into the program's curriculum, which required less technology but put more emphasis on making rules explicit. Things have to make sense, even if the zombies you're blasting on your Xbox look impressive.
Bringing his game to the home of Gen Con
Before starting at IUPUI in July 2018, Maixner was well-versed about Indianapolis thanks to Gen Con, the largest tabletop-game convention in North America by both attendance and number of events. He's worked the convention's Trade Day and has shared his game-development experience at panel discussions.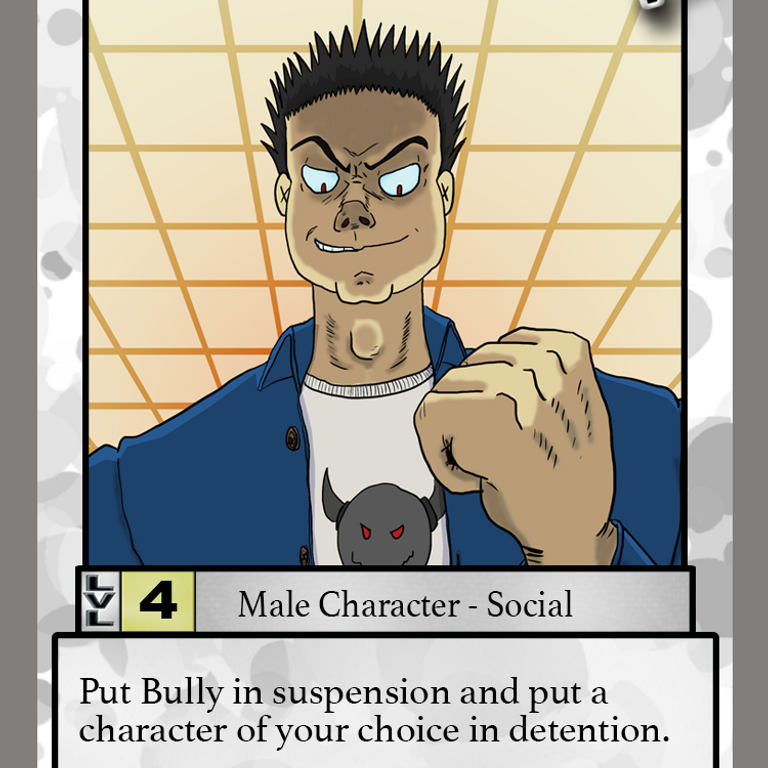 While working on improving the user experience and accessibility of IUPUI's digital landscape, Maixner hit a gaming groove. He released Trust Issues, a game that helps students snuff out fake news and hone their research skills. He then provided the artwork of his former Ferris colleague Andrew Peterson's dissertation project, enRolled. The board game is designed to help first-year college students navigate campus life.
"You have to decide what classes to enroll in," Maixner explained. "Then, using your character's traits, you have to decide how much you're going to study in each class in order to pass."
Maixner's current project is a collaborative effort with game designer Matt Smith. The game, Schooled, will be a Magic the Gathering-style card game aimed at high school students about the "characters" they encounter through a day – the bully, the grammar police and homework-eating dogs.
More important than maximum hit points
For generations, board games provided rainy-day entertainment for most households, but in recent years, tabletop game sales have been soaring. According to the market research firm NPD Group, board game sales in the U.S. grew by 28 percent in 2016, with global sales reaching $9.6 billion. Board game cafes, bars and restaurants have popped up in cities big and small. How is this possible in a supposed digital world? Maixner has theories.
"It fills a social need," he said. "I think about this a lot. As we've gotten more leisure time as a society and have been able to automate so many things, we've offset our relationships with people. But we still need this one-on-one, face-someone-across-the-table interaction.
"It's easy to go out and meet people, but we choose not to. Games give people a good excuse to get together."