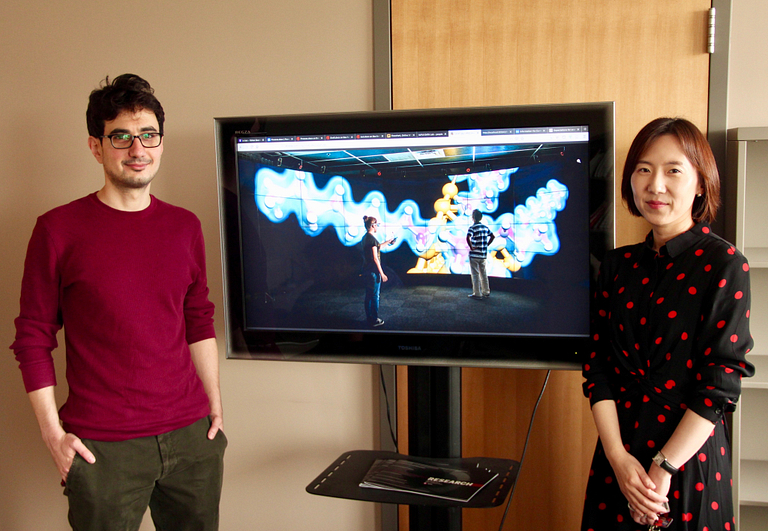 To unify its departments and accelerate research projects, the School of Informatics and Computing launched the Data to Action Lab in the fall.
The lab is located on the fifth floor of the Informatics and Communications Technology Complex, but most of the work and collaboration are done virtually. The lab's eight faculty researchers and about a dozen students use computer clusters to share data and ideas. It's an interdisciplinary research group with a mission to study the impact of data practices.
"Our first goal is to promote internal collaborations between our faculty and beyond at IUPUI," said Ayoung Yoon, Data to Action Lab director and assistant professor of library and information science. "A collaborative approach to studying data will make data more powerful, more reusable, more accessible."
All departments represented
The School of Informatics and Computing consists of three departments: library and information science, human-centered computing, and biohealth informatics. All are represented in the Data to Action Lab, which is already creating interesting collaborations. With the lab's roster of researchers, data can be visualized, scrutinized and ethically utilized through proper curation practices.
"I'm studying data curation, which addresses the entire data life cycle through active, ongoing management and preservation of data," Yoon said. "But other faculty in this lab do research on analytics, data mining and machine learning. We also have faculty who look at data as a sociotechnical construct due to their expertise in ethics, policy and STEM education."
Data life cycle
The lab specializes in handling data from creation to description, access, processing, visualization, preservation and eventual reuse. All components must be considered for data to realize its full potential, Yoon said.
The physical space
The Data to Action Lab's physical space consists of six tables, a desktop computer and not much else – yet. The space is mostly used for meetings, and the students and faculty bring their laptops to work or present their findings by connecting to a large flat-screen TV. The lab holds monthly meetings with affiliated faculty to discuss research, future collaboration opportunities and events.
Future goal
Inspired by her research on human use of data to fuel life choices, Yoon hopes the Data to Action Lab will become a conduit for not only IUPUI researchers but also the community. The civic service would help citizens with better accessing and understanding big data. Yoon foresees the lab's students engaging with the community or with organizations that work with the community to help Indianapolis residents become better data users.
Events
The lab brought in two guest researchers to share their expertise earlier this semester. Melissa Cragin, executive director of the Midwest Big Data Hub based at the National Center for Supercomputing Applications at the University of Illinois, gave her viewpoints on the national research data landscape. The lab's first speaker was Tanya Berger-Wolf, a professor of computer science at the University of Illinois-Chicago. She spoke on how wildlife photographs could be used as data points to combat extinction.
The Data to Action Lab will continue to welcome guest speakers at various IUPUI venues.