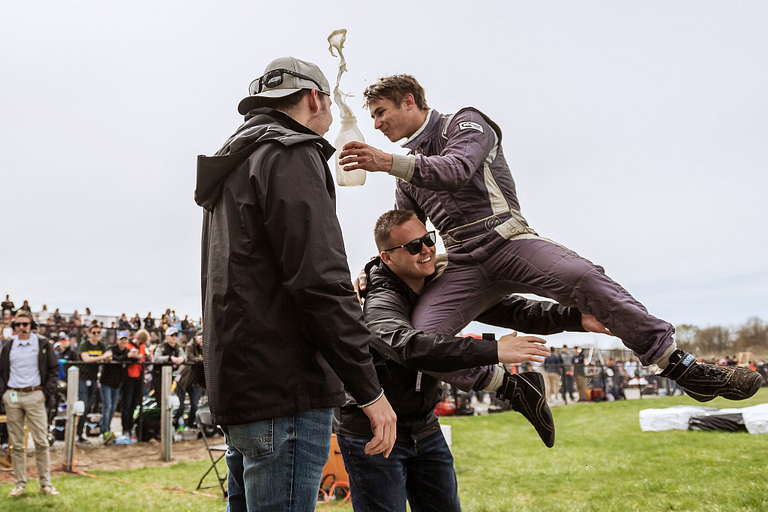 Brenden Johnson had seen just about everything at the Purdue Grand Prix, from two runner-up finishes to a first-lap crash after winning the pole.
All that was left for the senior was to win. No pressure, right?
"I felt that on my shoulders," said Johnson, a motorsports engineering major in the Purdue School of Engineering and Technology at IUPUI. "At the end of the day, I needed to have fun and enjoy my last run at it."
Check and check, as Johnson won the 62nd annual event in West Lafayette by nearly a full lap over the field in the IUPUI Team 2 entry. Abby Willis of the all-female IUPUI Society of Women Engineers team finished fifth, and 2017 winner Jared Thomas finished sixth for IUPUI Team 1.
Johnson and his team qualified fourth, focusing more on race pace than top-end speed. That, combined with a smart drive, proved dominant over the 160 laps.
"I don't think I had contact with a single kart, which is unlike the last three years," Johnson said. "Using my head, and all that good stuff."
The heady work in the cockpit included nursing the kart through the last 30 laps when Johnson felt a front tire issue, but he was well enough in front to keep away any potential challengers.
Seven students comprise each team, and the IUPUI Motorsports Club has been working with two karts bought before the 2017 race. Johnson said other teams have larger budgets and buy more tires, engines and accessories, but clearly that doesn't always translate into wins.
IUPUI has six wins overall in the event, with the School of Engineering and Technology owning five of those.
"It's just the people that we have, the preparation that we get from everybody, the dedication," said Johnson, who will go to work for Ford Performance in Michigan after graduation next month. "It's really a group effort."