Five years ago, Jackie Stephens rolled over in bed and felt a horrible pain in her right breast.
A subsequent mammogram revealed a large lump in her right breast and two smaller ones. Her diagnosis: triple negative breast cancer.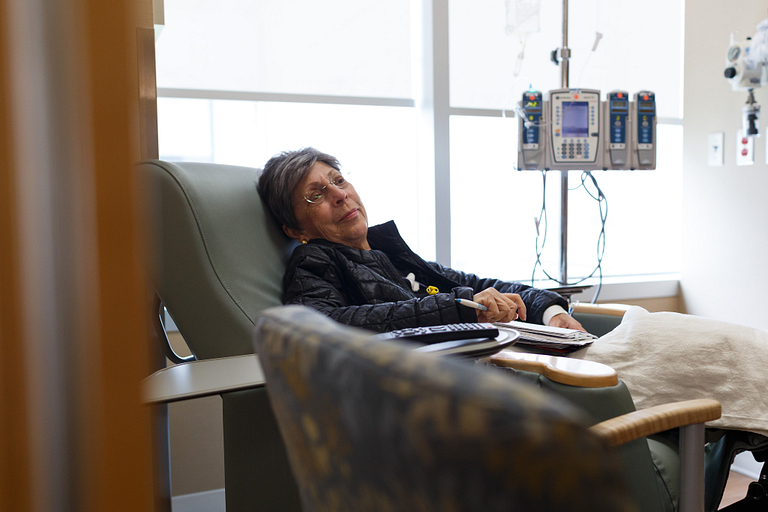 Stephens' oncologist prescribed a treatment regimen of chemotherapy, a lumpectomy and radiation. When her treatment was finished in July 2015, she believed she was done with cancer forever.
But two short years later, nearly to the day, the 68-year-old woman from South Bend, Indiana, rolled over in bed and experienced the exact pain, in the same spot.
Her triple negative breast cancer was back. And she was devastated.
"It was the fear of the chemo, the fear of losing all of my hair. It was all distressing to me," Stephens said through tears. "When I look in the mirror I feel like a cancer victim. I don't like feeling like a cancer victim. I don't like people staring at me and looking at me and feeling sorry for me. I don't even like talking about it. I'm not that kind of person."
The treatment regimen began again. When the cancer didn't respond to two chemotherapies in combination, a third chemotherapy was added: Adriamycin, known as the "red devil," because of its red color and toxic side effects, including hair loss.
When that treatment failed, Stephens' doctors ordered a right breast mastectomy, including removal of all right and left breast lymph nodes, where the cancer had jumped. After surgery, doctors tried a barrage of treatments, including yet another chemotherapy.
Then a body scan at the end of 2018 revealed that Stephens' cancer had spread to her liver.
That's when Stephens' longtime friend, Spike Abernethy, and Dr. Bilal Ansari contacted friends at the IU School of Medicine and asked if anything could be done. Stephens had introduced Abernethy to his wife, Anne, who'd died five years earlier from triple negative breast cancer.
It was during Anne Abernethy's battle against the disease that the couple became both friends with and donors to Milan Radovich and his laboratory directors, Jeffrey Solzak and Brad Hancock, at the Indiana University School of Medicine.
Radovich and his colleague, Dr. Bryan Schneider, are co-leaders of the IU Precision Health Grand Challenge initiative, which is focused on finding the first targeted treatment for triple negative breast cancer and eventually a cure.
Stephens and her husband, Phil Krause, traveled to Indianapolis to meet Radovich and Schneider. There they learned about the "Whac-A-Mole" study, a precision guided drug combination approach to treating triple negative breast cancer inspired by the arcade game of the same name. In the game, a player attempts to whack at a mole by anticipating where it will pop up next. The principle, when applied to Radovich's research, is to determine an effective drug combination based on how a breast cancer might respond to an initial treatment.
Stephens met the criteria and was included in the clinical trial, led by Radovich and Dr. Kathy Miller, officially called "An Initial Safety Study of Gedatolisib plus PTK7-ADC for Metastatic Triple-negative Breast Cancer."
Six weeks into the trial, Stephens experienced 52 percent tumor shrinkage, and a second set of scans revealed further improvement. Solzak is continuing precision health research into understanding why Stephens' tumor is having such a dramatic response.
"I prayed to Anne (Abernethy) that night, thanking her for the response," Stephens said.
She plans to stay on treatment until it quits working or until the cancer grows again. Radovich and his colleagues are prepared to continue using precision medicine with two additional backup options, just in case.
This clinical trial would not have been possible without the Precision Health Initiative and the support of many additional groups, including 100 Voices of Hope, Catherine Peachey Fund, Vera Bradley Foundation for Breast Cancer and the Breast Cancer Research Fund.
Christine Drury is associate director of research communications with the IU School of Medicine.
More updates on IU's Grand Challenge initiatives