BLOOMINGTON, Ind. – Indiana University has appointed Siân Mooney as dean of the Paul H. O'Neill School of Public and Environmental Affairs, pending formal approval by the IU Board of Trustees at its June 13-14 meeting.
The O'Neill School is a top-ranked school with 140 full-time faculty serving more than 4,000 students on two campuses in Bloomington and Indianapolis. The proposed appointment will officially begin Aug. 1.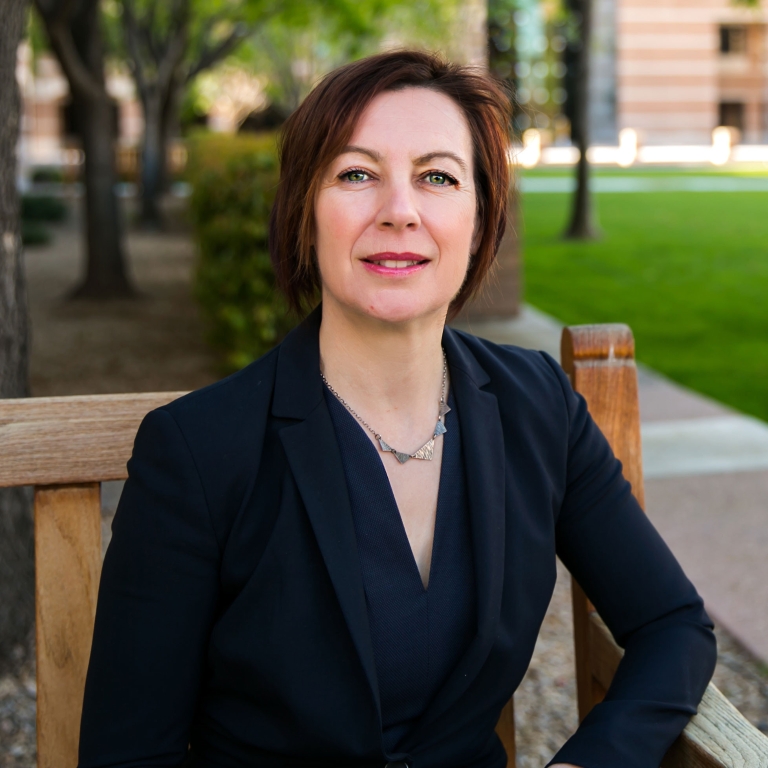 "The O'Neill School's great strength is its unique ability to support science in service to society," Mooney said. "The school has world-class faculty in public policy and the social and environmental sciences, helping to solve some of the most pressing problems currently facing the world. The O'Neill School's alumni have a long record of leadership and accomplishments, creating and implementing public policies that make a positive difference for Indiana and beyond."
Mooney, who is currently Arizona State University's associate dean for interdisciplinary programs and initiatives at the Watts College of Public Service and Community Solutions and a professor in its School of Public Affairs, will replace John D. Graham, who is stepping down after 11 years as dean of the O'Neill School to return to teaching and research. Graham plans to work on a book about the automotive industry and serve the public affairs profession as part of such groups as the Environmental Protection Agency's Science Advisory Board.
"Dean Mooney has the vision and experience to advance the O'Neill School's global reputation for excellence," IU Bloomington Provost and Executive Vice President Lauren Robel said. "Her proven ability to foster interdisciplinary research and strong administrative experiences are a perfect fit for this extraordinary and path-breaking school."
In 2018, U.S. News and World Report named the O'Neill School's public affairs graduate program first in the nation. The school brings together nonprofit management, environmental science and policy analysis, focusing on governing, managing and leading.
At Arizona State, Mooney directs graduate-degree programs, oversees curriculum and facilitates the creation of new academic programs across Watts College, as well as coordinating international programs. Her work as an economist has focused on water use in the western U.S., climate change and endangered species, securing more than $4 million in external grant funding to research the use of natural resources and the environment. She is particularly interested in the incentives scientists face to address complex problems as part of multidisciplinary teams and the role of science information in decision-making.
"The world is becoming a smaller place as we become more interconnected," she said. "Our students have to be adept at working in multicultural settings. An international experience, or working in local communities different from those they grew up in, broadens their horizons and expands their ability to see the world from different perspectives."
Before going to Arizona State in 2015, Mooney previously held positions at Montana State University, University of Wyoming, Boise State University and the National Science Foundation. She received a Ph.D. in agricultural and resource economics from Oregon State University, an M.Sc. in agricultural economics and farm management from the University of Manitoba, Canada, and a B.Sc. with honors in agricultural economics from the University College of Wales-Aberystwyth. She has published nearly 100 articles, reports and other manuscripts.
Mooney spent three years in Washington, D.C., as program director at the NSF, where she managed multidisciplinary project awards representing an investment of about $140 million. She was a lead scientist on a $15 million award addressing water and climate change, with responsibility for budget, compliance, reporting and accountability, and research direction and progress.
Her research has focused on topics including the design of economic incentives and contracts for carbon sequestration, drought management, endangered species protection, and erosion control and water quality protection in sub-Saharan Africa. She has received funding from the NSF, U.S. Agency for International Development, Department of Energy, Department of Agriculture and Environmental Protection Agency, among others.
About the O'Neill School
The Paul H. O'Neill School of Public and Environmental Affairs at Indiana University is a professional school with 140 full-time faculty serving more than 4,000 students on two campuses in Bloomington and Indianapolis. Founded in 1972, the school was the first in the nation to combine public policy, management and administration with environmental science. The O'Neill School provides international scope, influential research and focused opportunities for students to pair a comprehensive foundation of knowledge with hands-on experience in the field. Its more than 34,000 alumni work in the public, private and nonprofit sectors around the world.