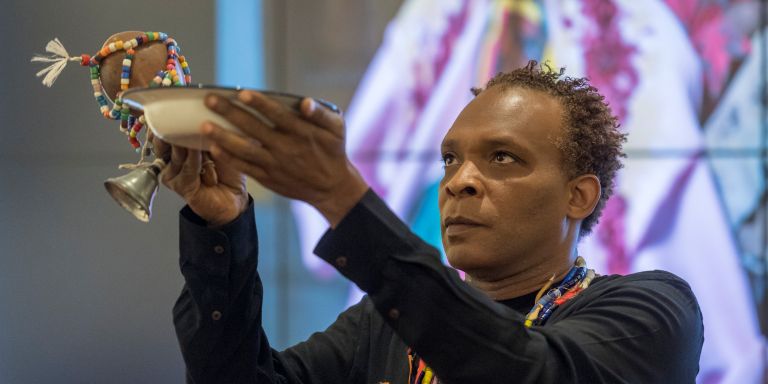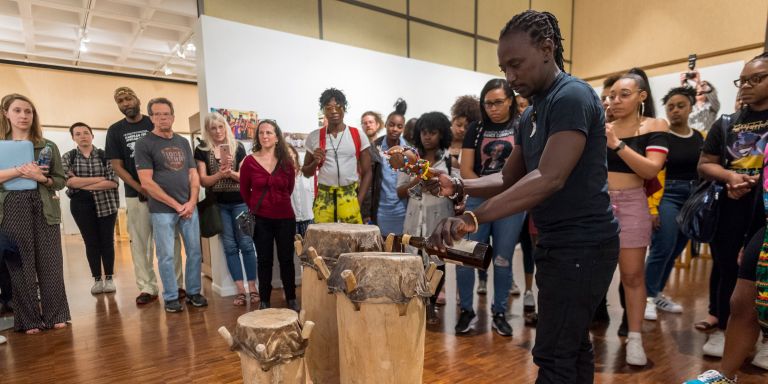 Photos by Alex Kumar, Indiana University
In Haiti, deforestation and climate change threaten the physical and spiritual life of the population, as extreme weather accelerates the loss of trees that are a source material for the tanbou, a sacred Vodou drum.
"On the Global Climate Risk Index for 2018, Haiti was ranked as the most vulnerable nation in the world to the effects of extreme weather events related to climate change," said Rebecca Dirksen, assistant professor of folklore and ethnomusicology at Indiana University, who has spent many years living and studying in Haiti and maintains a residence there with Haitian family and friends.
The loss of Haiti's trees is a threat to a central part of Haitian culture. The wood is used to construct the shell of the drums, which embody the intersection of humanity, the divine and the environment in sacred and religious practices of Vodou.
"In Haitian Vodou belief systems, both trees and drums host spirits who are guardians of the earth and portals between human beings and the universe," Dirksen said.
The rhythm of the tanbou recently reverberated through the Mathers Museum of World Cultures at IU when a "Celebration of Drums" opened an exhibition of the Haitian drums made by Charles Charlesine, master drummaker of the Artibonite region of Haiti.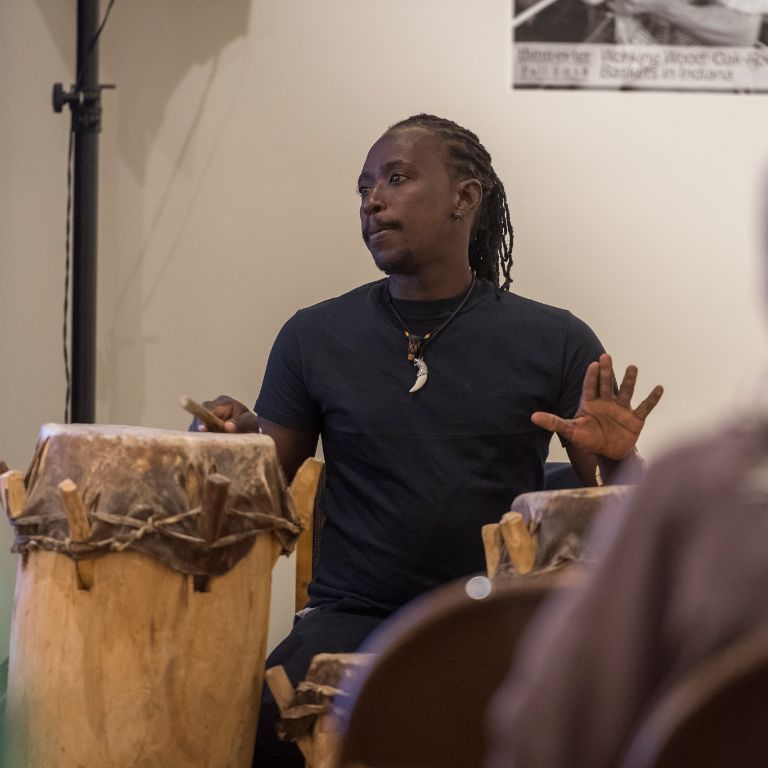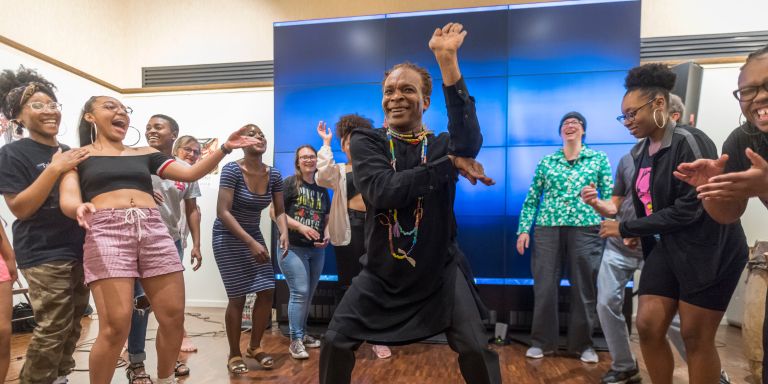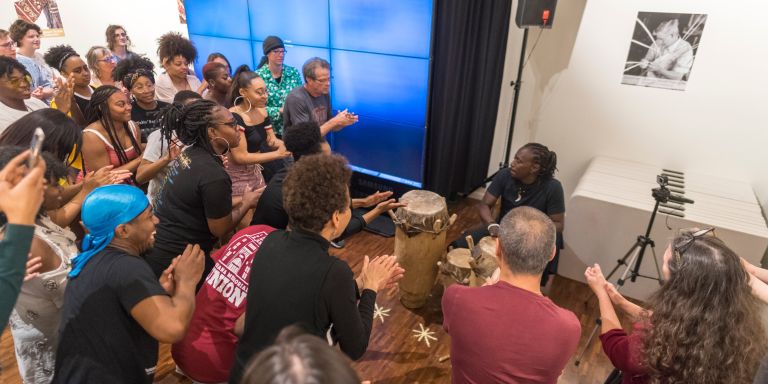 Photos by Alex Kumar, Indiana University
The interactive performance was led by Erol Josué, an internationally renowned vocalist, dancer and recording artist with an active touring schedule around the world. Josué is also a Vodou priest, as well as the director of the Bureau National d'Ethnologie in Haiti, and he ritually blessed the sacred drums on display at the museum. The performance also featured meditative solos by Beauvois Anilus, a master drummer whose visit to Bloomington was his first experience with international travel.
"Not two weeks prior to Erol Josué's visit, Mr. Charlesine sadly passed away," Dirksen said. "He was in his late 80s. This event therefore became a lively memorial, as we had the entire audience up singing and dancing, including impromptu and much-welcomed participation from the entire IU African American Dance Company."
Josué and Anilus brought the audience at the celebration to their feet, leading them through the museum and in a circle for an immersive experience with Haitian culture. The participants also had an opportunity to enjoy the "Sacred Drums, Sacred Trees: Haiti's Changing Climate" exhibition featuring photography by Haitian filmmaker Kendy Vérilus and curated by Dirksen. The exhibition will be on display at the Mathers Museum through Dec. 22.
"My greatest hopes are that visitors to the exhibition will come away with enhanced appreciation for the sacred interactions between people and their environment," Dirksen said. "My aim is to help demystify Haiti as a place and Vodou as a metaphysical worldview, and to help people see the beauty of these drums – in terms of Charlesine's exquisite craftsmanship, but also in that these instruments are made from materials from the natural world and are used to bring about communion with the spiritual forces."