BLOOMINGTON, Ind. – Indiana University President Michael A. McRobbie has issued a statement about the internationally renowned architect of the IU Sidney and Lois Eskenazi Museum of Art, I.M. Pei, who died Thursday at age 102.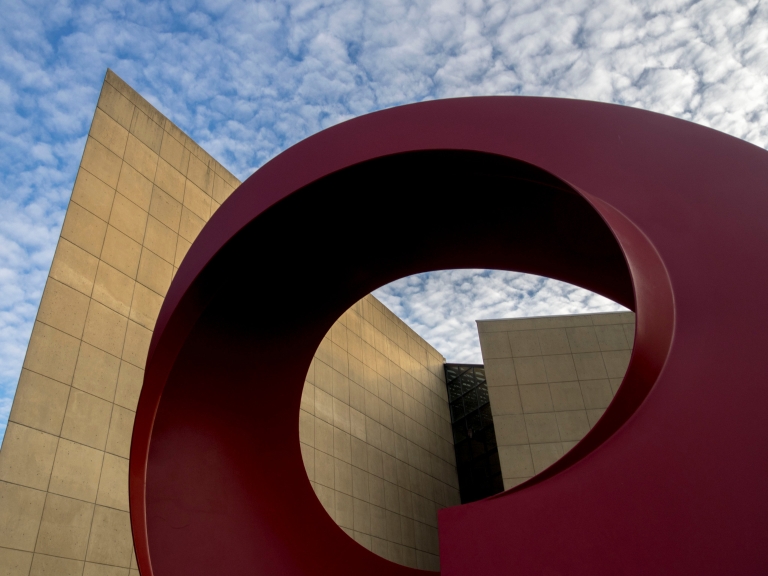 Pei's landmark buildings included the glass pyramid outside the Louvre Museum in Paris and the Bank of China Tower in Hong Kong. He designed the iconic angular building for IU's acclaimed Eskenazi Museum, which was completed in 1982 at the center of IU Bloomington's Fine Arts Plaza. A major renovation of the museum is presently being completed.
He also designed the Cleo Rogers Memorial Library in downtown Columbus, Indiana, an internationally rated city for architecture and home to IU's new J. Irwin Miller Architecture Program in the Eskenazi School of Art, Architecture + Design.
"I.M. Pei was one of the greatest and most accomplished architects of the 20th century," McRobbie said. "His design for our treasured Eskenazi Museum of Art remains truly visionary and extraordinary, and it has contributed mightily to the museum's reputation as one of the premier art museums in the world. The exquisite building has been a source of beauty and inspiration to countless Indiana University students, faculty, staff and members of the community who are drawn to its angular austerity, open spaces, windows and glass-ceiling atrium. We are truly honored to be home to one of his architectural masterpieces.
"On behalf of the Indiana University community, we send our deepest and most heartfelt condolences to his family and friends and to all of those who have been moved and influenced by this revered modernist architect."
Read an IU News story about Pei, published when he turned 100 years old.
Visit the museum website to learn more about the building renovation, which will result in expanded gallery space, new teaching facilities, new visitor amenities and other improvements.