Like the graduates, families and friends who attended the Indiana University Bloomington commencement ceremony this weekend, Rodney Dorsey took part in a nearly 200-year-old tradition for the first time and ended his first year as a faculty member at IU on a high note.
Dorsey, a new Jacobs School of Music professor of music in bands, had a prime seat at one of the university's most celebrated traditions when he conducted music for his first IU Bloomington commencement ceremony.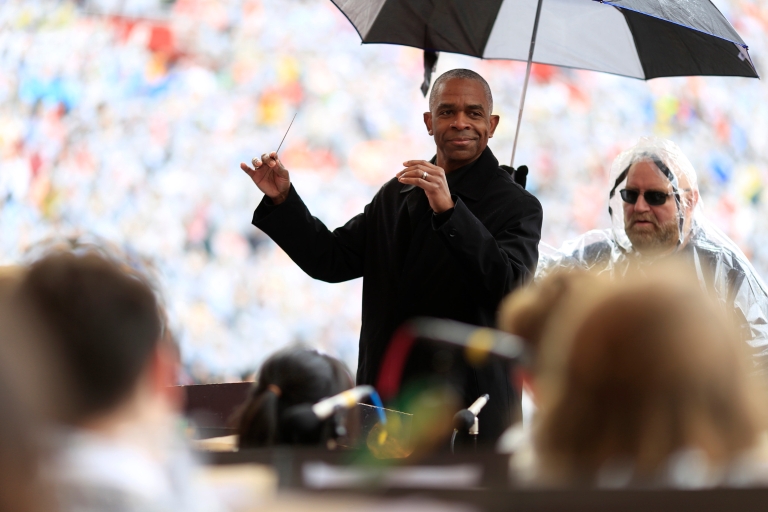 Despite the busy wrap-up to the academic year, Dorsey was feeling positive when Inside IU Bloomington caught up with him as he directed the band through graduation rehearsals.
"I'm excited to provide music for an occasion that's important to so many students and their families," Dorsey said. "There will be many students who have overcome hardships to graduate. Other students may be the first person in their family to attend college."
Although he has conducted bands at different levels with varying repertoire, the music at IU commencement stands out.
"This program is different from other concerts I've conducted this year because it is focused on ceremonial music," he said. "Most of the selections are marches and processional music. We also play 'The Star-Spangled Banner' and the university alma mater, 'Hail to Old IU.'"
During the busyness of final exams, Dorsey's band of over 50 students had three two-hour rehearsals, ironing out awkward transitions and learning how each piece begins and ends to prepare for commencement as well as other performances.
The students are part of the reason why Dorsey has thoroughly enjoyed his IU experience.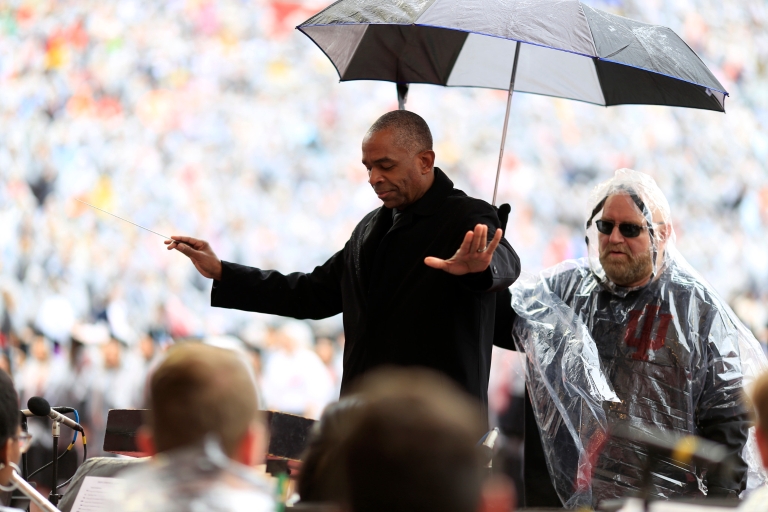 "Working with the students and my faculty colleagues is my favorite part of IU," Dorsey said. "The Jacobs School students are some of the most talented you'll find anywhere. They are not only talented, but they are also nice people. You don't always get that combination in artists."
A native of Gainesville, Florida, Dorsey received his Bachelor of Music Education at Florida State University and attended Northwestern University for his master's and doctorate in conducting. And after eight years of teaching at three high schools, Dorsey transitioned to conducting college bands at Northwestern. He was also an associate director at DePaul and the University of Michigan. Before he joined IU, Dorsey was director of bands at the University of Oregon in Eugene.
"The strength and reputation of the Jacobs School of Music drew me to this position," Dorsey said. "Once I worked with the students and got to know my colleagues in the band department, I knew this was a special place."
Whether he's practicing or performing at commencement or other Jacobs events, Dorsey values his role in helping shape the talent of young artists.
"The Jacobs School has reconnected me with the high level of performance that is possible with college-aged pre-professionals," Dorsey said. "I feel a great sense of responsibility to provide experiences that allow our students to maximize their talent and help prepare them for their chosen career path."