In 1963, Joyce Arthur was a Bloomington High School senior when she accepted a job as a secretary in the then-IU Department of Health and Safety.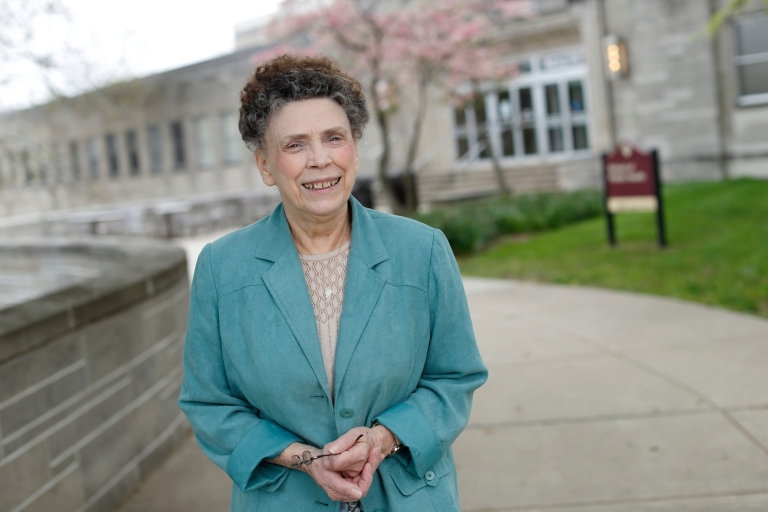 That launched a career spanning six decades.
At the time, the department – now the Department of Applied Health Science – had six faculty members, plus Arthur. Now, the department has nearly 80 faculty and staff members.
In her 56 years at IU, Arthur has had different job titles and more responsibilities. She's currently the assistant to the department's interim chair, David Koceja, and has worked for every department chair. Arthur has also worked with countless students and colleagues. In some cases, those students earned degrees and returned as colleagues.
And all from the same office suite on the first floor of the public health building.
"It was all in God's plan for my life," Arthur said of why she stayed at IU, raving about the people she works with and the cutting-edge research they do. This month marks her 56th year on the job.
Arthur is one of 324 university staffers who reached a milestone of 25 years or more or retired in 2018. They will be honored at the IU Bloomington Long Service and Retiree Recognition Program on May 7.
When she started, the School of Public Health-Bloomington was the School of Health, Physical Education and Recreation, or HPER. The school changed to its current name in 2012 and earned accreditation from the Council on Education for Public Health in 2015. Arthur said that seeing the school become accredited was one of the highlights of her career.
Another highlight is interacting with students, whether it's problem solving or hearing about their accomplishments.
"Frequently Ph.D. students drop by my office following the final defense of their dissertation so I share this happy moment with them," she said.
In one case, she even helped arrange air travel for a Ph.D. student who needed a heart transplant more than 30 years ago.
That student is still in the public health field and doing well, she said, adding that she regularly hears from alumni from across the decades.
"Some of them pop their head in and say, 'Do you remember me?' And I say, 'Of course, I remember you, Joe,'" Arthur said, adding that she makes a point to remember names.
To mark her 50-year anniversary at IU, the Joyce F. Arthur Fellowship in Applied Health Science was created to support doctoral students pursuing a Ph.D. in health behavior.
Each day has new challenges, but Arthur said she keeps the strong work ethic that her parents taught her and the days seem to fly by.
"Joyce genuinely cares for the department, the school and this institution. She loves challenges, she cares for students, and she wants to make a difference in lives of others," said Mohammad Torabi, Chancellor's Professor who was previously the chair of applied health science and a former dean of the school.
Arthur said she never thought of leaving her job, even after being recruited for a job in Atlanta.
"Ultimately, my love for our department, school and Indiana University prevented me from moving," she said. "I have never looked back."