For student veterans in the classroom, John Summerlot knows there can be a disconnect.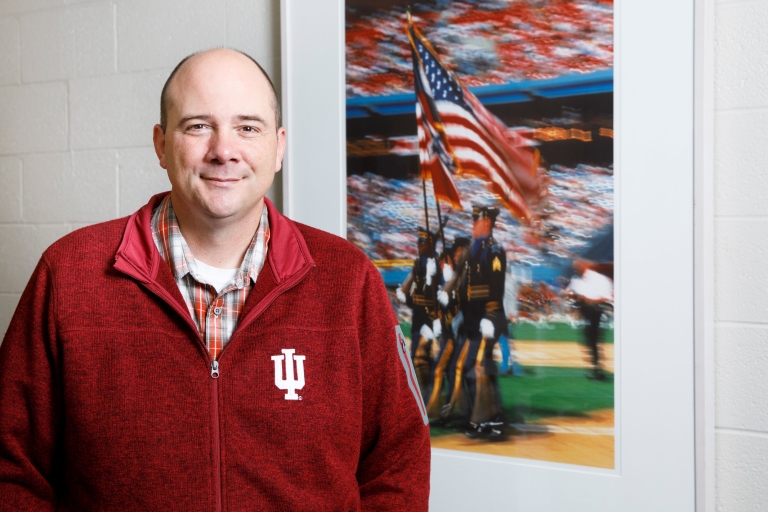 The students struggle to understand why they should go to office hours and how to ask for mentorship, said the director of the Center for Veteran and Military Students. And the faculty members teaching them don't always know what additional resources to offer the veterans in their classroom.
But a new task force on campus aims to address this disconnect and improve the IU experience for student veterans to help them reach graduation. Task Force Hoosier is the first piece of a larger three-year initiative called Operation Hoosier Promise to increase graduation rates for undergraduate student veterans. That means improving relationships between students and faculty, coordinating campuswide support and reducing barriers.
"It's everything from the GI Bill and residency requirements to things like on-campus housing and understanding and using office hours," Summerlot said.
Operation Hoosier Promise is part of IU's implementation of the American Talent Initiative, a nationwide effort to provide academically talented low- and moderate- income students with access to colleges and universities with high graduation rates. IU joined the initiative in March 2018.
IU first created a position specifically addressing student veteran needs about 10 years ago, and the Center for Veteran and Military Students opened in November. In the same amount of time, the number of veteran and military-related students on the Bloomington campus has increased nearly 200 percent.
The Bloomington campus has 538 student veterans as of the spring semester, plus more than 600 military-connected students including service members, military spouses and children, and ROTC cadets.
"Veterans and military students are a large population who want to further their education, and we value that," said Larry Gonzalez, senior associate director of veterans admissions and special populations in IU Admissions and a task force member.
Outside of the Center for Veteran and Military Students and ROTC, he is the only person on campus to have the word "veterans" in his title and is as a point of contact for veterans and military dependents applying to IU.
"They have questions like: How will my military and college course work transfer to IU and my intended degree? How do I get my transcripts sent here?" he said.
Included in the new initiative are plans that would help students get started on IU degrees while still on active duty through IU Online, as well as an online guide to help both veterans and military dependents determine whether they are considered in-state or out-of-state students.
"Right now, it's a two-page flow chart with a lot of variables, so this new tool would be more like an online quiz that potential students can take," Summerlot said.
When it comes to paying for IU, roughly half of student veterans are using some kind of military or veteran financial aid; however, not all have full coverage. For those who do, they still have living expenses and are sometimes working and have families to support, Summerlot said.
Plus, it's about introducing them to the university and letting them know that things like orientation and on-campus housing aren't just for 18-year-old high school graduates; they're for student veterans, too.
A lot of the time, student veterans are older, and they say, "I've already lived in the barracks, I'm not living in the residence halls," Summerlot said. It's not always easy for them to find out about apartment options or see that student vets can opt out of the requirement to live on campus, he said.
<>2</>
The task force had its first meeting in April and includes 23 members from across the Bloomington campus. Not only will they learn from each other, they can take what they learned about helping student veterans back to their departments, Summerlot said.
Gonzalez added that veterans and military students often have questions about the application fees and additional financial aid beyond their government financial assistance.
"How can we, as a university, work together and share ideas to help these students?" he asked.
The task force also wants to increase awareness about veterans and their experiences in both the IU community and the community at large.
"It ties into civic responsibility," said Michelle Moyd, a task force member, Ruth N. Halls Associate Professor in the Department of History and U.S. Air Force veteran. She added that the IU community and the community at large have misconceptions about veterans and don't understand what they need.
For faculty, she said that's not about doing anything different but about knowing where to point students who are having challenges.
Both Moyd and Summerlot agreed that there can be stereotypes about student vets, such as what they look like and their political beliefs, that aren't true.
"When they are in our classrooms, they are quite an asset," she said. "They are eager, and they are engaged."