Who likes dealing with paperwork, especially when you're trying to change the world?
Yet philanthropy experts say that dodging the details often leads well-meaning nonprofits to lose their tax-exempt status and future funding and – ultimately – close their doors. A new start-up co-created by a recent Indiana University Kelley School of Business graduate helps philanthropic organizations tackle this challenge.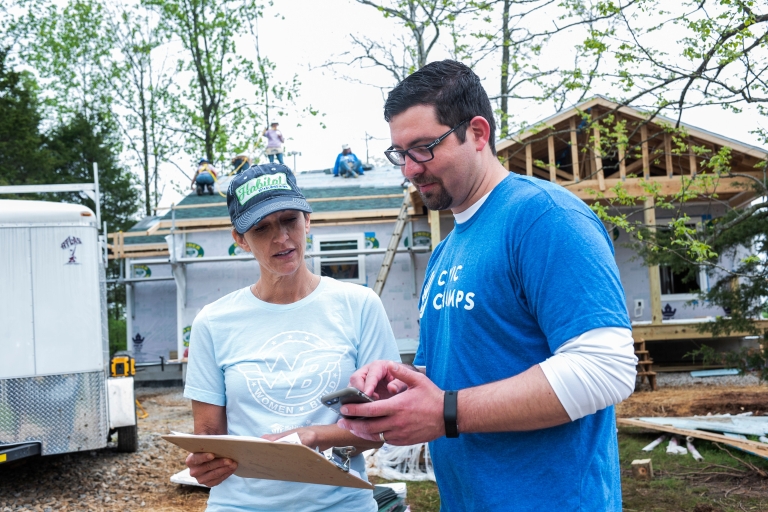 Civic Champs – based in the Kelley School's Hoosier Hatchery incubator – has developed a mobile application that helps nonprofits digitally track volunteer hours and other information they need to apply for grant funding.
Bloomington nonprofits Habitat for Humanity of Monroe County and My Sister's Closet are partnering with the company to test the app's effectiveness before it is marketed more broadly.
"We want to give these people their time back to focus on the mission that matters to them," said Ryan Underdahl, Civic Champs chief operating officer and a 2019 graduate of Kelley's Full-Time MBA program. "We wanted to help automate that by leveraging the technology that's already in everyone's hands: their phone."
Underdahl's concept was one of 150 submitted for this spring's Clapp IDEA Competition at IU's Johnson Center for Entrepreneurship and Innovation. Out of 40 individuals or teams selected to make pitches to judges in April, his company was one of eight chosen to move to the finals, where it won the $20,000 prize.
"What I liked about it was that the potential was unlimited for volunteer organizations," said Vernon Clapp of Burlington, North Carolina, one of the competition's 14 judges, whose $2 million gift supports the competition. "I was impressed."
Unlike many of his MBA classmates, who left for positions in the corporate world, Underdahl will remain in Bloomington to grow his company. In addition to office space and resources, Civic Champs will receive coaching and mentoring from faculty in the Johnson Center for Entrepreneurship and Innovation as the competition's winner.
"As somebody who works in the nonprofit world, I love when people see an opportunity to help make someone else's life better, regardless of how much money you make doing it," said Wendi Goodlett, president and CEO at Habitat for Humanity of Monroe County. "I think it's tremendous that he wants to stay in Bloomington, that he wants to spend his time and energy trying to make other people's lives better."
Civic Champs' application uses a geofence – a virtual geographic boundary, as defined by GPS technology – to trigger a response when a volunteer's mobile device enters or leaves an area.
Volunteers receive a message from the nonprofit asking if they are there to volunteer and another message thanking them when they leave; the nonprofit can collect the information to keep track of volunteer hours.
Civic Champs also wants to develop the ability for organizations use the app to accept small donations from volunteers.
Goodlett said paperwork isn't just a drain on staff time; it's also time-consuming for the volunteers once they arrive.
"They're really anxious to get just started, so it will be nice that it will provide them with a smoother process to start their day when they come to volunteer," she said. "And if they volunteered with us before and we have all that information in the app, then it makes it even easier for them when they come back."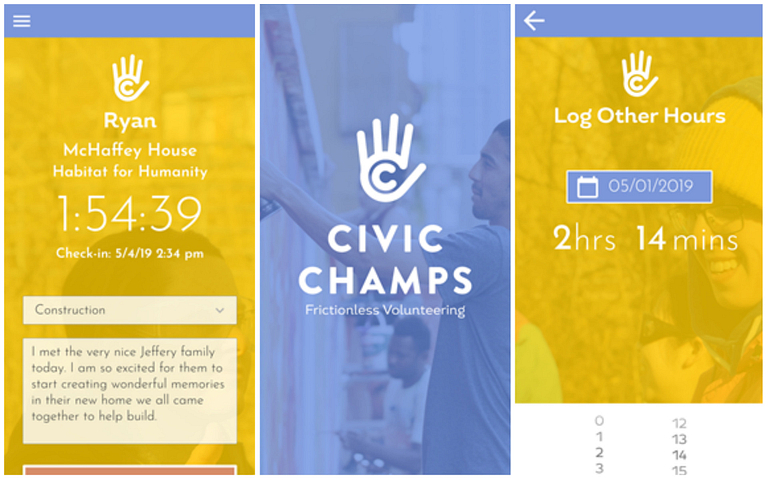 The local Habitat chapter builds an average of 10 houses annually. During its blitz builds like its Women Build, as many as 35 volunteers may be on site. Capturing volunteer hours is tied to grant opportunities.
More than 350 people volunteer annually at My Sister's Closet, a Bloomington nonprofit that provides free workforce attire and professional training to about 200 low-income and at-risk women annually. While data is kept on a computer, the primary repository of volunteer information is kept in five large binders that Sandy Keller, its founder and executive director, struggles to hold in her arms.
"For grants, I have to be able to say how many volunteers we're using during the year. It takes time to track this stuff," said Keller, a Kelley graduate. "I have a data management person who volunteers their time just to put things into Excel spreadsheets for us. It's arduous."
On Martin Luther King Jr. Day alone, My Sister's Closet had 178 volunteers – 138 on site and 40 working elsewhere. While many of them also were associated with groups that help out throughout the year, that's still a lot of information to collect and manage on a given day. But there are other days, such as when a large donation of clothing comes in, when Keller and her staff of three would like to call in volunteers for some extra assistance.
"There's a lot of moving parts to My Sister's Closet, but if we could make the tracking of the volunteers and the contacting of them easier, I think they would want to volunteer more," she said.
Keller would also like to use Civic Champs' ability to keep better records of individual volunteers' work. She is frequently asked to write recommendation letters, particularly for IU students.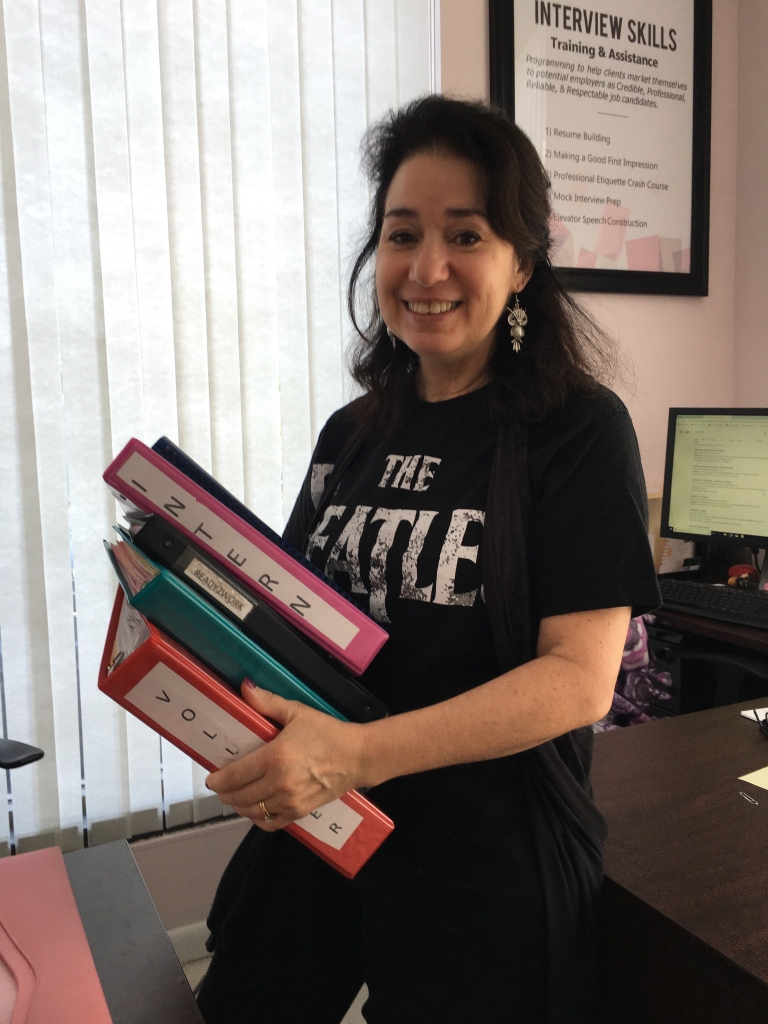 "It's unfair to say that an intern, for example, who put in 200 extra hours because they were excited gets the same kind of review or reference as somebody who just put in the bare minimum," she said. "When a volunteer is in your midst, you can easily see the difference, but when you receive a request for a reference several years down the road, it is easy to forget the details. This app would go a long way to helping us remember at a glance when a company makes a request."
When My Sister's Closet started in March 1998, it worked with a half dozen agencies. Today, it serves 40 agencies who request clothing vouchers for clients.
The idea for Civic Champs came while Underdahl was interning last summer for LRAP Association, a Bloomington-based firm that offers student loan repayment assistance programs. There, he met Geng Wang, a Harvard MBA who has advised another successful IU startup, The Bee Corp. They are joined in the venture by Michael Jeffery, a software engineer and a Michigan State graduate, and another employee, Chris Borland.
"When we started to look at what goes into a nonprofit, we saw they were spending a significant amount of time on paperwork," said Underdahl, who is from Coeur d'Alene, Idaho. "For example, when volunteers show up, they usually sign in and out pen on paper. Not only does that take a lot of time from a data-entry issue, just transcribing it into a digital format, but there's also issues with data loss and security.
"One of the things we wanted to do was help people who took a job to make an impact on others," he added.
Because its primary clients are philanthropies, Civic Champs will present its product as a monthly subscription service that will be priced affordably and based on the number of volunteers. During the competition at Kelley, Clapp suggested that their product could also be used to track those involved in court-ordered community service.
"I've always been very involved in volunteering, since I was in high school," Underdahl said. "I felt like I've had a lot of advantages in life, and I wanted to be able to give other people a leg up where they might need it. Now we have a product for these organizations that helps them do that better."
Civic Champs is also working with Circles of Greater Pittsburgh and is looking to pilot with other organizations that rely on volunteers. To learn more about joining the pilot project, email pilots@civicchamps.com.