BLOOMINGTON, Ind. – The first Indiana University Rural Conference will engage local leaders, professionals and residents in discussions and sessions focused on the issues of greatest importance to Hoosiers in rural communities on May 13 and 14 at the French Lick Springs Resort.
Hosted by the IU Center for Rural Engagement, the IU Rural Conference sessions will draw upon the work underway through more than 100 initiatives and projects launched in partnership by the center and rural communities, as well as IU's Grand Challenge initiatives and regional and statewide resources and data.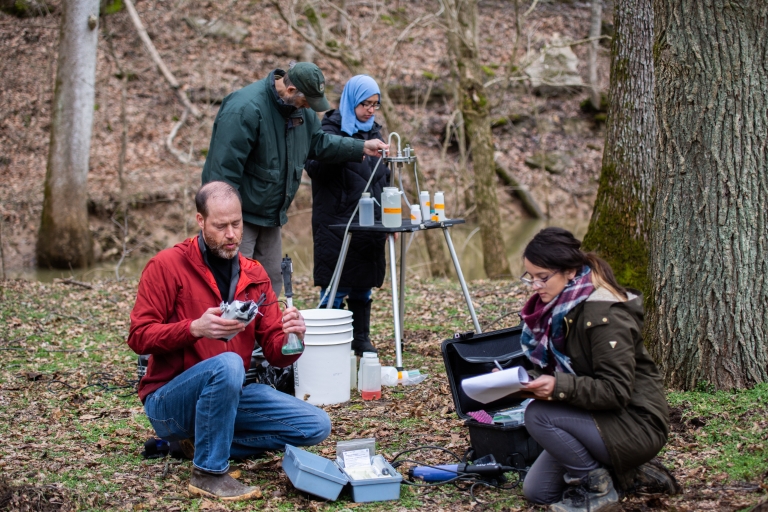 "The conference will bring an expansive view of the opportunities and challenges of our rural communities, and pair those with specific, action-focused information to empower residents across the region," said Kerry Thomson, executive director of the IU Center for Rural Engagement.
The conference will include keynote remarks from Lt. Gov. Suzanne Crouch, IU Bloomington Provost and Executive Vice President Lauren Robel and Indiana Youth Institute Vice President Charlie Geier. Attendees will learn about initiatives, programs and opportunities in breakout sessions on mental health and addiction, community resilience and quality of place as well as roundtable discussions to encourage networking and connections across the region and state.
On May 13, IU's Responding to the Addictions Crisis Grand Challenge initiative team – along with IU Health, Indiana Addictions Issues Coalition and Overdose Lifeline, a statewide nonprofit addressing the opioid public health crisis – will provide naloxone training to attendees.
In addition, as part of Grand Challenge efforts, IU has partnered with the Indiana Supreme Court and state agencies to help train almost 1,000 court and law enforcement officials on medically assisted treatment for addictions, and led a coalition of nonprofit groups and government agencies to distribute naloxone kits and provide training in their use across Indianapolis. The May 13 training will follow a forum that will share information about the opioid epidemic in the state.
The naloxone training session is open to the public and will take place at 2:15 p.m. in the Hoosier wing of the French Lick Springs Resort conference center. Free naloxone will be distributed by program partner IU Health following the session. Full conference registration is not required to participate in this single session.
The Eppley Institute for Parks and Public Lands at Indiana University will join the IU Center for Rural Engagement to share findings from an extensive, 11-county study of the Indiana Uplands' park, recreation and public land inventory on May 14. Researchers will share recommendations and next steps that were informed by a dozen focus groups with local residents and regional parks and tourism professionals.
The IU Environmental Resilience Institute will offer an early look at the Hoosier Resilience Index, a tool designed to guide communities toward being prepared for the effects of environmental change on infrastructure.
Registration, a full list of presentations and additional details about the conference are available on the conference web page.
Indiana University Center for Rural Engagement
The IU Center for Rural Engagement improves the lives of Hoosiers through collaborative initiatives that discover and deploy scalable and flexible solutions to common challenges facing rural communities. Working in full-spectrum community innovation through research, community-engaged teaching and student service, the center builds vision, harnesses assets and cultivates sustainable leadership structures within the communities with which it engages to ensure long-term success.
Responding to the Addictions Crisis
The Responding to the Addictions Crisis Grand Challenge initiative engages a broad array of IU's world-class faculty, as well as IU's business, nonprofit and government partners. Working together, the groups are contributing to an initiative to implement a comprehensive plan to reduce deaths from addiction, ease the burden of drug addiction on Hoosier communities and improve health and economic outcomes. This initiative is one of the nation's largest and most comprehensive state-based responses to the opioid addiction crisis – and the largest led by a university.
Prepared for Environmental Change
The Indiana University Prepared for Environmental Change Grand Challenge initiative brings together a broad, bipartisan coalition of government, business, nonprofit and community leaders to help Indiana better prepare for the challenges that environmental changes bring to our economy, health and livelihood. Announced in May 2017, Prepared for Environmental Change is working to deliver tailored and actionable solutions to communities across the state of Indiana.