More than 100 student projects filled the first three floors of the Informatics and Communications Technology Complex on April 26 for the School of Informatics and Computing's capstone student showcase.
Several programs were represented through semester-end projects that were demonstrated and explained by the students throughout the evening. Many of the projects had the students working with real companies in Indianapolis and beyond throughout the process.
Here are five projects that show that the technological future is bright with these young innovators' ideas and expertise.
Islands of Langerhans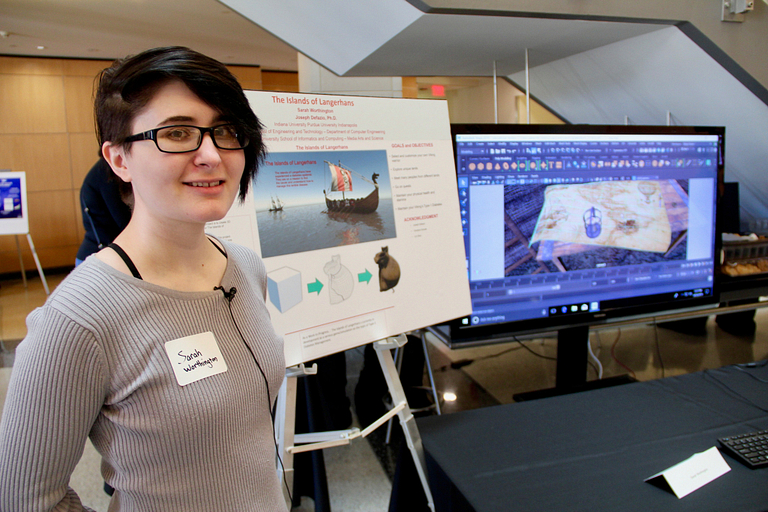 Sarah Worthington, media arts and science
Synopsis: Worthington created a video game in which you are a Viking with Type 1 diabetes, and you must help others who suffer from it. Users learn more about the disease through adventure.
Quotable: "The entire game is going to present itself in a way that even if you don't know what Type 1 diabetes is or you don't care about it, you can still enjoy the game."
BreakOut High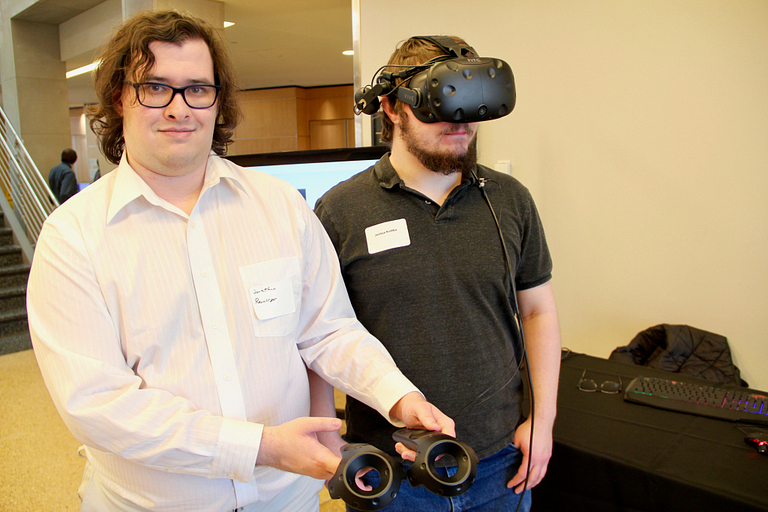 Jon Renninger, left, Joshua Kottka and Ryan Conrad, not pictured, media arts and science
Synopsis: Go to an escape room without leaving your home with this virtual reality game designed for BlueWall VR. The game is set in a high school where users must solve problems with intellect and cunning to get outside. Being stuck in your old high school would be a nightmare for many, but these young game developers make it fun.
Quotable: "I learned the basics of game design, but I'm really into virtual reality," Kottka explained. "When BlueWall approached us wanting a VR game, I jumped on it. I was so excited to be on the game. This is huge for me."
LiFT Me: A Motivational Application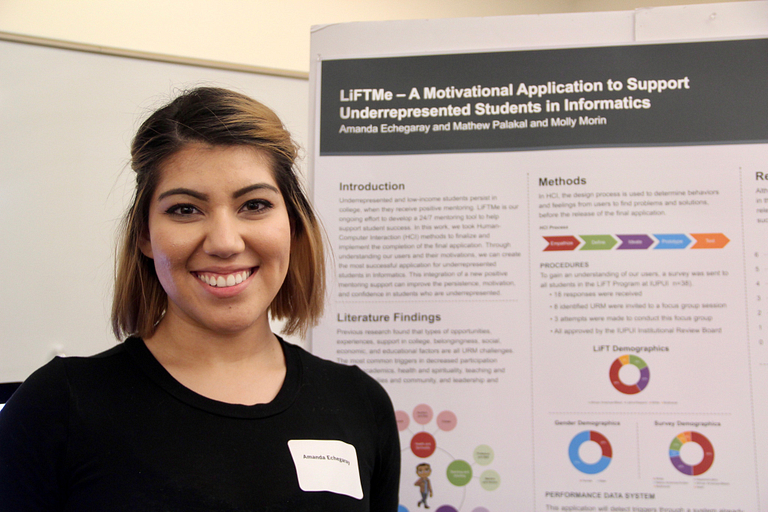 Amanda Echegaray, informatics
Synopsis: Designed for underrepresented minorities in STEM fields, the app focuses on "triggers" that affect these students – "health and spirituality," "professors and staff," "academic performance," and several others. The app helps students formulate plans on how to get through through the rigorous course load and research required in their programs.
Quotable: "We found out that only 12.5 percent of underrepresented students in STEM complete their degree. We want that number to change drastically. This is a support system for the students."
Design on Tap website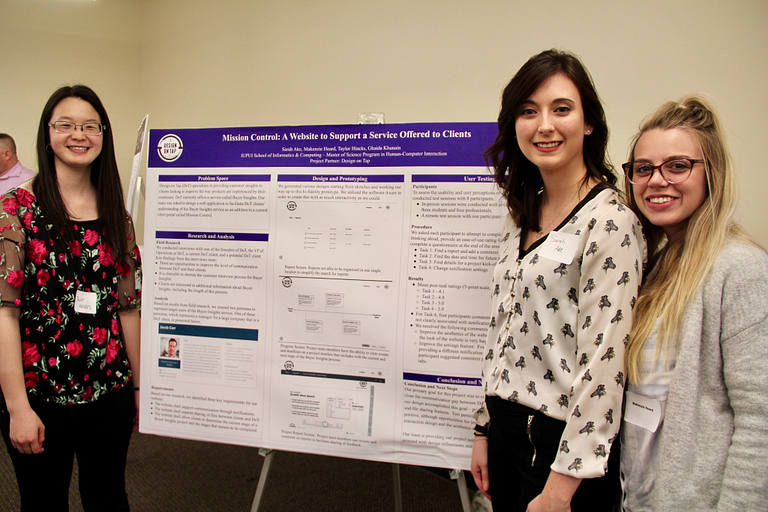 Taylor Hincks, Sarah Ake and Makenzie Heard, from left, and Ghaida Khunain, not pictured, human-computer interaction
Synopsis: This team of web developers worked with Design on Tap to improve the website design and marketing firm's "mission control" portal for potential clients. The IUPUI students' prototype received positive feedback, and they gained experience working not only with Design on Tap but with some of the company's clients as well.
Quotable: "They wanted to incorporate buyers' insights in their service design," Hincks said. "The portal is there to deal with communication issues between Design on Tap and their clients. They were happy with the user experience improvements we made to the portal."
Food Prep mobile application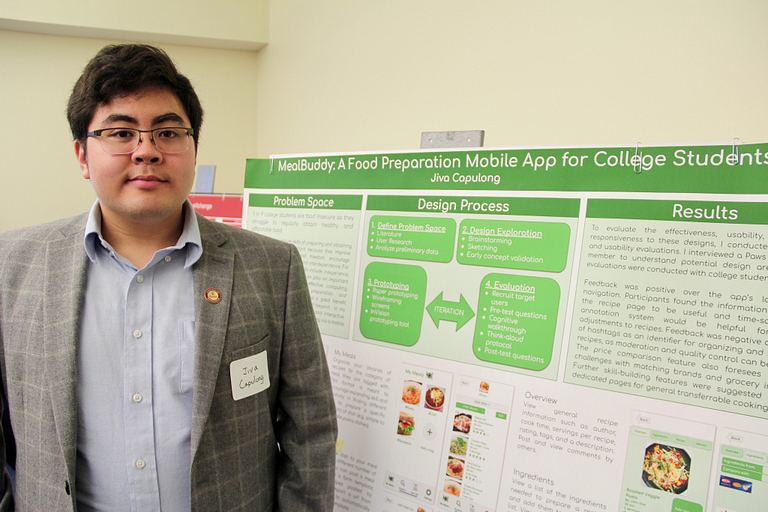 Jiva Capulong, media arts and science
Synopsis: One of the factors of college student food insecurity is the lack of food preparation skills. Capulong's app compiles recipes and builds cooking skills with a community-driven approach: people helping people by uploading recipes and cooking videos. Users can filter by what they are hungry for and how much time they have to cook. The app also looks at ingredient availability and cost, and it can save notes on customizing preexisting recipes.
Quotable: "One in every nine college students experiences food insecurity, where they struggle to eat meals that meet their nutritional needs. I was inspired by YouTube and Amazon, which make suggestions tailored to your preferences. This app will do the same, but on a cooking/recipe platform."