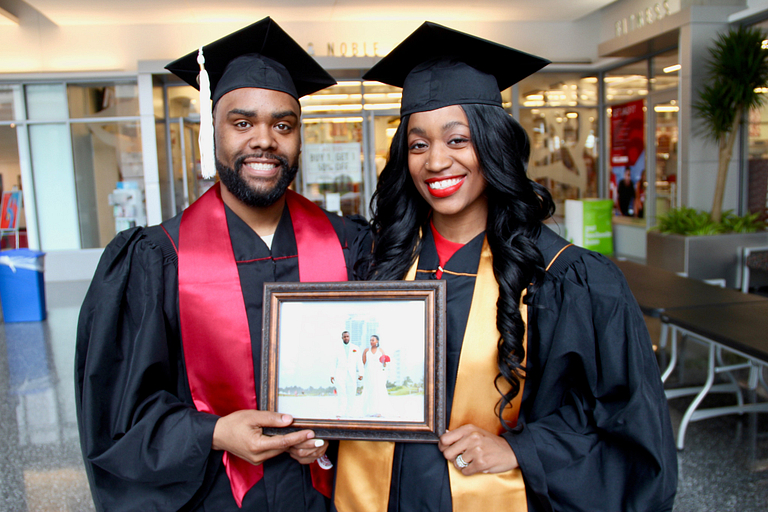 They agreed 'til death do they part, but they will have to be apart during IUPUI's commencement ceremony, set for 10 a.m. Saturday, May 11, at Lucas Oil Stadium.
Ronae Williams and Ralph Durrett Jr. were married and started a family before enrolling and earning degrees at IUPUI. The couple will be donning caps and gowns this weekend, but they will be separated during graduation as Williams accepts her psychology degree from the School of Science and Durrett receives his sociology degree from the School of Liberal Arts.
"This is huge for both of us," Williams said, "but everybody is going to be spread out and divided. Maybe we will Facetime each other during it."
The couple were the ultimate team during their IUPUI careers: They took turns carting son Cameron, 12, and daughter Rayne, 10, to various school functions while the other studied. The kids sometimes sat in with them during lectures. Evening classes were in the mix, so one parent made sure son and daughter were doing their homework while the other parent was getting their own homework assignments.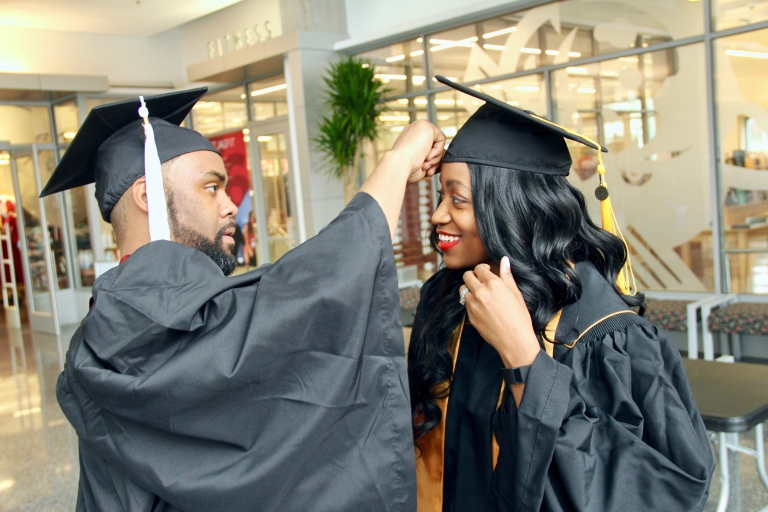 Then there was work. Williams balanced her studies with full-time employment in an Indiana University School of Medicine cytogenetics, biochemical genetics and pharmacogenomics laboratory. After a day of processing, accessioning samples and communicating with doctors' offices, Williams would walk the few blocks east to her psychology classes.
The hard work culminated in degrees for the Indianapolis couple.
"We worked together like a machine – an operation – to get here," Williams reflected. "We walked together at our wedding, and we're walking again together. The journey never stopped. Even though we took our own academic paths, we got through it together."
High school sweethearts after high school
Durrett and Williams attended Warren Central High School but were in different classes and crowds.
"I used to see her every once in a while because she was a popular girl in school," said Durrett, a 2004 Warren grad. Williams finished at Warren in 2005. "She was on this morning news show called 'Wake Up, Warren.' I was the new guy in school. I didn't really know anybody."
It wasn't until Durrett's after-prom trip to Kings Island – which Williams, who would graduate from Warren in 2005, attended with some friends – did they even meet. Warren Central's enrollment of almost 4,000 students meant the meeting at the dizzying Invertigo roller coaster was fate.
"My friend and I were walking around harassing people," Williams recalled, laughing. "I saw him and his nephew, and as a joke I said, 'We should ask them to ride rides with us.' And he said yes. I was like 'Oh my God, now we have to commit.'"
"And the rest is history," Durrett added. "We've been together ever since."
Realizing potential at IUPUI
Durrett had said that college wasn't for him, but as their family grew, he realized a degree was necessary. After gaining class credits at Ivy Tech, he entered the biology program at IUPUI but then switched to sociology. It didn't take long for him to find a career path.
"I learned a lot about myself in these classes," Durrett said. "They helped me figure out who I am as a person."
Durrett said his experiences in classes like Race and Ethics, with assistant professor of sociology Carly Schall, inspired him to fight for justice. Pursuing that inspiration, he will start in the McKinney School of Law in the fall.
IUPUI commencement 2019 by the numbers
"Law is the catalyst to change in this society as a whole," said Durrett on why he is pursuing a law degree. "Law has to be the foundation of that change."
Schall said Durrett's passion and academic prowess made him a star in the program.
"I'm so proud of him, and the Department of Sociology is proud of him," she continued. "He's been doing so much good as a student; I can't imagine the good he's going to do once he gets into and through law school.
"What really gets you through and makes you into somebody who makes a difference is perseverance, and he's persevered. He's a great success."
Williams plans on taking a year away from school, but she will continue working at the lab. Then she will pursue a graduate degree in the field of marriage and family therapy.
But before that, Williams plans on enjoying Saturday's commencement ceremony. She said her perspective will be different than most of her fellow grads. Starting a family first was an atypical path to a degree, but thanks to the bonds of love, dedication and hard work, the couple achieved success.
"I want to savor the moment," said Williams with a sigh. "I like our journey not being traditional because I feel like we appreciated it more. I was immersed in the whole culture of what college was – even though I was an adult learner, a parent, a wife. I feel I was more involved."