Before summer gets into full swing, you'd better start working on that golf swing.
Indianapolis offers numerous prime courses, and the city is the summer home of Marion Debove, IUPUI women's golfer and Horizon League player of the year. The accounting, finance and international studies senior from Paris helped lead the team to back-to-back league championships the past two seasons.
Practicing on the links is always key, but the student-athlete said that working out in the gym before tee times and daily mediation amped up her game significantly.
"In golf, the mental aspect is very important. I'd say it's a good 60 percent of your performance," said Debove, who picked up her first golf club at the age of 3. "I spend 10 to 15 minutes before bed just doing visualization exercises."
With Debove and teammates like junior Amelie Svejda and sophomore Kara Blair returning for the 2019-20 season, IUPUI is a favorite to win the Horizon again. "We just need to keep working," said Debove, the program's career leader in scoring average (74.79) and winning percentage (.820). "We have the experience of winning two times. Winning three times would be nice."
Debove shared five tips for your long and short games this summer. Give them a try, and be sure to check out the IUPUI women's golf team next season.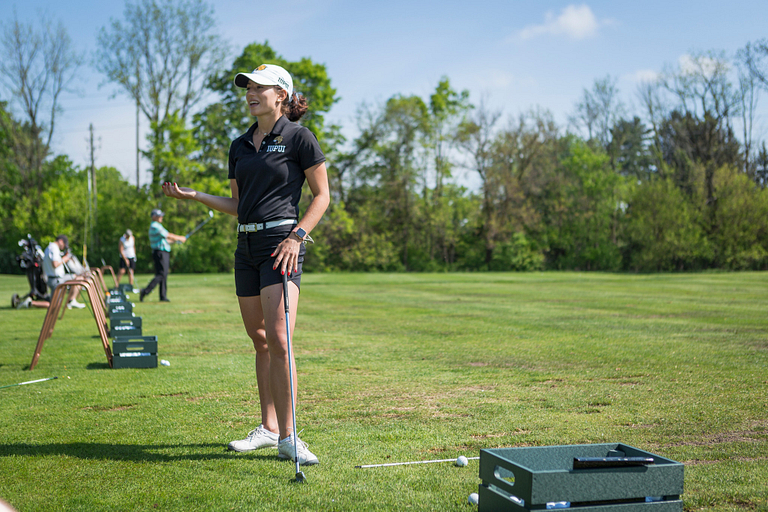 Stick it
Before your first drive of the summer, align your body correctly at the tee. Debove suggests investing in an alignment stick. The thin, lightweight tool fits in a golf bag and should be placed between the ball and the golfer. It should be pointed toward your target, of course.
"It helps ensure that you are aiming in the right direction," Debove said. "You can even put another club on the ground. Anything straight will work. It will help you tremendously."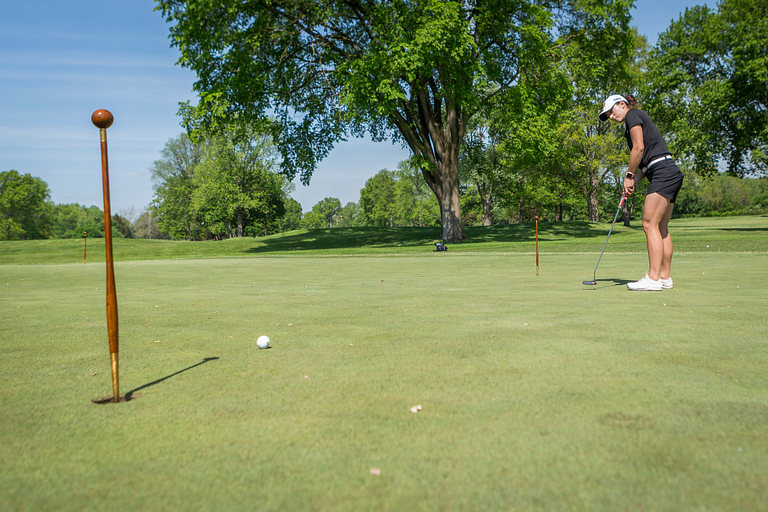 Practice long putts
IUPUI golf teams practice and compete at Broadmoor Country Club. At the putting practice green, Debove said she notices too many golfers concentrating on short putts. Working more on long putts will naturally make short putts easier – or simply render them unnecessary, if you get that good.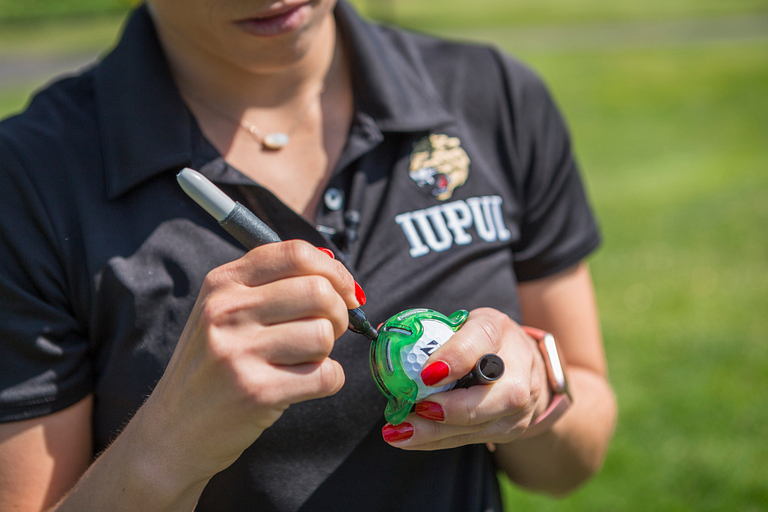 Pack a Sharpie
Drawing a straight line on the golf ball with the help of a line template tool will help with your putt alignment.
Change it up
If your putting is off-putting, don't stick with what you're doing, Debove said. A change in foot alignment, a different hand position on the club or a wider stance could yield positive results.
"Since the mental part plays an important role in golf, just changing something up could help you make some putts," she said.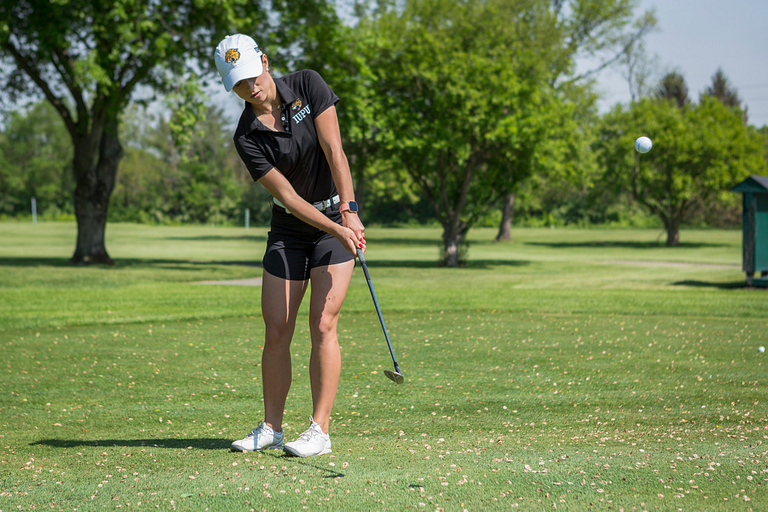 Don't forget the chips
Not every long shot is going to hit the green. Often, things go astray, and a strong chipping game could be required to reach that coveted space. Practicing chipping from the rough is essential, according to Debove.
"I started to practice on my chipping more this year, and it helped me a lot," she said. "Make sure your club face, hips and shoulders are parallel, going to the same direction. I don't use any wrist movement. It's just like a big putting stroke."
Description of the following video:
[Marion Debove appears onscreen, outside at a golf course. She speaks: Hi, everyone. My name is Marion Debove, and I play golf for the IUPUI women's golf team, and I have some good tips for you to improve your game during the summer.]
[Title appears in upper-right corner: IUPUI presents]
[Title appears across bottom of screen with IU trident and "IUPUI": Marion Debove, Senior, IUPUI women's golf]
[Video: still shot of Debove at the driving range]
[Title appears: Fix your alignment]
[Music: Sick electronic beats]
[Debove speaks and demonstrates: Putting an alignment stick on the ground is an easy tip that you can do over the summer to improve your game, because with this help, you will make sure that you are aiming toward the right direction.
At first, when I start to do my setup with my ball, I make sure that the club face is just parallel to the stick.]
[Video: Debove smacks a ball to the green.]
[Video: still shot of Debove putting]
[Title: Focus on long putts]
[Music: Sick electronic beats]
[Debove speaks and demonstrates: Most people, when they come to the putting green, they just stay around the hole and practice on short putts, just like this, and they don't even, like, practice on long putts. So, one thing that I'm used to doing is to practice on long putts instead. Because if you think about it, if you get better on long putts, you won't even need to practice on short putts anymore.]
[Video: Debove sinks a long putt.]
[Video: Still shot of Debove hitting a chip shot]
[Title: Bring the chips!]
[Music: Sick electronic beats]
[Debove speaks and demonstrates: I started to practice on my chipping more this year, and it helps me a lot. And I even won my first college tournament by making a chip-in. And yes, sometimes it's very helpful. The basic chip I practice on is just having a square club face. There's a square set up, so my club face, my hips and my shoulders are just parallel and go toward the same direction. And then I'm not using any wrist movement. I just do like a big putting stroke.]
[Video: Debove executes a chip shot. The ball heads straight for the hole.]
[Music: Sick electronic beats]
[Titles appear: IUPUI, Fulfilling the promise, iupui.edu]
[End of transcript]