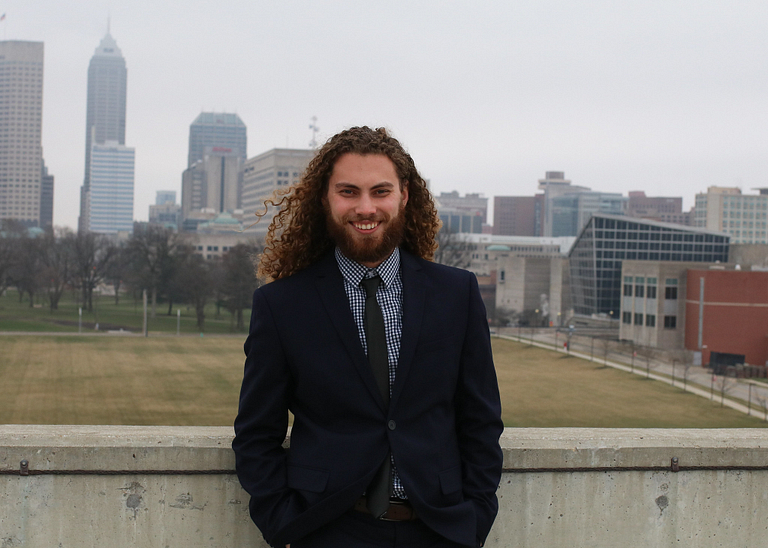 The pressure's on for Connor LaGrange, not only to wrap up his final finals as an IUPUI undergraduate but also to deliver a five-minute speech during commencement.
While most Americans would rather stand on the edge of the Salesforce Tower than give a speech in front of thousands of people, LaGrange embraces it. He has been delivering speeches and presentations in an academic setting since his senior year in high school, when he was dually enrolled as a first-year communication studies student at IUPUI. As a senior supervisor in the IUPUI Speaker's Lab, he worked with a wide array of students to improve their presentation skills – from shaky-kneed freshmen to international graduate students.
On May 11, all eyes will be on the Indianapolis native as he represents his class of 7,122 graduates. The ceremony starts at 10 a.m. at Lucas Oil Stadium.
"I'm approaching it as if I were sitting in the audience: What would I want to hear from the speaker?" said LaGrange, who will begin his pursuit of an applied communications graduate degree from IUPUI in the fall. "I'll be talking about four points that I think we can use to be successful – not just academically or professionally, but life-related things that the parents and family members in the audience can use, too."
While having the gift of gab will get you on podiums and behind lecterns, LaGrange said, fine-tuned communication skills improve businesses, health networks and other fields.
"I can walk into a room of engineers and not know engineering and be just fine," he explained. "From clients to higher-ups, there isn't a single place in our world where people aren't communicating with one another in one fashion or another."
LaGrange's years at IUPUI were packed. But he wasn't too busy to notice the university's growth, which coincided with that of Indianapolis.
"It's an incredible city, and I'm blessed to go to an incredible university in the heart of that city," LaGrange said. "I think both institutions have hit their stride during my time at IUPUI.
"I think Indianapolis for sure made a name for itself attracting bigger companies and conferences. I see our economy only getting stronger. Hoosier hospitality is a thing, and IUPUI is one of the few Division I urban campuses that is a short walk to the heart of the city. Graduates no longer have to go to New York City or other bigger cities. Students will continue to get opportunities in their own backyard."
Sarah Evans Barker, senior judge of the U.S. District Court for the Southern District of Indiana, will also speak at the commencement ceremony. Deemed a Living Legend by the Indiana Historical Society, she has been instrumental in numerous behind-the-scenes roles that have helped the university grow and thrive. Barker helped create the Bepko Scholars and Fellows Program, and she has worked with the Indiana University McKinney School of Law while participating as a member of the chancellor's advisory board and several dean and chancellor searches.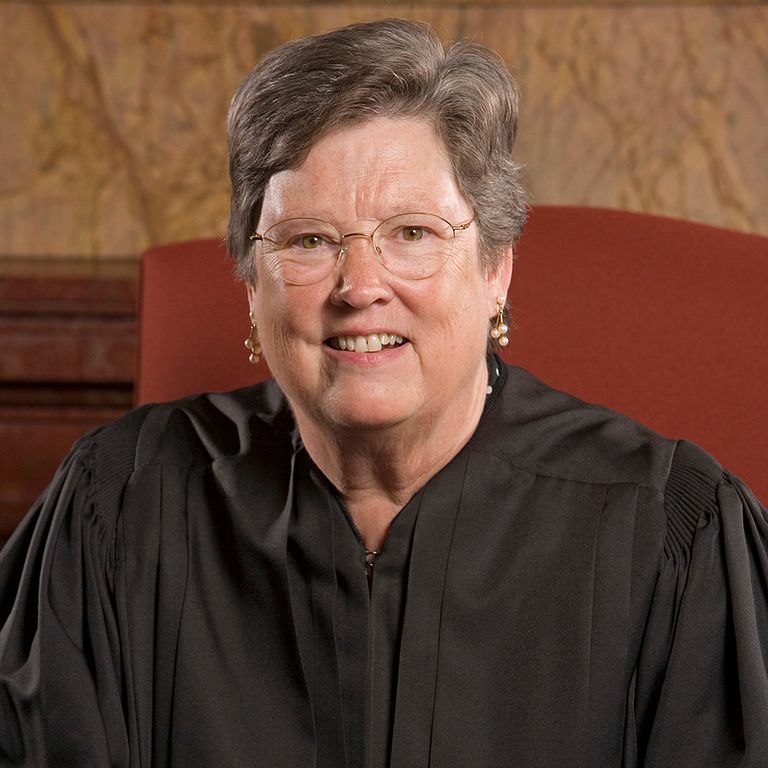 "I've been able to see IUPUI grow and put down significant roots in the community," said Barker, who earned a social service degree from IU Bloomington. "I've known many people who have been a creative force in determining IUPUI's mission. It is an honor for me to give this talk to these graduates. In terms of my career, I've had a lifelong affiliation with the university."
While Barker has addressed hundreds of rooms full of people throughout her impressive career, IUPUI's commencement ceremony will be the judge's largest audience by far. In the home of the Indianapolis Colts, she said, she may not have a touchdown dance for IUPUI's newest graduates, but she hopes her remarks will inspire and ring true.
"I'm hoping that there will be enough cohesiveness that the purpose of the gathering will be realized," Barker revealed. "I hope they can connect with some ideas that I want to leave with them."