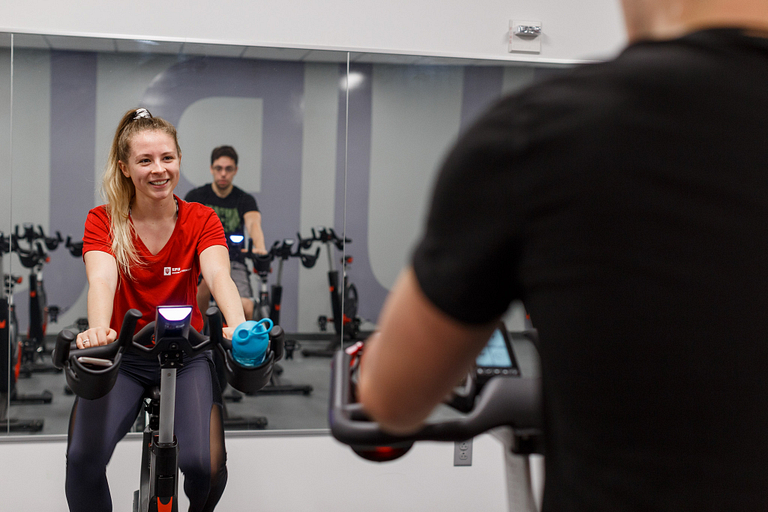 Madison Crisler takes her health and wellness seriously – so much so that when the new IUPUI Fitness Center opened last April, she confidently marched down the stairs in the Campus Center and asked if they were hiring, hoping to help work the front desk.
Instead, they asked her to be a group fitness instructor, but Crisler was hesitant.
"I told them I couldn't take the job because I wasn't certified, and I was just a freshman at the time," she said. "They convinced me to apply, and they trained me to be a group fitness instructor. Now, I teach multiple cycling classes a week and also serve as an attendant, making sure the center is cleaned up and accessible. I love it."
Crisler says she has always been active, even as a kid. She danced competitively and played multiple sports, but when she found out in her senior year of high school that she was at risk for becoming insulin resistant, she knew she needed to step it up. Deciding to earn a degree in fitness management and personal training was a natural fit due to her lifestyle and interests. She hopes to work in corporate wellness once she earns her degree, and her job in the Fitness Center is preparing her perfectly for her career.
"I love helping people, and I cannot stop finding new ways to learn about the exercise and nutrition field," she said. "My job in the Fitness Center keeps me active, and I love working with people to help them stay active, too."
Not only is she preparing for her future career, but Crisler is actively practicing what she's learning in the classroom in a real-world setting. She does more than lead people through a cycling workout – she gives them an understanding of why and how cycling is good for their bodies and health, which is an added bonus for participants.
"Physical activity and exercise are so important for your overall health, and I love teaching the people in my classes about the impact of cycling on their cardiovascular health, which muscles they are using, and the chemical reactions and physiological responses their body may have as a result of their cycling workout," she said.
Working at the Fitness Center has made Crisler feel more connected to campus, which has positively impacted her collegiate experience.
Hit the gym this summer
"I know who the regulars are and what time they come in, and I love saying hi when I see them elsewhere on campus," she said. "This job has really made me feel more included and a part of the IUPUI family."
Her work on campus doesn't stop at the Fitness Center, though. Crisler is involved in the Organization of Kinesiology, which aims to educate about the benefits and uses of physical activity and exercise. She also participates in undergraduate research, where she is working with faculty studying active gaming to test whether active video games count as exercising.
She was recently selected as an ambassador for the School of Health and Human Sciences to assist prospective students in determining if it's the right school for them at IUPUI.
When Crisler isn't busy on campus, she works in wellness advising at the Irsay Family YMCA at CityWay, is in the process of getting her nutrition coaching certification through Precision Nutrition and is preparing to take the exam to be a certified personal trainer. This summer, she will participate in Live Laugh Dance, a summer program for adolescents and young adults ages 13 and up who have Down syndrome. As a volunteer, Crisler will promote creative movement, rhythmic activities and social interaction through dance activities.
The IUPUI Fitness Center recently celebrated its one-year anniversary. It offers a wide range of cardio and strength-training equipment, which allows participants to customize a workout to fit their needs.