FORT WAYNE, Ind. – Indiana University School of Nursing Fort Wayne, which was established July 1, 2018, has announced the formation of its board of advisors.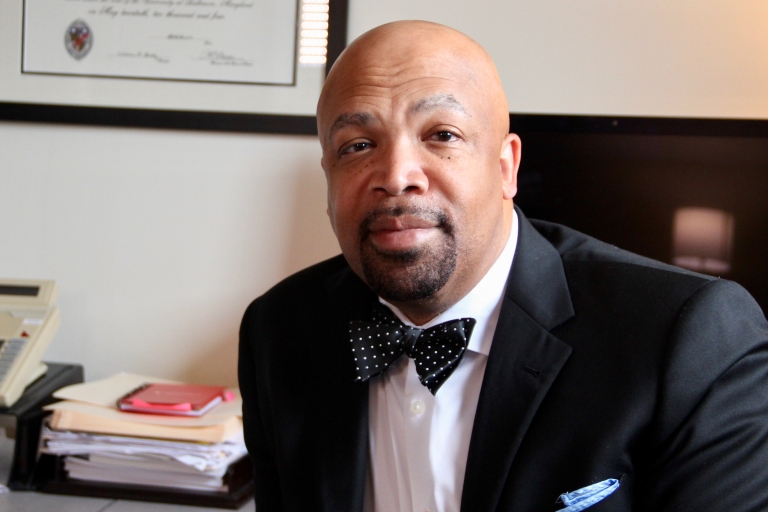 Christopher Lance Coleman, associate dean and professor in the school, led the effort to form the board. Thirteen individuals make up the new IU School of Nursing Fort Wayne Board of Advisors. They have been asked to advise Coleman and the School of Nursing on strategic matters, connect with the school's constituents, and provide counsel on fundraising priorities in support of the school's mission. Each board member is appointed to a three-year term, and the board will meet twice a year.
Initially, the board of advisors is tasked with building relationships and meeting with industry and thought leaders in Fort Wayne to build partnerships between the school and the community.
"The school is still new to Fort Wayne, and one of the best ways for us to better understand the community's needs is to seek partnerships and guidance as much as possible," Coleman said. "We are committed to providing a first-rate nursing education to those individuals in the Fort Wayne community who want to pursue nursing as their chosen profession. The board understands the importance of building a strong workforce of nurses to support the health and well-being of every individual who calls Fort Wayne home."
One of Coleman's top priorities in selecting members was to have a diverse board. "It is important to have diversity in leadership roles, and I wanted to make sure that the makeup of our community and our students and faculty was reflected on the board," Coleman said.
The board of advisors is chaired by Lorenzo Suter, CEO of Dupont Hospital. Suter was chosen as board chair because of his leadership in the community and his holistic approach to health care, and because he will serve as an exemplary role model and mentor to others. Joining Suter on the board are:
Dr. John Addo, Lutheran Health Physicians.
Judy Boerger, chief nursing executive at Parkview Health.
Paula Bostwick, vice president of behavioral health hospital services at Parkview Health.
H. Joseph Cohen, partner at Barrett McNagny LLP.
Janet Deatrick, professor emerita of nursing at the University of Pennsylvania.
Dr. D'Andrae Douse, Parkview Health.
Dr. Ryan P. Gebfert, Gebfert Family Dentistry.
Rev. Timothy Lake, pastor at Union Baptist Church.
Johnathan Liechty, manager of clinical staff development at Parkview Health.
Angie Logan, chief nursing officer at Lutheran Hospital.
Rick Partin, owner of Web Graphics Inc.
Renetta Williams, executive director of Health Visions.
Looking to the future, Coleman hopes to empower the board to work closely with the school's faculty and administrators. In August, IU School of Nursing Fort Wayne faculty will collaboratively assess the state of the school and will share the results of their analysis as well as the strategic plan at the board's inaugural fall meeting. This information will provide the board with a baseline from which to launch future strategic initiatives.
"It is very important that the board and the faculty and staff work hand-in-hand to set future goals for the board and advance the strategic plan of the school," Coleman said.
Coleman is hosting a welcome reception at his home Wednesday, May 1, to introduce the board members to each other, to the faculty and staff of the school, and to other prominent community members, including Fort Wayne Mayor Tom Henry.
Coleman said he is pleased to welcome the mayor to the reception to thank him for being a friend of IU and for his hands-on involvement in the community.
About IU School of Nursing Fort Wayne
Indiana University School of Nursing Fort Wayne, which was established July 1, 2018, has joined the IUPUI and Bloomington campuses to form the core IU School of Nursing program. Accredited by the Higher Learning Commission and the Commission on Collegiate Nursing Education, the Fort Wayne campus offers a Bachelor of Science in Nursing program with two tracks: traditional and RN-to-BSN. With a clear focus on partnering with the community, improving the health of the residents in the region and providing a workforce of nurses for the community, the school is committed to preparing skilled nursing professionals and engaging in research that advances nursing education and practice. The faculty are engaged in health disparities, health promotion, oncology and educational research. Additionally, they oversee the Lafayette Street Family Health Clinic, which is funded by Title X and provides family-planning services. Graduates of the IU School of Nursing Fort Wayne will be prepared for a career as a professional nurse, providing care to all individuals, families, communities and populations in settings ranging from hospitals to school clinics to nursing homes.