In accordance with trends at universities across the country and in response to a charge from Indiana University President Michael A. McRobbie to establish additional routes of advancement for IU's non-tenure-track faculty, the IU Board of Trustees has approved the University Faculty Council's recommendation to create a new academic rank for lecturers.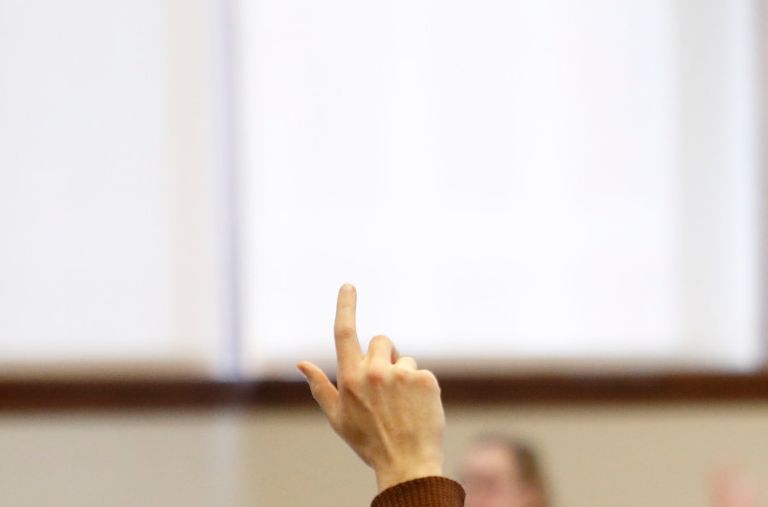 The new tier is situated at the top of the lecturer rank, beyond lecturer and senior lecturer, and is titled "teaching professor." The change will update the professional path for lecturers to parallel the tenure stream and clinical professional ranks, all of which have three tiers.
"I like to think of this recommendation as correcting a historical mistake," said John Watson, associate professor of biology at IUPUI and chair of the University Faculty Council's Non-Tenure-Track Task Force. "Lecturers are the only faculty with just two tiers, and it seemed like good thinking to reward and honor hardworking lecturers and senior lecturers with another opportunity for advancement."
The resolution, which garnered popular support from both non-tenure-track and tenure-track faculty, passed in the University Faculty Council earlier this spring with a nearly 76 percent majority. The creation of a third rank was previously approved by the Bloomington Faculty Council in April 2018 and by the IUPUI Faculty Council in December 2018 before advancing to the universitywide council. Watson said the largest debate surrounding the change was what exactly to call the new rank.
According to Watson, many other universities have eliminated the "lecturer" title altogether and created a new path composed of the titles "assistant teaching professor," "associate teaching professor" and "teaching professor" to mirror even more closely the tenure-track path. Because the council felt it would be hard to garner support for such a drastic change at IU, it settled on a compromise.
The different campuses of IU will be responsible for placing current faculty in the new tier and creating criteria for promotion. Watson said it makes more sense for the units that grant promotion and tenure to handle this type of promotion within their campus norms. Many schools and departments were aware of the coming change and have already started this process, according to Watson. Now that the change has been approved by the board of trustees, the goal is to have non-tenure-track faculty apply for promotion to teaching professor by fall 2020.
"We could not exist in the form we do now without our lecturers and senior lecturers," Watson said. "These individuals tend to be absolutely excellent teachers, because that's what they have more time to focus on. This is a way to recognize and reward their importance to the enterprise."