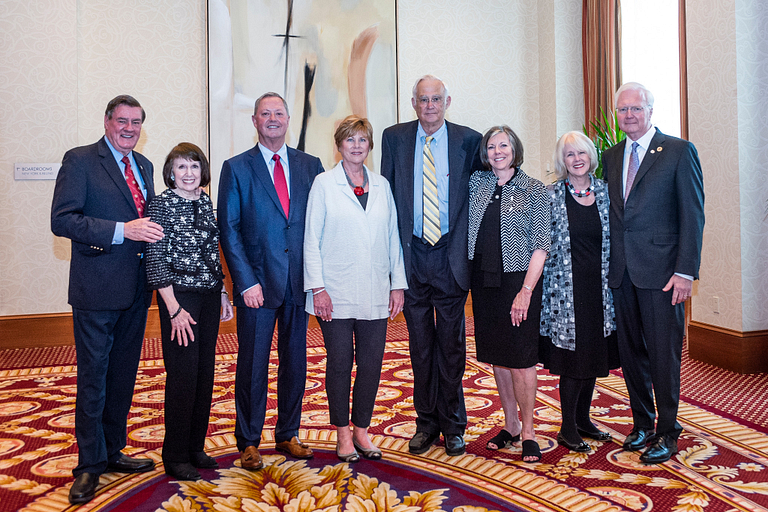 BLOOMINGTON, Ind. – Indiana University and the Indiana University Foundation have honored six individuals and one family as 2019 Partners in Philanthropy. IU President Michael A. McRobbie and IU Foundation President Daniel C. Smith presented the awards June 6, recognizing these exceptional volunteer leaders whose service and contributions have made a transformational impact on the university.
Each year, nominations are solicited from all IU campuses. A committee of representatives from IUPUI, IU Bloomington and regional campuses then selects the recipients.
Quotes from university leadership:
IU President Michael A. McRobbie: "The generosity of these outstanding leaders and friends of Indiana University is truly inspiring. As we prepare to celebrate the IU Bicentennial, we are extremely grateful for their extraordinary support that will benefit generations of students, faculty and staff, as well as their commitment to our missions of continued excellence in education, research and engagement in strengthening the Hoosier communities we serve."
IU Foundation President Daniel C. Smith: "The dedicated service and generosity of these special friends is a testament to their belief in the power of Indiana University to change lives and serve as a driving force for good in the world. Their longstanding commitment to IU is an inspiring investment in the promise of the next generation and sets an extraordinary example for those who follow."
About For All: The Indiana University Bicentennial Campaign
For All: The Indiana University Bicentennial Campaign is taking place on all IU-administered campuses, including IU Bloomington, IUPUI, IU East, IU Kokomo, IU Northwest, IU South Bend and IU Southeast. The campaign will conclude in June 2020 to coincide with IU's bicentennial year celebration. To learn more about the campaign, its impact and how to participate, please visit forall.iu.edu.
About the IU Foundation
Founded in 1936, the Indiana University Foundation maximizes private support for Indiana University by fostering lifelong relationships with key stakeholders and providing advancement leadership and fundraising services for campuses and units across the university. Today, the IU Foundation oversees one of the largest public university endowments in the country, with a market value in excess of $2 billion. IU is consistently ranked among the top four of Big Ten universities in annual voluntary support.