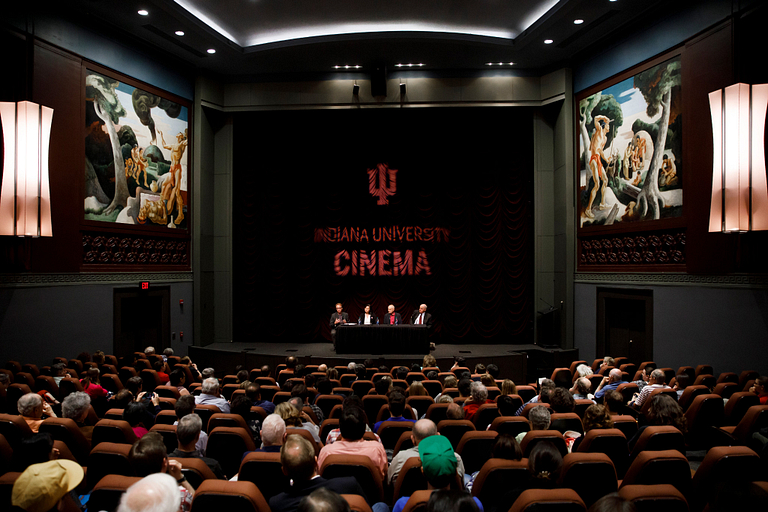 The word "restoration" became jokingly known as a bad word during a panel discussion after a film screening of "They Shall Not Grow Old" at Indiana University Cinema.
The film, shown as part of the first Biennial Audiovisual Archival Summer School, was created using 100 hours of original World War I footage of British soldiers from the Imperial War Museum of London. Director Peter Jackson, of "Lord of the Rings" fame, was given carte blanche to use the footage as he liked, and he heavily manipulated the footage – colorizing it, and adding voices and sound effects – to show the war as it might have been seen by those who were there.
Among the most contested questions the panel addressed were: Is this OK? Is it acceptable, in the service of dramatic storytelling, to manipulate video and audio archives so that audiences can see and hear more out of this material?
Panelists included IU President Michael A. McRobbie; IU Libraries Moving Image Archive director Rachael Stoeltje; IU Cinema director Jon Vickers, who moderated; and the man who supplied the original footage himself, David Walsh, head of digital collections at the Imperial War Museum.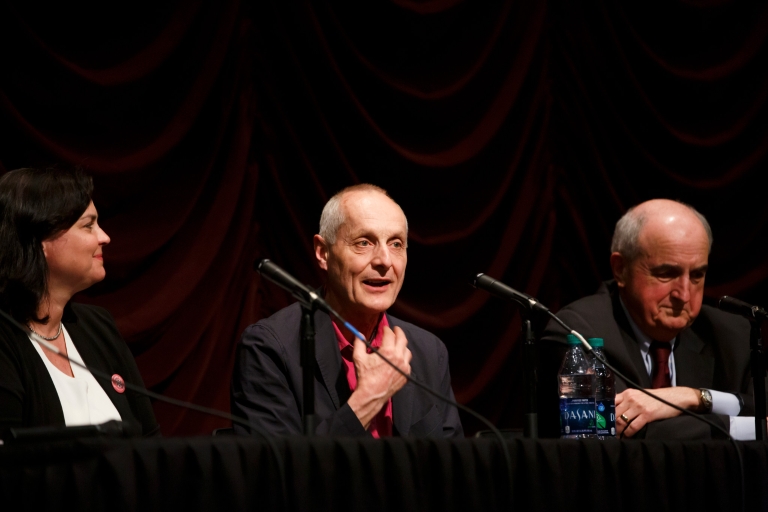 The screening was open to the public. But a large number of moviegoers were attendees of the summer school program held at IU, the first international audiovisual preservation training event of its kind in North America, featuring experts in a variety of archive- and restoration-related disciplines.
Both of McRobbie's grandfathers fought in what was then known as the Great War.
"I think this is an absolute masterpiece; quite superb in every way," he said of the film. "It probably is, in some sense, a creative interpretation. But to me, what's so important about it is, to anyone who has seen a lot of World War One footage, it does have a slightly unreal element about it.
"I think people don't have a sense of the real horrors of the war with the black-and-white footage. This I think brings you really close to the kind of footage one is used to and gives you an excellent sense of what it was actually like to be there, and it humanizes it all in a way that I just don't think you feel with the black-and-white original footage."
Walsh, representing both the Imperial War Museum and the International Federation of Film Archives, said the federation has fairly strict ethical guidelines for restoration, and that Peter Jackson's work significantly crosses them.
"But having said that, these guidelines are written largely with the idea of cinematic works in mind – the sort of thing you shouldn't do to 'Citizen Kane,' for instance – so it's arguable that what is produced in this extreme cleanup of the original footage is something that may actually approach more what was in front of the camera than the grainy footage we've already seen," he said. "Though I have to say that a lot of my colleagues in the film archival world are less inclined to be so tolerant."
The concern comes with the degree of manipulation the old footage underwent, and also that there will be a temptation to apply these techniques to material that isn't just footage but actual authored films, Walsh said. McRobbie suggested that a new set of guidelines be developed for works that incorporate archival film footage, outside of which it would be best not to stray, to ensure historical integrity is preserved intact.
"Our primary job is to preserve our memories and our histories on film or video or digital formats," Stoeltje said. "One of the things we've discussed a lot in BAVASS is this distinction between preservation and restoration and new use. I think many of us are open to the opportunity of new uses. This film was sold out when I went to see it in December. The students were gone. No one was here. It was like a mad rush to go see World War I footage in a new light.
"A lot of us in the archival film community are completely open to providing footage for new uses to get those new audiences, but I think the issue that comes up is the distinction of calling it a restoration. For us, restoration is really going back to what the original footage is and the idea of conservation, doing no harm and leaving no mark."