A week ago, musician Cameron Ingram was looking for a bass to play.
As a junior studying classical double bass in the Indiana University Jacobs School of Music, Ingram was playing a rented bass that wasn't resonating with him. Unfortunately, a quality instrument costs thousands of dollars, and his mother didn't want him to take out loans.
A graduate of Warren Central High School in Indianapolis, Ingram is a first-generation college student. He had picked up the bass during high school, which is late for a serious student of music.
"Where I come from, there just wasn't enough exposure to music," Ingram said. "I didn't know a lot of things because I just didn't have the opportunity."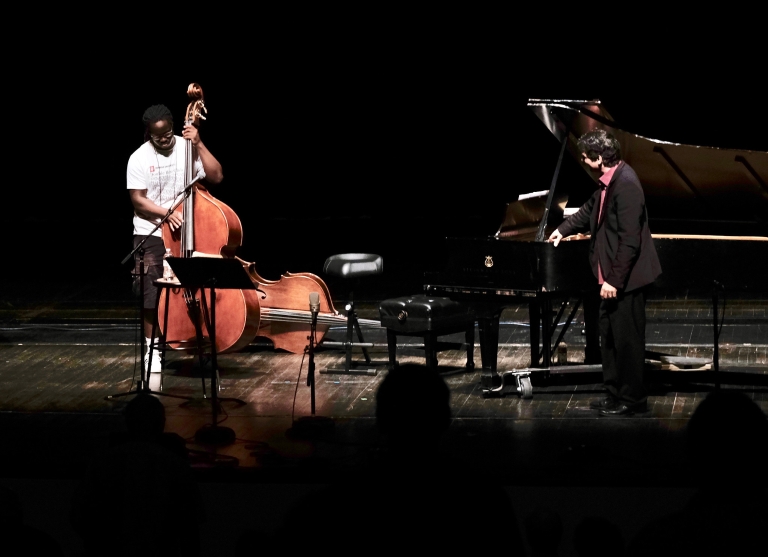 When he got the chance to attend IU, it increased his drive to succeed.
"I'm the first male on my mother's side of the family to go to college," he said. "Now that I'm in college, I don't want to stop there."
The struggle to get his hands on an instrument that matched his growing skill and aptitude for music was holding Ingram back, despite his work to do better at each practice with IU professor Jeff Turner.
Ingram's work ethic was not lost on Turner, who joined the faculty at IU one year ago after having been in the Pittsburgh Symphony Orchestra for more than 30 years.
"Cameron has made dramatic progress and is one of the hardest-working people at the school," Turner said. "He is intensely focused on music and is a very deep person. He has a spiritual aura about him that everyone feels and sees."
Turner could relate to Ingram's need for a better instrument.
"Any string player faces a tremendous hurdle in being able to afford an instrument they can work on professionally," Turner said. "Resources are at the top of everyone's list as a performer."
The baseline price of a bow is around $4,000, and a bass can cost up to $55,000, he said.
When the Jacobs School recently hosted the International Society of Bassists convention, Turner, along with colleague Kurt Muroki, saw an opportunity to help Ingram find a bass that was better suited to his talent.
The biennial convention brings the international bass community together, including more than 1,300 musicians, teachers and performance artists as well as luthiers – builders of string instruments. During the weeklong event, the luthiers build a bass from the ground up. A single luthier might take months or years to complete a new bass, but when they work together, they can fashion an instrument much more quickly.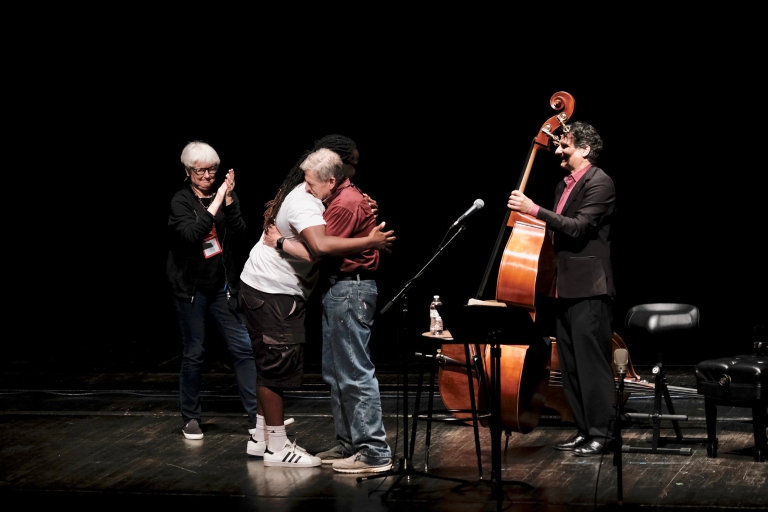 As the luthiers worked to build a bass during the convention, Turner and Muroki shared Ingram's story, and when the bass was complete, the luthiers decided to surprise Ingram with the gift of a bass and bow from the build-a-bass program.
It was just after a performance by famous jazz bassist John Patitucci that Ingram found out about the gift.
At the end of an incredible solo recital at IU's Musical Arts Center, Patitucci explained that the bass he had just played in his performance had been finished by luthiers only hours before and that he wanted to present it as a gift to a deserving musician. Ingram was asked to join him on stage.
"It was probably one of the best days of my life," Ingram said. "The first time I picked it up and started playing – whoa! It blew my mind. I was speechless."
The gratitude Ingram feels is overwhelming, and he's prepared to put in even more effort because he knows there are people pulling for him.
"A lot of people are looking after me, hoping that I'll be successful," he said. "I feel like I just have to do whatever I can to make it."
Watching Ingram onstage with Patitucci and accepting the bass, Turner knew what it meant to his student.
"He was over the moon with excitement and joy," Turner said. "I still get a little emotional thinking about what a wonderful thing it is."