The changes can be subtle.
Maybe the visitor tracker at the bottom of the website disappears. Or the lime-green accent color is swapped out for crimson and cream. Plus, social media icons are added to the corner of the web page.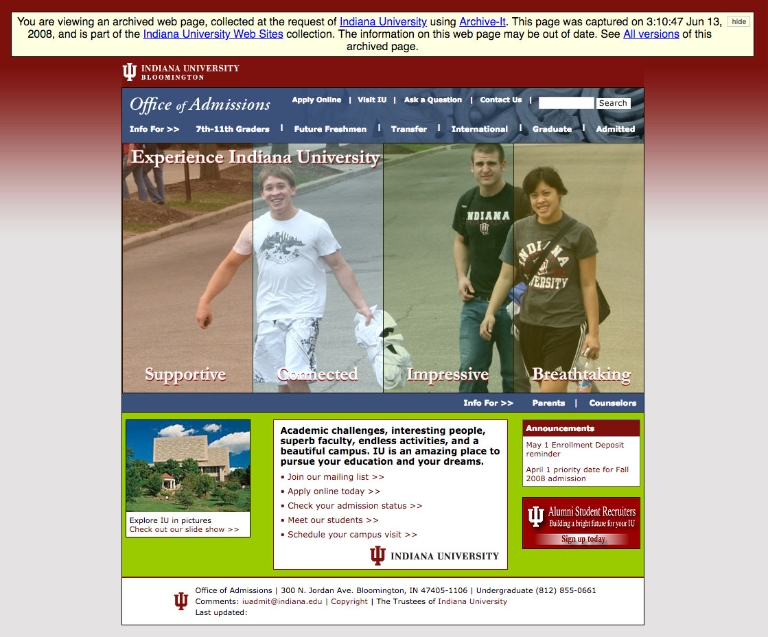 Unlike the paper brochures and newsletters that can be pulled off a shelf or out of a box at the IU Libraries' University Archives, there's no way to physically save the previous versions of university websites.
Like trends that go out of style, old websites and the information they had are often lost and forgotten once the sites are updated.
That is, unless you know to check the IU Archive-It collection.
Started around 2005-06, the digital collection of nearly 400 university websites allows users to take a peek – and even cringe – at old versions of IU websites. Plus, the collection expanded about three years ago to include several social media accounts. It's free to use, and Archive-It has full-text search capability and allows users to search by URL.
"If people are creating content that will be part of the history of, or about, IU, we want that to be in the collection," said Molly Wittenberg, records manager at University Archives, who is also the first to manage this collection.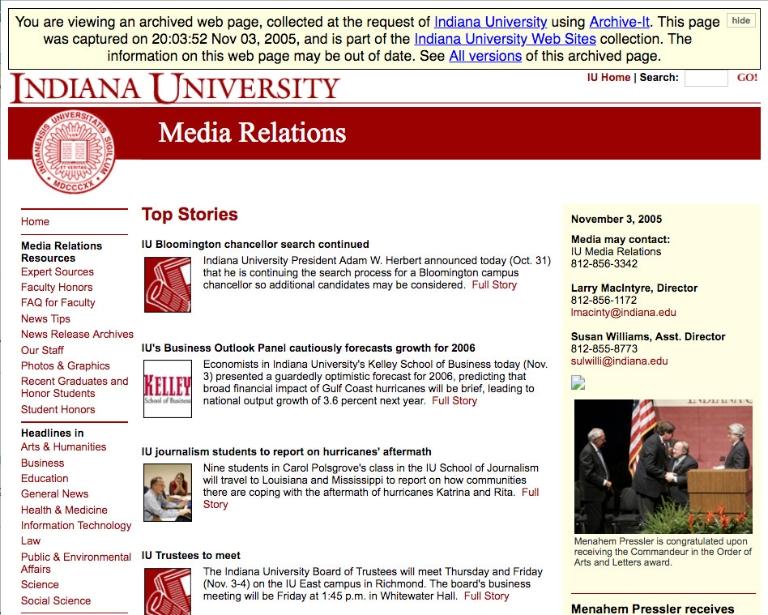 And many of the things once on paper – newsletters, bulletins and more – are now only online.
"I think that people aren't fully aware of the collection and its uses," said Dina Kellams, director of University Archives. "We've had departments call us and ask about how to resurrect old job descriptions, or a student doing research can access old bulletins without being on campus for hard copies."
She added that she recently was contacted by an administrator looking for a speech that President Michael A. McRobbie gave when he was interim provost more than 10 years ago. Kellams said she was able to easily find it on a website in the archives.
And for documenting campus life, that's where the social media archive collection comes in.
"The social media is a little more personal and student focused," Wittenberg said.
Plus, it's a way to see the university interact with people in a more conversational way that's friendly and fun, Kellams added.
To create the collection, university websites and social media pages are "crawled," or captured, based on how often they are updated.
Some sites or accounts are documented just once. Others, like the Indiana Daily Student, are documented often. The IDS is no longer printed every day, so it's especially important to capture on nonprint days, Wittenberg said.
Other IU sites that are documented more often are ones like admissions and athletics. Wittenberg said she's also documenting the website for the Center for Rural Engagement each month to capture progress of the new center's initiatives.
But it's not a perfect process. Some links are missed; some items are duplicated. Some are just mysteries.
Plus, sorting electronic records can take longer than sorting the paper versions, Wittenberg said.
"There is so much variation with electronic records; you don't always know until you open them," she said. "But with paper, it's often easier because you can see right away what's there."
Regardless, the University Archives aims to collect, organize, preserve and make records accessible, no matter their format.
"The archives is the largest and most comprehensive source of information on the history and culture of Indiana University," Kellams said. "We must make sure we continue to record this story."