Teaching and improv comedy go hand-in-hand for Jim Ansaldo.
Now a research scientist at the Center on Education and Lifelong Learning at Indiana University's Indiana Institute on Disability and Community, Ansaldo started doing improv in the late '80s. Around the same time, he was earning his certification for teaching, so he started using the form of comedy in the classroom.
"Improv is a tool that helps create an optimal learning environment," he said. "It's about drawing on what I know and taking risks. It's OK to fail; sometimes it's even better," he said.
Ansaldo later founded Camp Yes And, a free summer improv camp at Indiana University for teens with autism. The day camp, now in its fifth year, also doubles as a continuing education opportunity for educators.
While grants and crowdfunding have helped pay for the camp, Ansaldo created a new fundraiser for 2019: the first Bloomington improv festival.
"There's a desire for improv culture here, but there hasn't been an event to bring the improv community together in Bloomington," he said.
To change that, the Center on Education and Lifelong Learning partnered with the John Waldron Arts Center and Ivy Tech Community College Bloomington to create the B-Town Improv Hoedown on Oct. 5. Tickets go on sale in early August.
The festival offers both workshops and performances. The latter includes an all-ages show from ComedySportz, the improv organization that Ansaldo performs with in Indianapolis.
Yes, and …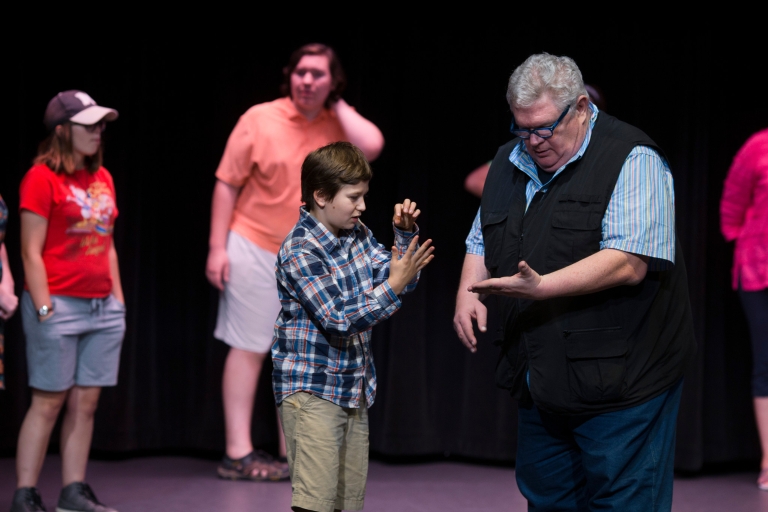 To explain why improv makes an effective teaching tool, Ansaldo pointed to the theater form's origin in the U.S.. Viola Spolin, a social worker at the Jane Addams Hull House in Chicago, created improv games in the 1920s and '30s to help immigrant children connect across social, cultural and language barriers. Her son Paul Sills later used the games with the cast of The Second City, a theater company he co-founded in 1959.
"People with autism have a unique form of communication, so improv levels the playing field," Ansaldo said.
Improv is all about receiving and sharing information, and that mimics the mechanisms for making social connections, added Lacy Alana, who helped Ansaldo start the camp after doing similar work at Building Connections with the Hideout Theater in Austin, Texas. Alana comes to Indiana each summer to co-direct the camp with Ansaldo.
"But instead of it feeling like practicing social skills, which can be somewhat dry and uninteresting to many students, improv is playing games, which is both fun and engaging," she said.
Each camp has 10 students and 10 educators. The educators meet in the morning for lessons and then apply what they learned with the students in the afternoon.
Learning strategies in the morning and then applying them with students that same day is part of what makes the camp so special and useful, said Kelli Suding, an autism specialist at the PATINS Project, a nonprofit agency that works with students and teachers across the state.
Plus, she said, the games are a great way to get to know the students and their interests. Maybe the students use storylines about cowboys or airplanes all the time, and then the educators know more about the students than they did before.
Both the educators and the students can start the week a little hesitant, but by the end, both groups have grown and tried something new, Alana said.
That was the case for Tami Housholder, a behavior specialist and head of the autism team for East Noble Schools in Kendallville, Indiana. She signed up for the camp two years ago on a whim.
"Improv is totally out of my realm," she said.
But Housholder fell in love with it. "It's great for all teachers, not just those who work with special education. It really teaches kids communication and social skills, and it's fun. You can't be wrong, and for kids that's huge."
That ability to fail also stood out to Suding.
"It's OK to fail; we even clap for it," she said. "Kids realize that yes, they failed, but they can celebrate it now."
This year's camps are July 1 to 6 in Bloomington and July 8 to 12 and 15 to 19 in Indianapolis. Each camp has a Friday showcase from 3:30 to 4:30 p.m. that's open to the public. In Bloomington, the showcase is at the Whittenberger Auditorium at the Indiana Memorial Union; in Indianapolis, it's at Lilly Auditorium at the IUPUI University Library.