This summer as part of the Indiana Sustainability Development Program, Indiana University students are working with several local governments in Indiana to complete community-scale greenhouse gas inventories.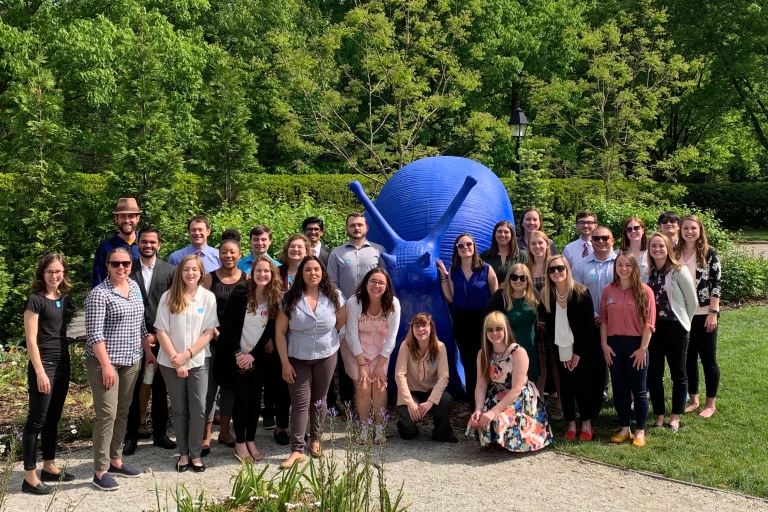 The Resilience Cohort is a new project under Sustain IU's extern program, supported by the McKinney Family Foundation, resulting from a new partnership with the Environmental Resilience Institute, founded as part of the IU Prepared for Environmental Change Grand Challenge initiative.
"I am thrilled that the Resilience Cohort was launched this summer as part of the Indiana Sustainability Development Program," said Andrew Predmore, director of sustainability at IU. "Not only are these students developing professionally, but they are also making real sustainability contributions to the state of Indiana by doing the foundational work needed to seriously address the challenges posed by climate change."
The eight students in the first Resilience Cohort will be hosted by cities, towns and counties committed to addressing the challenges associated with climate change. The students will complete greenhouse gas inventories for their host communities, which will provide data on topics such as the amount of energy consumed, the diversity of the energy supplied to their grid and residents' vehicle types and fuel usages.
Communities can use the inventories' data to set targets for reducing greenhouse gas emissions and develop a plan for achieving these goals. Students will analyze the results to help their host local governments understand the data, a critical step in larger efforts to reduce emissions and adapt to the changes affecting Hoosier communities.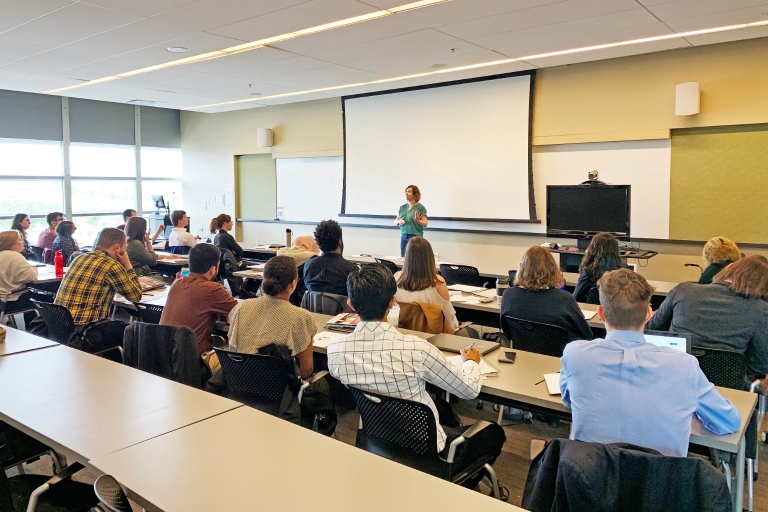 Bloomington, Carmel, Columbus, Delaware County/Muncie, Evansville, Fort Wayne, Gary, Greencastle, Goshen, Michigan City, Oldenburg, Richmond and West Lafayette will each complete greenhouse gas inventories. Several communities will work with non-ISDP-affiliated externs.
The Resilience Cohort is part of a larger group within the Indiana Sustainability Development Program, which includes undergraduate and graduate students majoring in subjects such as sustainability, environmental science, business and public policy. Each student engages in a 10-week externship to develop sustainability skills with businesses, nonprofits and municipalities across the state. The partner organizations receive increased work capacity to tackle sustainability topics such as energy conservation, renewable energy and recycling.
The number of students participating in the program has grown from 15 to 30 annually since its establishment three years ago. This year's program began May 13, when 30 IU students gathered in Indianapolis for a three-day intensive "boot camp" training before their externships started.
"We are delighted these Indiana cities are welcoming our IU students to work with them on ways to reduce carbon emissions and enhance air quality," said Ellen Ketterson, director of the Environmental Resilience Institute and IU Distinguished Professor of Biology.
As part of the Resilience Cohort, participants have access to technical resources, a peer network and training through ICLEI-Local Governments for Sustainability, a nonprofit that specializes in helping local governments with emissions inventories. The greenhouse gas inventories will be completed by September.
The Resilience Cohort is funded by the McKinney Family Foundation and Earth Charter Indiana.
About the Prepared for Environmental Change Initiative
The Indiana University Prepared for Environmental Change Grand Challenge initiative brings together a broad, bipartisan coalition of government, business, nonprofit and community leaders to help Indiana better prepare for the challenges that environmental changes bring to our economy, health and livelihood. Announced in May 2017, Prepared for Environmental Change is working to deliver tailored and actionable solutions to communities across the state of Indiana.