Dual passions for science and writing carved out a crucial niche for Amie Frame at Indiana University.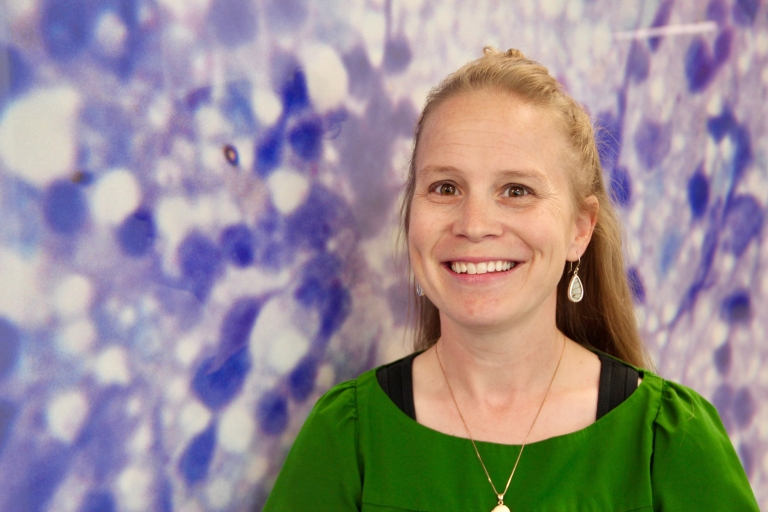 As grant writer for the IU Innovation and Commercialization Office just off the IUPUI campus, Frame guides principal investigators toward gaining the necessary funds to conduct research, develop prototypes and receive patents.
Frame has extensive research experience, having worked as a research assistant and then research manager through graduate school, which helps her understand the scientific or technological side of the proposed grant.
"I thought I was more valuable working on grants because you can't do research without funds," said Frame, who earned a master's degree in public health from the IU School of Medicine. "Grants can be very challenging."
Frame's eye for detail and her organizational skills have been key in her career arsenal. Raking in thousands of dollars – even millions – for a research project on which the average agency gatekeeper might not be an expert can be a daunting task. Frame has developed techniques of walking the tightrope between helping agencies understand the significance of the research in a concise, clear manner while assuring the researcher he or she is in good hands.
Keeping an eye on the ever-changing availability of grant money is another part of Frame's job. Demand is always there, but how much money can be won through the federal budget? Agencies like the National Institutes of Health receive thousands of grant applications every year. In 2017, the NIH reviewed 54,005 research project grants, with 10,123 being awarded.
What is the IU ICO?
"That's my job: to be able to help them tell a compelling story very clearly so anyone reviewing it can understand," Frame said. "The success rate for grant applications is small – 17 percent nationally, according to Foundation Center. You're competing. It's highly competitive."
The process
A typical grant starts with Frame meeting face-to-face with the principal investigator before writing a single word. Lab tours and follow-up questions give her a foundation of understanding that will shine through in the application.
Frame, who also holds degrees in chemistry and biology, creates a development timeline, ideally two months ahead of the grant application deadline. Several weeks are needed to meticulously review, edit, craft and submit the proposal while meeting the strict agency deadlines.
With most science research, the details can be immense when moving them to the digital field of the agency's electronic submission system. Frame breaks down the project into pieces. Tables, graphs and other visuals not only break up the text but allow the agency to better understand the research and why it needs to be funded.
"The narrative is the bulk of the application, which is where you explain the project," Frame said. "My skill set and my education in the sciences allow me to provide some more-focused feedback."
Such methods were used in a successful and substantial 2018 grant for Kim Nguyen, director for statewide and regional collaborations at IUPUI's STEM Education, Innovation and Research Institute. For a collaboration with colleagues at Chicago State University, the total award from the National Science Foundation was $2.5 million; IUPUI received $1,176,859 for five years.
"Amie assisted me with editing, formatting and submitting necessary biosketches and other required forms for the project team of nine individuals," Nguyen recalled. "She was precise, kind and patient with the team throughout the process of preparing for the final grant submission."
'Bench to bedside'
Throughout her career, Frame has checked in with the researchers after they were funded to see how things are going. Her skill of comfortably navigating research initiatives from the beginning was first honed working for Dr. Malaz Boustani, director and research scientist for the Center for Health Innovation and Implementation Science at the Regenstrief Institute. He dubbed Frame his research "chief of staff" and said she shined brightly during three R01 research projects with the NIH. Each project worked with hundreds of patients from Central Indiana.
"You need to be a person who listens to the mission of each proposal and project," Boustani explained. "She made my life very easy."
Frame has been at IU ICO for only about six months, working mostly on projects that will take years to formulate. She has been busy, but most of the assignments are still in their development phase. Since the office has nurtured thousands of patents and inventions since 1997, she could well see her grant writing bring forth a product on the market that could benefit the public.
"Working on grants, you're at the very beginning," Frame said. "It'll be really interesting to see how some of these clinicians and investigators translate their research from bench to bedside."