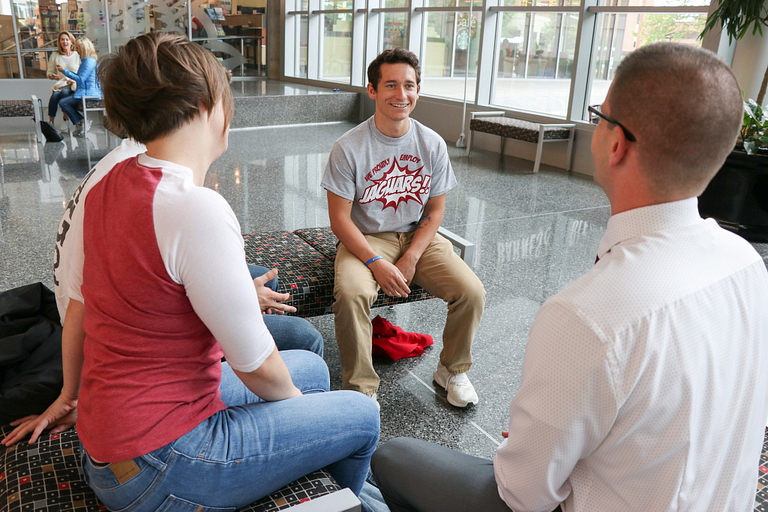 It can take one moment to change your life. For Ryan McGlinchey, one of those life-changing moments occurred at the end of 2016, when he missed the opportunity to say goodbye to his grandfather, whose health was failing. McGlinchey was using drugs and unable to make it to the hospital.
Months later, after he had withdrawn from his second university and realized his entire life was centered around using drugs or alcohol, he decided it was time for a change.
McGlinchey called his family in November 2017 and asked them for help in getting sober. It was time to go to rehab.
"I knew something bad was going to happen to me, and it hit me that I needed help. This was the turning point for me," he said. "I was willing to go wherever and do whatever to get sober. It didn't matter how many friendships or relationships I had previously destroyed. I was emotionally done living that way, and that's what made me seek help."
An Indianapolis native, McGlinchey was exposed to drugs and alcohol as early as elementary school. As a kid, he watched alcoholism affect close family members but didn't have boundaries on what he would or wouldn't try. By the time he was 16, he was into hard drugs, and he drank every day until the day he became sober. After high school, he completed an intensive outpatient treatment program, but it wasn't enough to make lasting changes.
"The scary thing was that there were no red flags for me. I was determined there was a way to live that kind of life and be successful," McGlinchey said. "In a way, I felt like drinking alcohol was tied to success. I had a vision of being successful in the business world, drinking with colleagues and enjoying life."
After months of inpatient treatment, McGlinchey moved home, found a sponsor through a family friend, got connected to local support groups that could help him and planned to attend IUPUI for the fall 2018 semester. Earning his degree had always been a priority, even through his struggles with addiction.
McGlinchey connected with Eric Teske, director of the IUPUI Office of Health and Wellness Promotion, to get involved in the Collegiate Recovery Community, which he learned about through rehab.
"The CRC was a major reason I chose to come to IUPUI," McGlinchey said. "I didn't know a lot of young sober people in Indianapolis, and since joining the group, I've made tons of friends and connections who understand and support me."
McGlinchey volunteers with the CRC, running the Instagram account and helping to plan sober outings and events. He attends weekly support meetings on campus and attributes being in that community to his continued academic success.
In January, McGlinchey was selected to serve on a national student board through the Association of Recovery in Higher Education. Since then, he's been working with students from all over the country to plan a panel session for this year's national conference, taking place at the end of June. He says the goal is to showcase how and why CRCs are so important to students succeeding academically and personally, with the hope of expanding networks and reaching more students who could benefit from them. As a member of the student board, McGlinchey will attend the conference for free.
"I think there is a big misconception about addiction and young people," McGlinchey said. "I've heard people talk about being young and trying drugs and alcohol, but they don't realize that young people can have a problem. What I was doing was not OK. I wasn't just a kid trying things. I was an addict."
McGlinchey wants to change the stigma around addiction and encourage people to talk about it. He hopes that the more he shares his story and struggles, the more others will feel empowered to do the same and get help.
Teske is proud of McGlinchey and the work he and his peers are doing for the recovery community in advocating for changing public perception and breaking the stigma. Addiction is a public and mental health issue that needs to be discussed, he said.
"Ryan is the first student from IUPUI to serve on this national board and take on a national leadership role in the CRC program," Teske said. "Our program provides a safe space for students in recovery to socialize without the pressures of drugs or alcohol."
In the spring 2019 semester, McGlinchey fulfilled his dream of being accepted into the Kelley School of Business. On May 15, he celebrated 18 months of sobriety – happy, healthy and ready to keep moving forward.
In addition to his work at IUPUI, he volunteers at detox centers in Indianapolis to try to help others establish a plan for staying sober, and he sponsors young adults who are in recovery.
The CRC at IUPUI was formed in 2014, the first such community established in Indiana. It is a free program offered through the Office of Health and Wellness Promotion, and all activities, events and outings are free for participants. In the past year and a half, it has doubled in active participants.
For those interested in learning more, email recovery@iupui.edu to set up an initial meeting. You do not have to be a current student to have that meeting.