BLOOMINGTON, Ind. – Indiana University has officially begun its yearlong celebration of the IU Bicentennial. The state's flagship public university, which will turn 200 on Jan. 20, 2020, marked this historic occasion by announcing that Indiana Gov. Eric Holcomb has been awarded the university's inaugural Bicentennial Medal.
On Friday afternoon, IU President Michael A. McRobbie presented Holcomb with the medal, which celebrates IU's 200th anniversary and honors organizations and individuals associated with IU from across Indiana, the nation and the world for exceptionally distinguished personal, professional, artistic and philanthropic accomplishments, or those who have served or supported the university with great distinction. The Bicentennial Medal also recognizes those who are models for future students, faculty, alumni and organizations to emulate as IU prepares for its third century.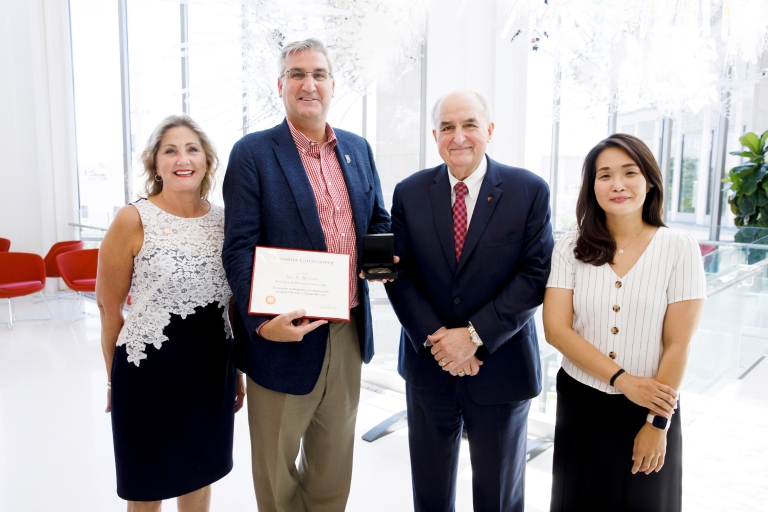 "After many months of preparation and great anticipation, all of us at Indiana University are extremely excited to begin chronicling and celebrating two centuries of IU's development into one of the world's great public research universities," McRobbie said. "The bicentennial also offers us an opportunity to envision how IU will evolve in its third century to ensure we continue to provide a world-class, relevant education to our students and contribute to the health and economic vitality of the Hoosier communities we serve.
"Governor Holcomb is a lifelong Hoosier who has dedicated his professional life to improving our state and the quality of life of our citizens, and who has been a strong advocate for IU's and Indiana's shared mission to marshal university education, scholarly activity and research innovation toward meeting the challenges facing our communities and our society. He has been a great partner and supporter of IU here in Indiana, nationally and around the world, and we are honored to be able to recognize his efforts and distinguished service to our state with IU's first Bicentennial Medal."
Holcomb was elected Indiana's 51st governor in November 2016. A veteran of the U.S. Navy, he previously served as the state's 51st lieutenant governor, acted as an advisor to both Gov. Mitch Daniels and Sen. Dan Coats, worked for Congressman John Hostettler and is a former state chairman of the Indiana Republican Party.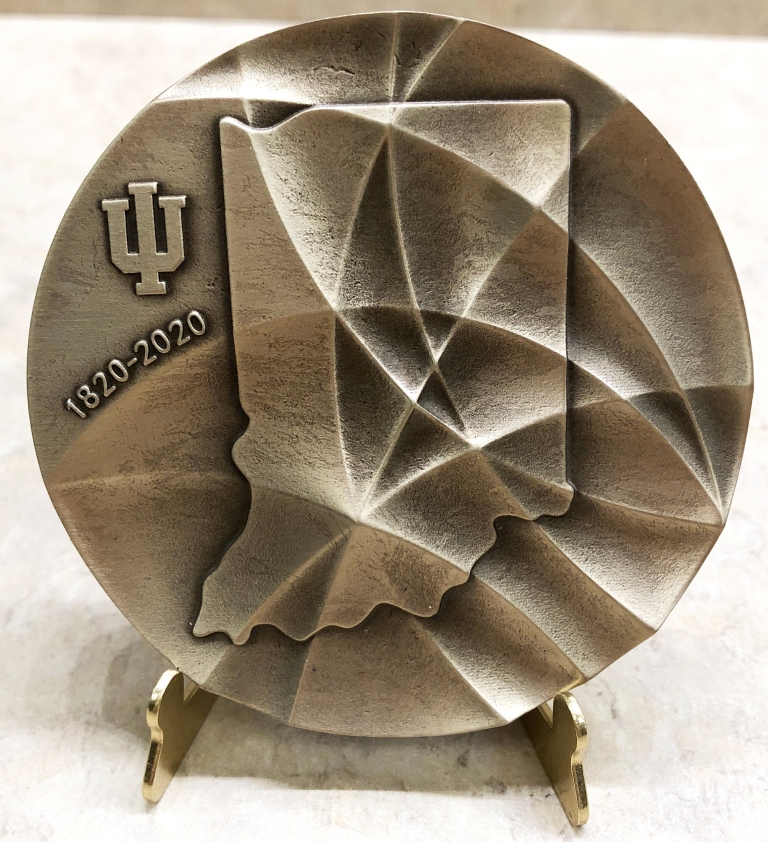 The design for the Bicentennial Medal was created by Jeeyea Kim, a lecturer in the IU Eskenazi School of Art, Architecture + Design. Kim won an open competition to design the medal that attracted artwork from around the world.
Individuals and organizations honored with this award receive a piece of IU history: The medals are cast with bronze salvaged from the old Student Building bells, recovered after a 1990 fire. Bloomington's Indiana Metal Craft began casting the medals in January.
Nominations for Bicentennial Medal recipients may be submitted at 200.iu.edu/medal. Additional medals will be awarded during the celebratory year.
IU was founded on Jan. 20, 1820, making it one of the oldest public universities in the nation. To celebrate its bicentennial, IU has developed a multiyear, multicampus program that will recognize and chronicle IU history, showcase the university's significant contributions to the world and set a course for the next century.