Indiana University has one of the largest Greek communities in the nation. Members of the IU Panhellenic Association, the governing body for 22 sorority chapters on campus, believe that the strength found in those numbers should be used to do good.
With that goal in mind, seven IU sorority women made a recent global service trip to the southeastern African nation of Malawi. The trip was in coordination with the nonprofit Circle of Sisterhood, which leverages the influence of sorority women across the country to remove educational barriers for girls and women facing poverty and oppression.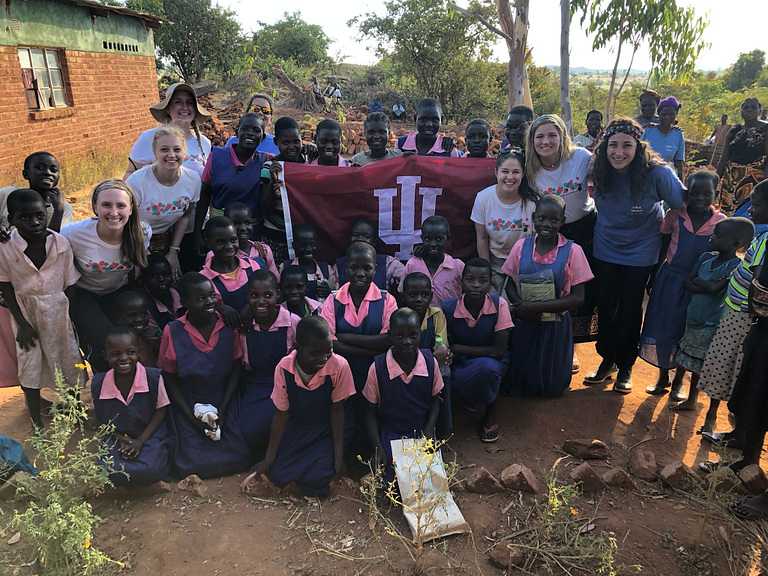 One way the organization does this is by building schools in communities and villages that lack adequate structures. Participants of the Circle of Sisterhood Ambassador Trek Program, which is a partnership with the educational nonprofit Build On, raise money to fund a new school and then travel to help break ground on the project. Each community receiving a school commits to contributing resources and labor and to hosting equal amounts of boys and girls at the finished school.
Members of the IU Panhellenic Association participated in a trek to Nicaragua two years ago, and the group has been planning for its second ever since. As the vice president for community involvement, IU senior Sarah Shapiro coordinated fundraising, acted as liaison between IU and Circle of Sisterhood, and led recruitment of the team of women who traveled to Malawi.
Alexis Karwoski and Amy Krouse, staff members in the Office of Sorority and Fraternity Life, advised Shapiro during the planning and joined the students on the trek. They also taught an academic course that prepared the women for the experience.
"In the course, we spent time discussing Malawi culture, in addition to power, privilege, global service and the purpose of higher education," Karwoski said. "We wanted to ensure we were entering the project as a partner to the community."
Kasiya Village, in central Malawi, has a population of about 450. The nearest school is a 5-kilometer walk from the village, and many children come from surrounding villages to learn. The community had applied for and successfully completed its first project with Build On just six months before breaking ground on the school build with IU. According to Karwoski, communities rarely apply to complete two Build On projects in a year because of the labor commitment required.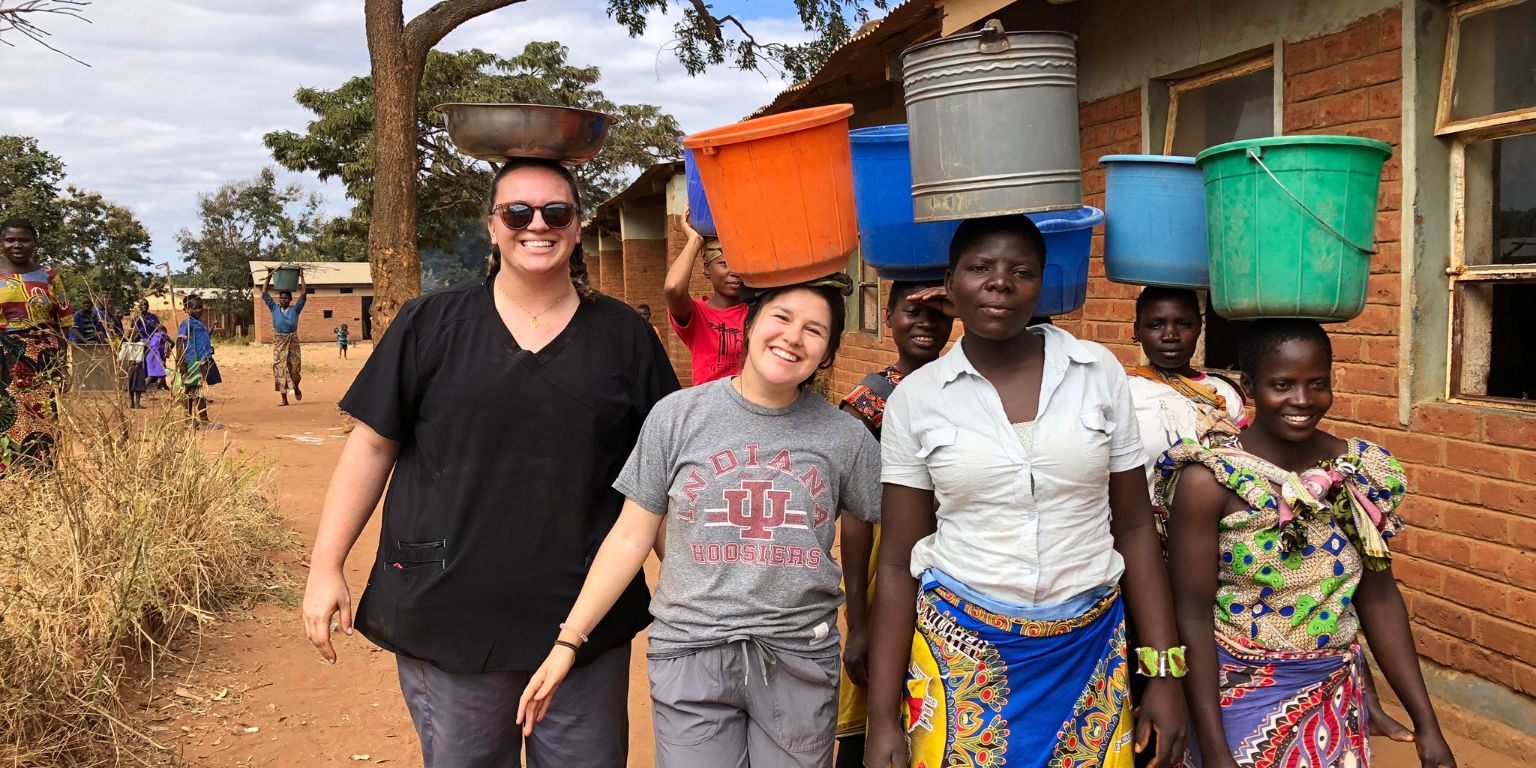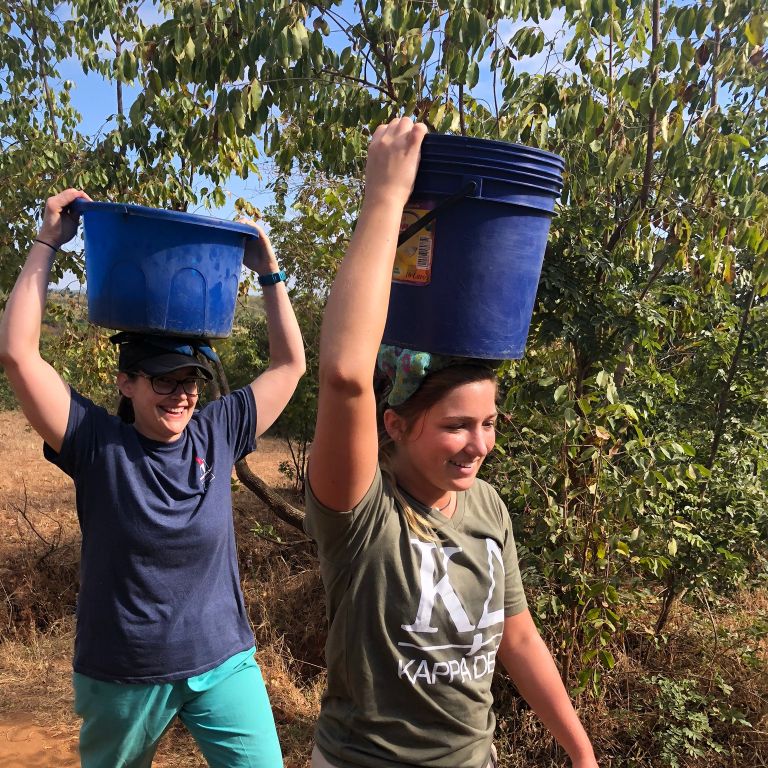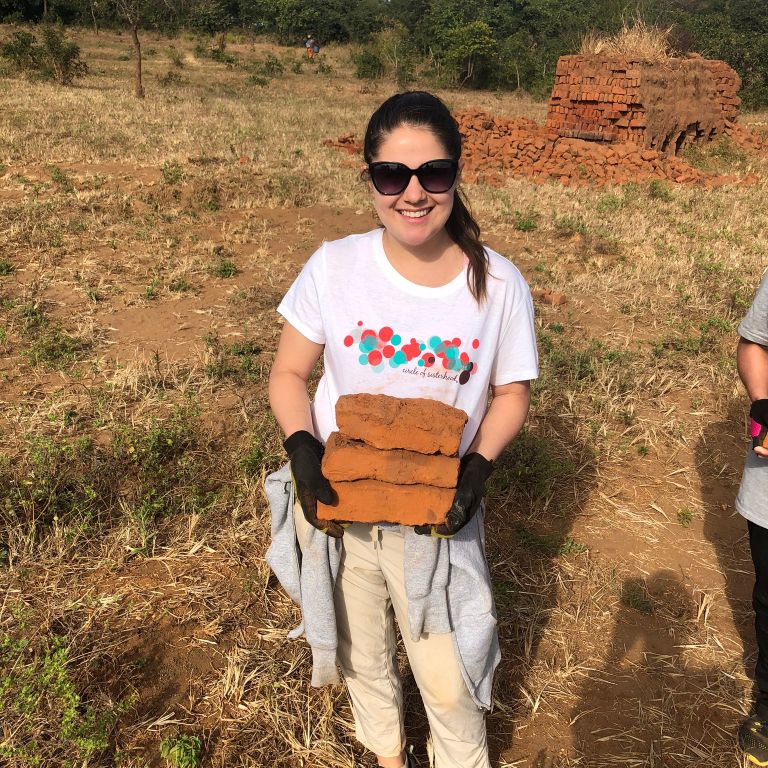 Photos courtesy of the IU Panhellenic Association
The week of the groundbreaking, IU representatives and community members spent mornings digging on site with homemade tools, carrying water and sand from a mile away, and creating handmade bricks. In the afternoons, the sorority women would take part in cultural workshops, which included activities like learning how to make peanut butter and discussions with community women about topics such as reproductive health, childbearing and education.
"By day three we were all able to hit pause and have a new sense of self-awareness," Karwoski said. "Conversations turned to materialism in America and how maybe we focus too much on the wrong things. We were able to stop and take a moment to appreciate the opportunity we as women have to get an education and go to university."
As a future elementary education teacher, Shapiro agreed that the experience was humbling and said it gave her future career path new meaning.
"In the future, I as an educator want to go to work every day and realize how lucky I am to have my job and how lucky the children in my classroom are to get an education," she said.
In addition to learning about different experiences from Malawi locals, Shapiro said the women from IU benefited from sharing the experience with a group of women from the University of Southern Mississippi. The partnership was the first time two universities joined forces for a Circle of Sisterhood trek, and it gave IU students the opportunity to learn about university life in the American South.
"Most of us didn't know each other before the trip, but we became so close that we still talk every day," Shapiro said. "It was so nice to have each other's support whether we were finding our way around the village or figuring out the language."
In addition to coming home with new bonds, the trip has prepared these women to be stronger campus leaders. Karwoski said the IU Panhellenic Association often focuses on not only the importance of service but also the difference between philanthropy and service, and that these women are now prepared to lead those conversations.
"This experience has left these women, myself included, feeling inspired, energized and ready to participate," Karwoski said. "IU Panhellenic already has so much influence because of the networks and the resources that members have. Service has been and will continue to be a central component of the Panhellenic chapter experience, because serving others is what allows you to grow, too."
As a member of the Panhellenic Association and the IU Greek community, Shapiro agrees that she and other members have a duty to give back.
"Service grounds us in our humanity and reminds us that we were put on this earth to not just support ourselves but to better the community in which we are placed," she said.