Ostrom's impact, legacy to be recognized with statue on Bloomington campus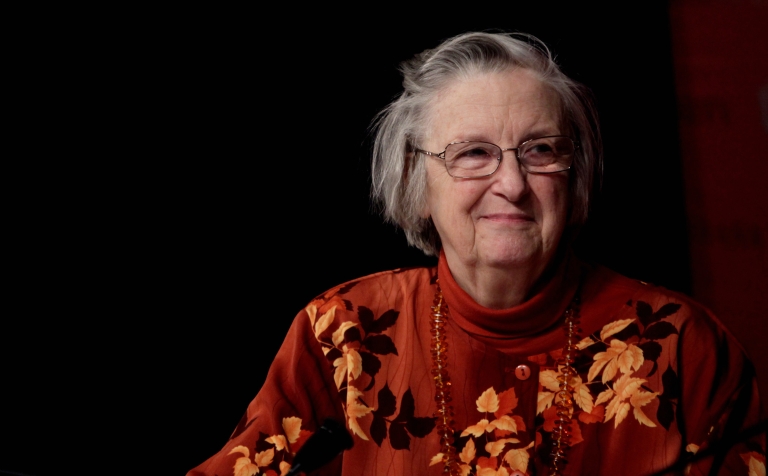 The legacy of the late Elinor Ostrom lives on through the Ostrom Workshop she established and the significance of her work and research. Soon, however, those on the Bloomington campus will also have a visual reminder of her place in IU history with the first statue of a female professor.
Announced during the sixth Workshop on the Ostrom Workshop by President Michael A. McRobbie in June, the statue will be part of Bridging the Visibility Gap, a signature project of the Office of the Bicentennial.
"I'm delighted that Lin's legacy will be honored in a number of permanent ways here on the Bloomington campus," McRobbie said during his speech at the Workshop. "The statue of Lin will be placed outside of Woodburn Hall, the home of IU Bloomington's Department of Political Science, where Lin taught for many years and where her office was housed. It will be a fitting memorial to one of IU's and the nation's finest scholars."
Bridging the Visibility Gap highlights unknown or underappreciated stories of women and underrepresented minorities who have helped build and strengthen IU. In addition to the statue, a portrait of Ostrom, painted by IU Fine Arts Professor Emerita Bonnie Sklarski, is in the Indiana Memorial Union as part of the Women of Indiana University Portrait Collection.
Translational research grant program awards $119,000 to 5 research teams
Researchers from the College of Arts and Sciences, the Indiana Geological and Water Survey, and the School of Informatics, Computing and Engineering at Indiana University Bloomington have received $119,000 from the Translational Research Pilot Grant program to complete proof-of-concept projects to advance their work.
The program's goal is to support the development of translational research projects that contribute to solving real-world problems and foster collaborations with industry, support establishment of startup companies or strengthen patent applications. The grants are provided by the Johnson Center for Innovation and Translational Research, which is part of the Indiana University Innovation and Commercialization Office.
Read more about the recipients and their projects.
Golf course to be named 'The Pfau Course at Indiana University'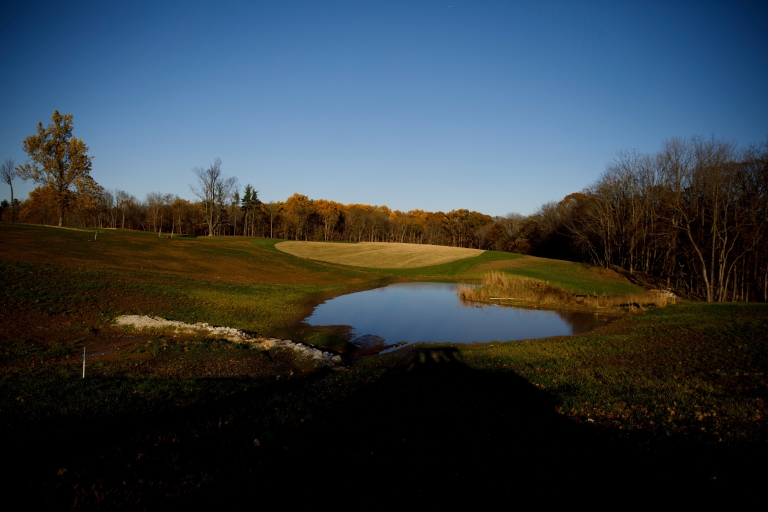 A major gift by alumni Ned and Sue Pfau to the Indiana University Bicentennial Campaign for Athletics helped fund the on-going renovation of the IU Championship Golf Course. In recognition of the gift, the course will be permanently named "The Pfau Course at Indiana University."
The Pfau Course will replace the IU Championship Golf Course, which opened in 1957. The course features a new routing plan for its 18-hole layout, which use the land previously occupied by the old course along with an adjacent piece of IU property that housed a portion of the IU cross country course.
The new course's namesakes are passionate alumni of Indiana University. After graduating from IU in 1965 with a degree in business finance, Ned built a distinguished career as the president and CEO of Geo. Pfau's Sons Company Inc. in Jeffersonville. Sue graduated from IUPUI in 1966 with a degree in physical therapy.
Sociology researcher among National Academy of Medicine's 2019 Emerging Leaders
Indiana University professor Brea Perry has been named a 2019 Emerging Leader in Health and Medicine Scholar by the National Academy of Medicine.
This honor is part of the academy's Emerging Leaders in Health and Medicine Program, which provides a platform for a new generation of exceptional leaders to collaborate with the National Academy of Medicine and its members across generations and fields of expertise to advance science to improve health. Perry is one of a new class of 10 emerging leaders, early- to mid-career professionals in biomedical science, population health, health care and related fields.
Perry, a professor in the IU Bloomington College of Arts and Sciences' Department of Sociology and affiliate faculty member of the IU Network Science Institute, is an expert in social network analysis and study design. Her research investigates the interrelated roles of social networks, biomarkers, social psychology and social inequality as causes and consequences of health and illness.
Volunteer to be an IU Guide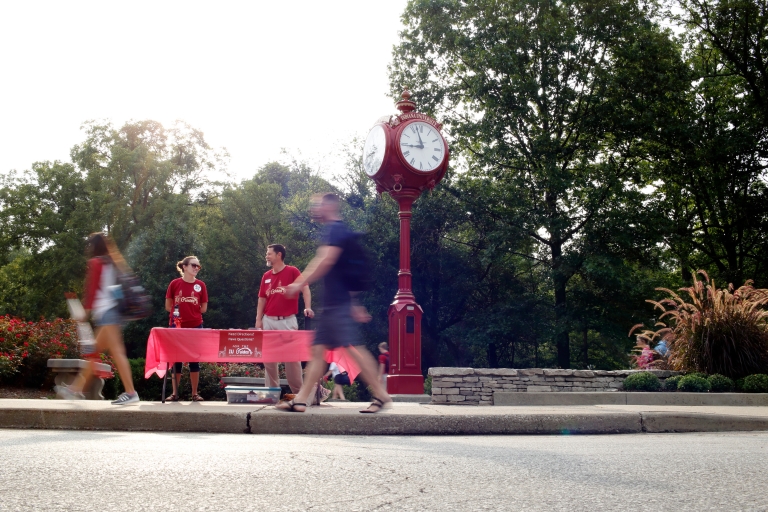 On the first two days of fall classes, Aug. 26 and 27, IU faculty, staff, alumni and returning students will be stationed throughout campus to welcome new students and help them navigate campus.
Volunteer shifts are one hour to 90 minutes, and guides will be provided with T-shirts. Sign up to receive an email about volunteering.
WFIU and WTIU win 24 awards in regional and national contests
WTIU won five National Academy of Television Arts and Sciences Lower Great Lakes Emmy Awards at the 2019 Emmy Gala in Cleveland. The Lower Great Lakes Emmy Awards recognize excellence in television among its members in Indiana, Ohio and Pennsylvania.
Two of WTIU's local series were honored: "The Friday Zone" and "The Weekly Special." Additionally, two locally produced WTIU documentaries each received an Emmy.
WTIU and IU Radio and Television Services also won 17 awards at the 40th annual Telly Awards, which honors excellence in video and television across all screens.
WFIU News won two Public Radio News Directors Incorporated awards at its banquet in Washington, D.C. WFIU News took home second-place awards in the Breaking News and Newscast categories. The contest is the only national contest recognizing outstanding public radio news reporting at local stations.
With these latest awards, WFIU and WTIU have earned a combined total of 65 awards for their work in 2018.
IU Athletics announces 2019 Hall of Fame Class

IU Athletics will welcome six new members to its Athletics Hall of Fame. The six individuals comprise the 38th class, bringing the roster of inductees to 237.
Eric Anderson, men's basketball, 1989-92; Kay Burrus, field hockey coach/women's basketball coach, 1962-76; Chris Gartner, football, 1970-72; Jeff Overton, men's golf, 2002-05; Rose Richmond, women's track and field, 2000-03; and Donnie Thomas, football, 1972-75, will be officially inducted at the annual Hall of Fame dinner on Friday, Sept. 20, and will be recognized at halftime of the University of Connecticut football game at Memorial Stadium the following day.
The IU Athletics Hall of Fame, established in 1982 by the Department of Intercollegiate Athletics in conjunction with the Varsity Club and the I-Association, recognizes individuals who have made exceptional contributions to the prestige of IU both on and off the field of competition.
Boston Scientific Foundation helps fund the WTIU Kids Literacy Labs
WTIU Kids Literacy Labs received a $15,000 grant from the Boston Scientific Foundation to fund the initiative from February 2018 through February 2019. Thanks to the support, nearly 4,000 children in south-central Indiana gained access to learning applications related to science, technology, engineering and math, along with reading and vocabulary.
WTIU Kids Literacy Labs are mobile technology kits that include iPads and other tablet devices loaded with learning applications developed by PBS Kids for children 2 to 4 years old and in kindergarten through third grade. The mobile apps bring the educational mission of WTIU Public Television directly to children. Organizations interested in hosting a WTIU Kids Literacy Lab may contact WTIU Children's Outreach coordinator Mary Ducette at mducette@indiana.edu or 812-855-8531.