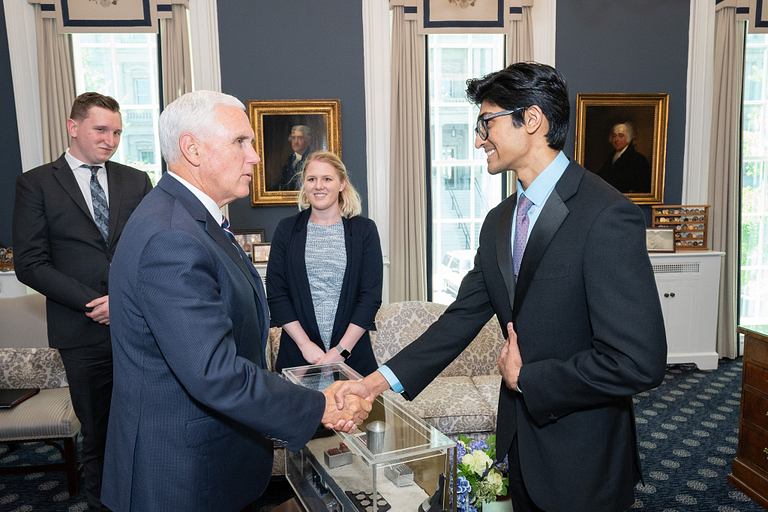 The U.S. Space Force, NASA returning to the moon, all things Mars. The planned activity beyond our atmosphere has members of the Students for the Exploration and Development of Space at IUPUI club seeing stars – and the White House.
Inspired by NASA's announcement of a 2024 moon mission, three student leaders of the campus organization met with Vice President Mike Pence on June 11 to present a model of a lunar colony base of their club's own design. The three students – club president Megan Miller, vice president Ebin Daniel and secretary Patrick King – showed the work to Pence in his West Wing office. The students met with members of the National Space Council as well.
"We were all visiting the White House for the first time, and it was, truly, an amazing experience," recalled Daniel, a senior studying energy engineering. "Every room, corridor and hallway was rich with history."
The model, which features a greenhouse, an exercise room and sleeping chambers for future space explorers, was a yearlong project. The students designed their lunar base as a permanent structure on the moon.
The IUPUI chapter of Students for the Exploration and Development of Space can now add meeting with political leaders to its focus on learning about rockets, discussing research and exploring future careers in space.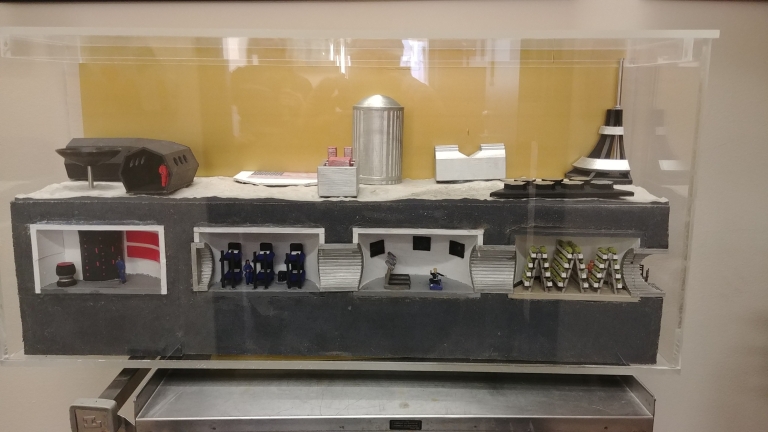 Daniel shared more on his Washington, D.C., summer experience.
Q: The design looks like it could inspire a new Hollywood blockbuster. Could you describe some of the details that stand out most?
Ebin Daniel: We are proud of quite a few things on the model. We have a very detailed greenhouse showing the rows for vegetation; a space elevator, which we believe would be quite helpful in retrieving objects from orbit; and a nuclear reactor that could potentially be used to provide heat as well as electricity throughout the base. We also used virtual models available from NASA's online resources to 3D-print a scaled landscape of a portion of the lunar surface.
Q: What was Vice President Pence's reaction to the design? What was his demeanor like with you, especially with the Indiana connection?
ED: Vice President Pence was very impressed with the work that was put into the project by the SEDS (Students for the Exploration and Development of Space) team and was very interested in our presentation as we spoke about the model's various aspects. He did in fact talk about his hometown and his education here, and it was quite amazing how he brought a little bit of Indiana to his White House office with different types of paintings and artifacts.
Q: What are your thoughts on the current state of U.S. space travel and exploration?
ED: Just going off of our model, we are very excited at the prospect of NASA having manned moon missions again soon. It's also great to see how space is slowly coming into the commercial sector with the help of companies like SpaceX, which opens up a great many avenues for people to get into the space-exploration industry.
Q: How will this meeting inspire you and the club this fall?
ED: This event reassured us that what we do at SEDS matters and that we truly are making strides toward developing meaningful projects that will enrich the learning experiences for every member. We hope to continue reaching out to all students at IUPUI, no matter their major. This club is for everyone who is interested in learning more about space exploration.