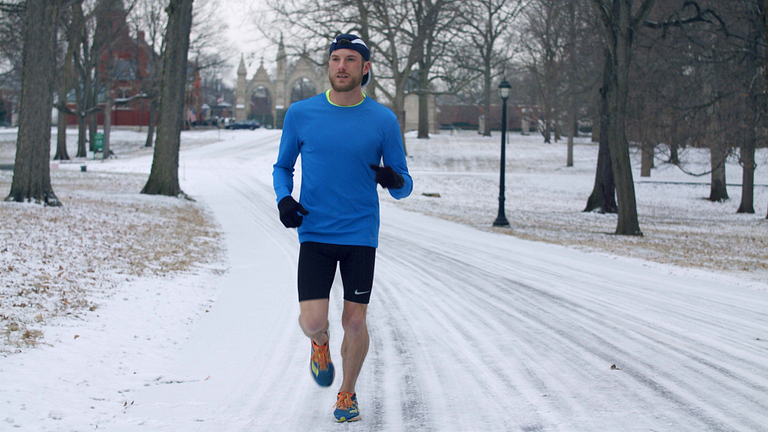 C. Thomas Lewis understands the power that video and filmmaking can have in addressing social issues. In 2015, he traveled to Kenya on a New Frontiers grant to film a series of short narrative films on confronting the stigma associated with HIV that is still being used in schools today.
"There is a real power in storytelling to address social issues and help people get beyond things like stigma," said Lewis, a senior lecturer of video production in the School of Informatics and Computing at IUPUI. "This power has really captured my imagination and has me wanting to see how I can use video production and concentrate my creative efforts to work with communities in dealing with health issues."
It was in Durban, South Africa, at the International AIDS Conference in the summer of 2016 that Lewis had a truly profound moment. He attended a presentation about the current state of AIDS worldwide, and he never expected to see Austin, Indiana – a Scott County town of just over 4,200 people greatly affected by an HIV outbreak and the opioid epidemic – included.
"Of course, I knew what was happening in Austin, but to see it in that context blew my mind," Lewis said. "I knew in that moment that my next project wouldn't be around the world – it would be in my own backyard."
With that goal in mind, Lewis and Kyle Minor, associate chair and associate professor of English at IUPUI, applied for and received a grant through the IUPUI Arts and Humanities Institute that enabled them to tell the stories of the people and communities affected by the HIV outbreak and opioid epidemic in Indiana.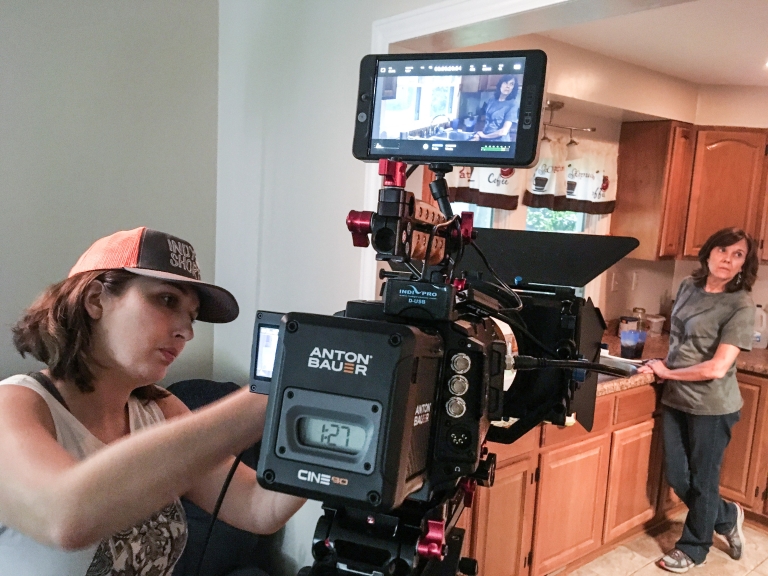 "This funding enabled us to work collaboratively with students and community partners, and we've been hard at work ever since," said Minor, who serves as script writer and producer. "In working on this project, I've come to learn how much I didn't know about opioid use disorder and have cultivated a great compassion for those whose lives are impacted by it."
Their project, highlighted on the Opioid Stories website, grew beyond the initial plan of using only narrative, scripted stories as Lewis had done in Kenya. The site also includes recovery stories and long-form interviews with individuals offering different views on the issue and sharing various paths to recovery. Two documentaries are also being produced, including "The Long Run," a documentary about Wes Doty, who found recovery through running.
Three scripted films are in the works, with the second currently in production. Each is set in Scott County, and Lewis and Minor have worked hard to build trust within the community by meeting with locals who support the project and want to tell their stories. In the second film, nearly every character was cast from the county's recovery community.
"The real story to me is that we're working so closely with a local community to tell their own stories," Lewis said. "Without that local support, this project wouldn't happen, and we would be working on a totally different project."
IUPUI students are also instrumental in the development and creation of the Opioid Stories content, with a team of two to four students signing up for independent study with Lewis each semester to help work on the project.
"Students are our creative and technical partners from start to finish," Minor said. "They serve as line producers, camera assistants, sound recordists, editors, grips and production assistants."
Lewis believes it is important for students to realize the many opportunities that exist for young filmmakers to apply their talents to engage with community issues – something that he has been able to show by example.
"If we can put a human face to the issue, so people can relate emotionally to the stories we produce, that's a huge step toward combating stigma," Lewis said. "We have come face-to-face with people involved with the crisis, devastated by it and recovering from it, and that has been really powerful and inspires me to keep moving forward."
With so much work done and underway, Lewis and Minor are also looking ahead to the future. They plan to continue adding recovery stories and interviews to the Opioid Stories site, but they also want to begin outreach efforts in other communities working to address the opioid crisis.
"My whole hope is to make these films and then find funding that will allow us to take them around the state, where we can have panel discussions that use the films as motivation for opening up conversations about various issues surrounding opioids in Indiana communities," Lewis said.
Lewis appreciates that he was able to find this niche at IUPUI, using a creative approach to serving the community, for both himself and his students.
"It's important for our IUPUI community to take our talents, apply them to something bigger than ourselves and create a social impact," he said. "Through a model of participatory filmmaking, I show students how their video skills can engage the community around an issue and incite positive change."
This project reflects Indiana University's extensive expertise and research regarding addictions. To build on this area of strength, IU President Michael McRobbie, along with Indiana Gov. Eric Holcomb, and IU Health President and CEO Dennis Murphy, announced the Responding to the Addictions Crisis Grand Challenge initiative in October 2017.
This Grand Challenge initiative engages a broad array of IU's world-class faculty as well as IU's business, nonprofit and government partners. The initiative aims to implement a collaborative, applied and comprehensive plan to reduce deaths from addiction, ease the burden of drug addiction on Hoosier communities, and improve health and economic outcomes. This statewide initiative is one of the nation's largest and most comprehensive state-based responses to the opioid addiction crisis – and the largest led by a university.
Kelsey Cook is associate director of research communications in the Office of the Vice President for Research at IUPUI.