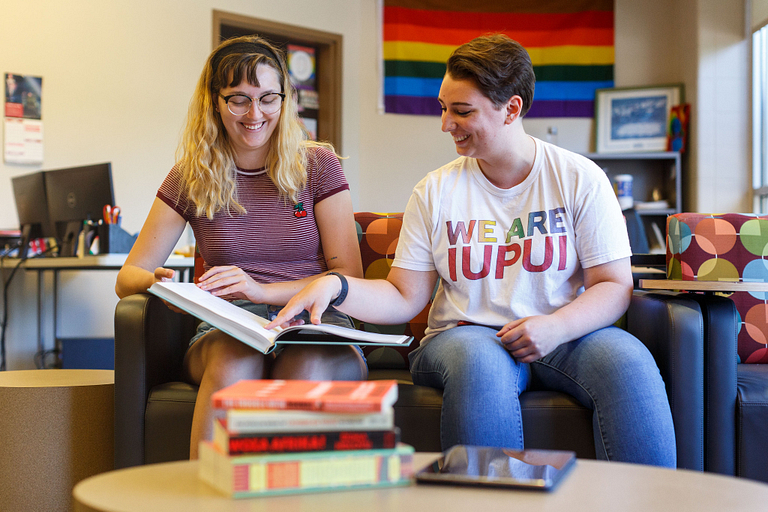 Mentorship is an important aspect of college students' success and retention on campus. For LGBTQ+ students, specifically, it plays an important role in their personal and collegiate success by connecting them with a mentor who not only understands the stresses they face in college, but also the challenges they might face in life.
Just ask Camden Oslund, a senior studying construction management. He saw gaining a mentor as an opportunity to have a person on campus to connect with, especially as he struggled to find himself and his identities during his first two years of college.
"Having a mentor shaped me into more of a leader and helped me develop skills that I lacked coming into the university," he said. "I can say that I am much more confident in my abilities, skills and identities than I ever was before and feel more proud to be out as a queer transgender man."
To provide better mentoring, engagement opportunities, and holistic health and wellness support, the Queer Connections program is being established for LGBTQ+ students on campus. The application for students to participate is now open, and the deadline to apply is Friday, Aug. 16, by 5 p.m.
"The program focuses on helping LGBTQ+ students build skills in stress management and resiliency and think about how their health and wellness choices play into their overall success," said AJ Young, director of the LGBTQ+ Center. "We are building in education and prevention, while understanding the unique stressors and challenges that come with being an LGBTQ+ person."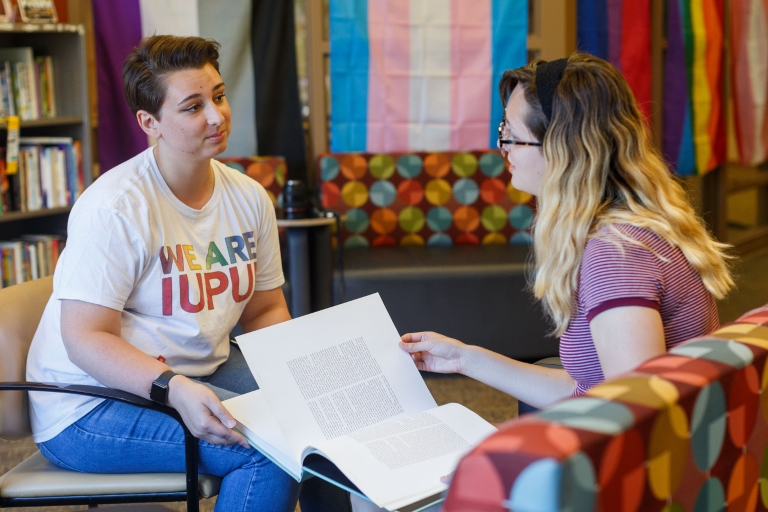 Students who participate in the Queer Connections program can expect to meet with their mentor a minimum of three times, with the goal of completing five sessions during the fall semester.
During the first meeting, the mentor and student will get to know each other and discuss the student's goals. They will complete the Wheel of Life activity to determine where the student is feeling satisfied and successful and where they would like to make improvements.
After the first meeting with their mentor, the student will be asked to track their sleep, study habits, alcohol use, caffeine use and so on to become more self-aware of their daily habits. From there, the student will have the flexibility and autonomy to make decisions on improving their overall wellness, with their mentor serving as a guide.
Students will continue to track their habits and progress toward their goals and will meet with their mentor a second and third time to continue reflecting on and discussing their holistic health. Other guided and reflective activities will occur during the meetings as well.
"We are moving away from a one-size-fits-all curriculum on wellness education," said Eric Teske, IUPUI's director of health and wellness promotion. "We know from research that the more personalized and individualized the coaching and mentoring is for students, when we meet them where they are instead of throwing facts at them, the more significant impact can be had on their behavior change."
Young, who built the program with Teske, said they have built in education around culture, discrimination and microaggressions and have thought through what it means to be an LGBTQ+ person, either coming to an identity within the LGBTQ+ community or managing being in a world that is not always very affirming or welcoming.
"We want students to have the agency and autonomy to decide what's best for themselves and develop meaningful relationships with faculty and staff on campus who understand what they are going through," Young said.
A previous iteration of the program was designed to provide engagement between LGBTQ+ students and faculty and staff at IUPUI. With a new $36,000 grant from the Division of Mental Health and Addiction of the Indiana Family and Social Services Administration, the program has been transformed to not only meet the mentoring and engagement needs of students, but to focus on health disparities – specifically related to the use of alcohol and other drugs – within the LGBTQ+ community.
All students who complete the three required sessions with their mentors will receive a $20 gift card. They will also receive a customized academic planner and general swag items for signing up to participate. Mentors will receive training on motivational interviewing and health-and-wellness coaching methods.
Incoming first-year, transfer and graduate students are encouraged to apply to the program, as well as newly out students or students who are starting to understand themselves as LGBTQ+. While the program might be of particular interest to newly admitted students, students of all ages and years at IUPUI are welcome to apply.