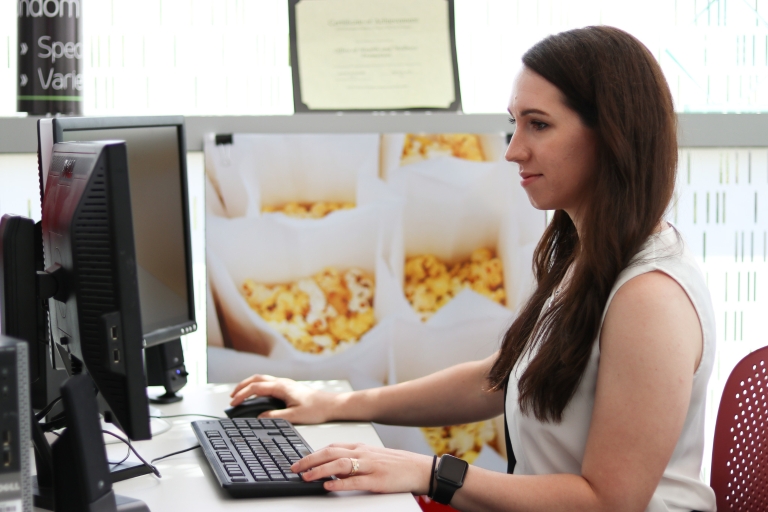 For two years, Deidre Bush lived a life covered in paint.
She traveled across the country curating art shows, turning a hobby into a career. One day, she decided she was done. Her art had become a chore, and she couldn't shake the feeling that something was missing. Bush decided, at age 26 with a husband and a son, to go back to school full-time and pursue a new dream.
"I knew I needed and wanted to do something different, and if I didn't do it right then, I wouldn't," Bush said.
She typed "IUPUI" into the Google search bar, researched applying, looked at majors and then began classes in the fall of 2017.
Bush had studied art at another university right after high school, but she struggled academically and dropped out. Her excitement to go back to school, previous experiences studying art and working as an artist full-time led her to pursue her other interests and passions.
After a job-shadowing experience and speaking with a career coach on campus, Bush decided to study epidemiology within the Fairbanks School of Public Health. It allows her to combine her interests of science, outreach, data and research.
An email from her biology professor led her to the Peer Health Education program within Health and Wellness Promotion at IUPUI. Bush walked into the office, met with Ta-Kisha Jones, who advises the program, and became a peer health educator.
"I knew I wanted to get involved on campus somewhere, and I had attended a couple other club meetings," Bush said. "This was my chance to have the full college experience I didn't have last time."
Bush was hesitant about whether she would be truly welcomed into the group, because she's "not a regular student," but those worries were set aside when she realized her age and status as a wife and mother weren't barriers to involvement.
"What if my son gets sick or something happens and I have to drop everything and go?" Bush said. "I had things to worry about and consider in my life that my peers didn't have to. But everyone has been super-supportive, and I've made some great friends."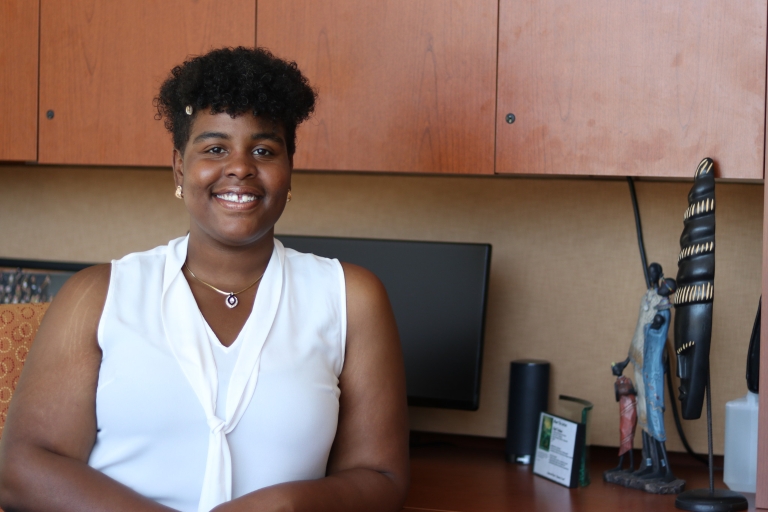 Sha-Nel Henderson, a volunteer for the Peer Health Education program, echoed Bush's sentiments. Henderson was reinstated as a student at IUPUI in 2018 after not performing well academically immediately after high school. She left IUPUI, took classes at another college for a few years and then worked full-time before deciding to come back to campus.
"While I loved my job, it became repetitive, and there was no opportunity to move up," Henderson, 26, said. "Going back to get my degree was the only option to pursue my true passions and future career."
Jones, who is mentoring both Bush and Henderson, appreciates the broad perspective both students bring to the program and is committed to ensuring all students are finding connections on campus.
"Each student is a vital key to our work and overall future," said Jones, assistant director for health and wellness promotion. "To stand firmly in the gap and connect our nontraditional-age students to our programs and involvement opportunities is essential to their success. It increases their peer influence, academic and professional outlook, retention rates, leadership path, and, most importantly, their sense of belonging while being among the minority."
Henderson, a communications major, is making the most of her second chance. She took time to become accustomed to her academics and is now the vice president for the Black Student Union. She recently applied and was accepted to be a peer health educator for the 2019-20 academic year and will work alongside Bush and the other educators in the program.
Both Bush and Henderson have goals they are excited to expand upon in the upcoming academic year.
Bush is passionate about connecting students who have their own families to each other through campus programming and developed a program this past spring to accomplish that. "Popcorn Parenting" allowed current students to bring their kids to an event on campus. She hopes to continue this program each semester.
Henderson is looking to elevate community service with the Black Student Union, continuing to connect with first-year black students and black communities in the city, with the hopes of increasing black student retention.
Their advice:
Make your experience what you want it to be.
Search for resources, and expect some trial-and-error to figure out what works best for you.
Talk to someone if you need it. Counseling and Psychological Services, or CAPS, is an essential resource and service for all students.
Build relationships with anyone and everyone. IUPUI is here to help you succeed.
Bush and Henderson may have struggled initially, but they are now succeeding both academically and socially on campus. Both feel integrated and included in the overall campus community as "regular college students."