Trying something new typically comes with butterflies and jitters, and stepping foot on IUPUI's bustling downtown campus for the first time is no exception. The school's orientation team, or OTEAM, knows this better than anyone, because they too were once wide-eyed freshmen who felt overwhelmed when they walked up to the sign-in table on their orientation day.
These students have experienced rough starts, academic anxiety, career path changes and everything in between. But instead of wilting under the pressure, they learned from the adversity and harnessed that knowledge to help improve incoming students' transitions.
No one knows how much of a culture shock that transition is better than first-year seminar coordinator Valerie Potter.
"I did not have a very good first two years, mental health-wise; it was just completely different from high school," recalled Potter, a senior majoring in history with a certificate in organizational leadership.
Potter calls herself a shy extrovert, and that personality was magnified by the change of scenery a new campus brings. She wanted to get involved on campus but wasn't sure where to go, and she was struggling to balance her classes with her full-time job off campus.
These are things that many IUPUI students struggle with, but the dramatic change of their first year poses the biggest challenge.
"I think that's why an OTEAM leader's role is so important – especially someone who has been through these kinds of experiences, so that you can offer that much more support," Potter said.
Now in her third year with OTEAM, Potter has the utmost appreciation for the program and how it positively impacts students, herself included. With all she's gained from this position, she says, she'd have no problem with doing it pro bono.
"Hands down, if this job didn't have any money, if it had no benefits, if it had nothing, I would still be here because I just think that there's so much more than the monetary value – it's the life lessons I've learned. I would not be the person I am today without this job," she said.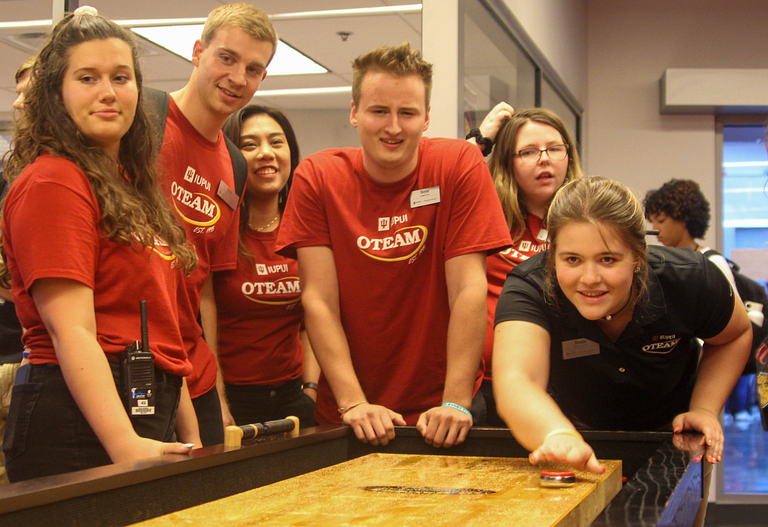 Ash Errichiello, who returned to OTEAM for her fourth year despite graduating in May, is passionate about eliminating the stigma or guilt that might come from not knowing what to major in or changing majors. She went from studying biology on a pre-med track to majoring in general studies, with minors in psychology and environmental health science.
"The biggest thing I learned was that it's OK to not have a linear path," Errichiello said. "Oftentimes we hear judgment toward students because of what they study and the possible careers they can pursue, and it's not for anyone to decide but the student."
Her advice to incoming freshmen is to embrace and learn from any obstacles that present themselves while you're finding your way.
Being involved with the OTEAM is more than helping students transition to campus. Madeline Spence, another student coordinator who's in her third year with OTEAM, shared that being part of the program has enhanced her overall experience at IUPUI.
"It really makes me feel good about what I do," Spence said. "I think it's great to be part of something bigger than yourself while you're here getting your education."
Upwards of 6,000 new students come through orientation each summer. These coordinators are in the OTEAM office at 6:45 a.m. to prepare the 250 students' information for the 75 summer orientation leaders each session.
Or as they think of it, just another day in paradise.