What is the influence of hip-hop on social movements in Germany?
That's the question Amy Makota, a doctoral student in Indiana University's Department of Folklore and Ethnomusicology, asked DJs, emcees and political activists when she invited German artists to participate in a hip-hop activism workshop at the IU Europe Gateway in Berlin.
Makota's research explores the effect of female hip-hop artists' activism on the socio-political state of contemporary Germany. Through the workshop, she brought Berlin artists she works with into a collaborative environment.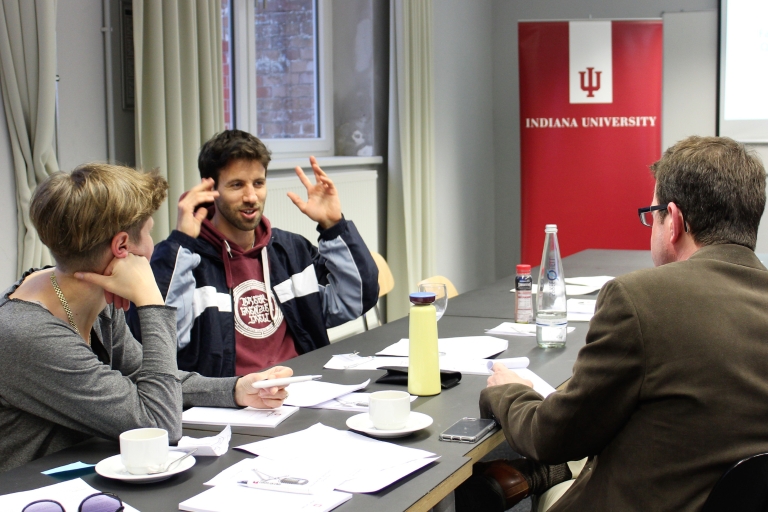 Among the artists, academics and activists who participated in the workshop were DJ Freshfluke and Aziza A., established musicians in Germany. Even though each artist in attendance had a different perspective on how their work connects to the German community, they all have a common goal of increased visibility, acceptance and productive change for their communities and fan base.
"Hip-hop artists are increasing their visibility beyond the typical musical fan base to outlying social groups such as politicians, civic leaders and the academic community," Makota said. "Hip-hop has proven itself time and again to be the genesis of social change, and these German artists exemplify the power and potentiality of contemporary German activism."
Timothy Hellwig, IU Europe Gateway academic director and professor of political science, typically supports researchers in the academic planning of such international events. This workshop offered a unique chance to participate in a gateway event and advance his own research on political participation, protest and social movement.
"It was nice to be a participant, and it was an opportunity for me to bring my interest in political participation and activism and hear directly from the actual people – the subjects – we are studying," he said.
Throughout the workshop, the main underlying social concerns the participants shared were gentrification and marginalization as well as issues of affordable housing, low wages and employment.
"All spoke of the additional struggles of other intersectional community members based on race, gender and religion, such as housing discrimination, in addition to a concern over rising political conservatism," Makota said.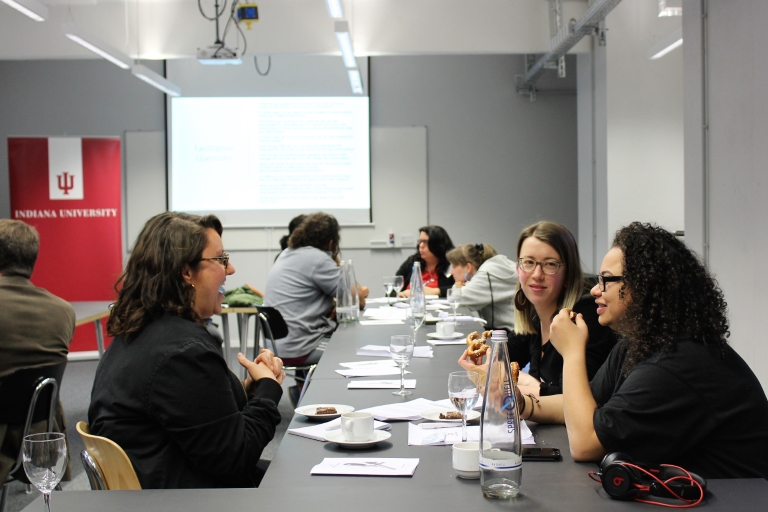 In addition to bonding over the topics inspiring their activism and music, the artists also networked for future collaboration, which was one of the goals for the workshop.
"I strive to apply the skills I have learned through my coursework regarding applied ethnomusicology," Makota said. "I am committed to not only ethnographically documenting my research topic but also to working with my research participants through opportunities that address their needs. This workshop provided them with a space to discuss potential solutions to the societal issues specific to their community and music genre."
"This subculture of individuals would not have come together without the gateway," Hellwig said.
The IU Europe Gateway is one of five in IU's Global Gateway Network, which helps IU faculty, staff, students, alumni and partners advance their academic and professional interests around the globe.
IU's presence in Berlin also strengthens the university's connection to Freie Universität, where Makota participated in a graduate exchange program.
"This workshop supports IU's research mission and the goal of deepening our international partnerships, specifically with Freie Universität in Berlin," Hellwig said.
For Makota, whose work has involved interviewing and studying these artists, it was a chance to assist the German hip-hop community she has relied on for her research.
"My goal was to give back to the individuals who have participated and assisted me," Makota said. "I am grateful to all who supported me and participated with me in this workshop event."