INDIANAPOLIS – The Indiana University Melvin and Bren Simon Cancer Center has achieved the highest recognition from the National Cancer Institute: Comprehensive Cancer Center. With this elite federal designation signifying research excellence, it becomes the only NCI-designated Comprehensive Cancer Center in Indiana and one of just 51 in the nation.
Dr. Douglas Lowy, acting director of the National Cancer Institute, shared the news during a celebratory event on the IU School of Medicine campus in Indianapolis.
"Designated cancer centers are recognized for their state-of-the-art research programs and strong commitment to delivering cutting-edge cancer treatment for patients. They are at the core of the nation's cancer research effort," Lowy said.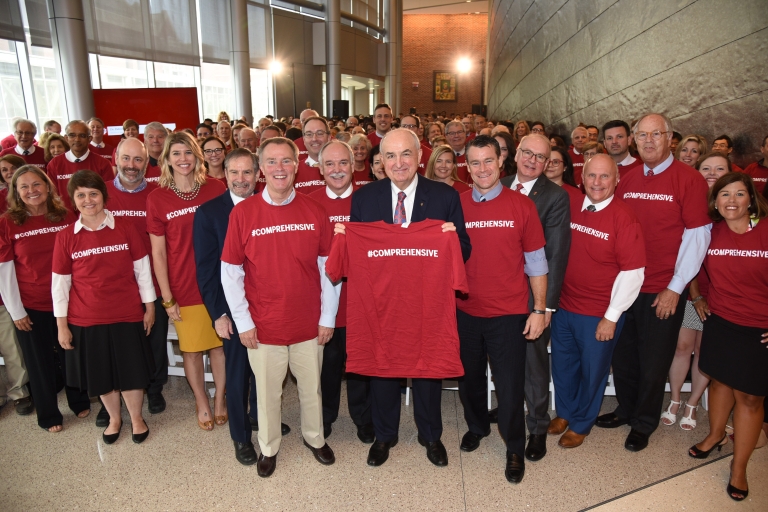 For Indiana residents, the designation affirms that they have access to the most advanced, research-guided therapies, as well as hundreds of clinical studies that test the most promising new approaches to preventing, diagnosing and treating cancer.
"Indiana University has an outstanding history of advancing health care in the state of Indiana and around the world," IU President Michael A. McRobbie said. "This prestigious designation by the National Cancer Institute demonstrates that IU remains at the very leading edge of innovations in cancer care. As we celebrate the university's bicentennial and look to the future, we reaffirm our commitment to bring the most promising and innovative therapies to Indiana and to eliminate suffering caused by cancer."
Overall, the IU Simon Cancer Center received an "outstanding" rating by NCI reviewers and was awarded a five-year, $13.8 million grant that supports the center's research programs and shared facilities. That marks an increase of 43 percent from the previous five-year funding period.
In addition to recognizing the center's laboratory and clinical research, reviewers cited the  "very well-designed community outreach efforts to serve the needs" of the state of Indiana. This includes initiatives to increase HPV vaccination rates, as well as developing, testing and disseminating interventions to increase screenings for breast, cervical and colorectal cancer in racially diverse and rural populations in Indiana.
"We take our goal to eliminate cancer's burden in Indiana and beyond seriously," said Dr. Patrick J. Loehrer Sr., director of the IU Simon Cancer Center. "Our research focuses upon decreasing the number of Hoosiers who develop and die from the cancers that strike our citizens. This grant bolsters support for us to uncover the biologic mysteries of cancer and define new therapies for patients here and around the globe."
About the IU Simon Cancer Center
The IU Simon Cancer Center is part of the Indiana University School of Medicine and serves as a central hub of cancer research across Indiana University. The center has nearly 250 researchers who conduct all phases of cancer research, from laboratory studies to clinical trials to population-based studies that address environmental and behavioral factors that contribute to cancer.
Best known for developing the cure for testicular cancer, IU Simon Cancer Center researchers also have led treatment advances for breast cancer, gastrointestinal cancer, genitourinary cancer, hematologic disorders, thoracic cancer, and thymoma and thymic carcinoma.
The center's physician-scientists care for patients through a partnership with IU Health, the state's largest and most comprehensive health system, which includes Riley Children's Health. IU Simon Cancer Center faculty members also serve patients from disadvantaged and diverse backgrounds through longstanding relationships with the Sidney and Lois Eskenazi Hospital and the Richard L. Roudebush VA Medical Center, both in downtown Indianapolis.
In addition, the IU Simon Cancer Center makes substantial contributions to the state's life sciences economy. Researchers currently hold 459 grants that total more than $60 million in external funding.
What they're saying:
"We are honored to receive this designation from the National Cancer Institute that validates the significance and impact of our research. We will continue striving to provide the most advanced, research-guided therapies here in Indiana." – Dr. Jay L. Hess, IU School of Medicine dean and IU executive vice president for university clinical affairs
"The designation of the Simon Cancer Center as the first Comprehensive Cancer Center in the state of Indiana is another step in our effort to make Indiana one of the healthiest states in the nation. We at IU Health are proud to deliver clinical care for the Simon Cancer Center and to partner with the IU School of Medicine. Together, we are advancing the treatment of cancer, as well as the development and testing of new and novel therapies that offer great hope for managing and even curing this terrible disease." – Dennis Murphy, president and CEO of IU Health
"I congratulate the Indiana University Melvin and Bren Simon Cancer Center and all who are part of it on its new designation as a Comprehensive Cancer Center from the National Cancer Institute. We are thankful to everyone at the center for their service to our state." – Indiana Gov. Eric Holcomb