BLOOMINGTON, Ind. – Indiana University received a record $680.2 million in external funding to support research and other activities in fiscal year 2019, IU President Michael A. McRobbie announced Thursday, Aug. 8, during a presentation to the IU Board of Trustees.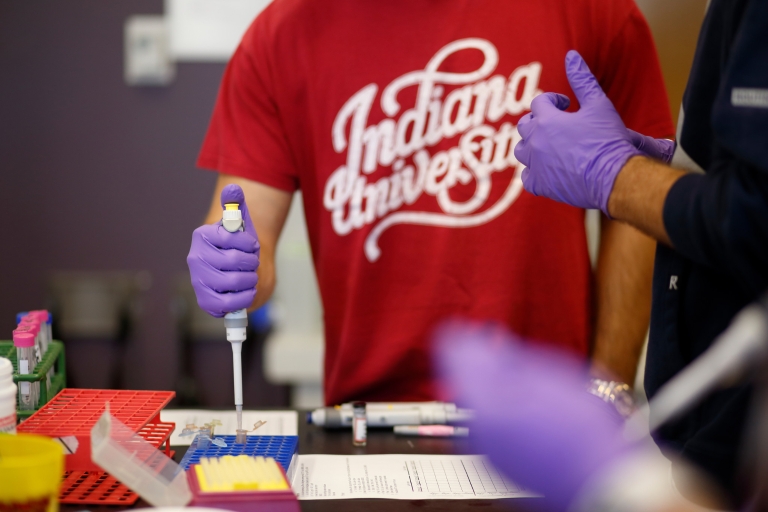 The previous funding record was set in FY 2016, when IU received $614.1 million in external funding. IU's record funding amount is the highest total of such funding for any university in Indiana during the last fiscal year, and it has increased nearly 45 percent since FY 2009. This fiscal year's $680.2 million, up from $604.5 the previous fiscal year, comes from both public and private sources that awarded funding to more than 2,800 IU proposals.
"This is a truly extraordinary accomplishment, one that underscores Indiana University's standing as the state's research powerhouse," McRobbie said. "It reflects the excellence and importance of IU faculty research in a funding environment that continues to grow increasingly more competitive. It also is testament to the thousands of IU faculty, staff and students who form the teams that develop the university's high-quality research proposals and whose ideas and work are being favorably judged by their peers around the nation and world at a time when only the most promising research proposals are securing support."
Around 66 percent of all of IU's research funding originated from federal sources in FY 2019. The $680.2 million includes a record $378.1 million in federal grants and contracts, $53.6 million in awards from the National Science Foundation, and nearly $68 million in sponsored funding from industry.
It includes a total of $208.3 million in nongovernmental grants, which is also an IU record.
"The record-setting support reflects not only the generosity and the confidence of our funders, but also the exceptional quality of our researchers and the significant impact of IU research on the people and economy in Indiana and around the world," IU Vice President for Research Fred H. Cate said.
IU set a new university record with $234.9 million in funding from the National Institutes of Health, the major federal government source of support for health sciences research in the United States.
Much of the record total is funding medical research at the IU School of Medicine. The university's largest single grant from the NIH, a grant of $44.7 million, is supporting an IU-led five-year national study of early-onset Alzheimer's disease.
In FY 2019, the School of Medicine brought in a total of nearly $434 million in research funding from all sources, up from $355.1 million in FY 2018.
"The IU School of Medicine has emerged as a national leader in research on dementia, cancer, musculoskeletal disorders and other diseases that have a devastating impact on patients in Indiana and throughout the world," said Dr. Jay L. Hess, dean of the School of Medicine and IU's executive vice president for university clinical affairs. "This increase in grant funding reflects the extent to which our researchers are at the cutting edge of developing new prevention, diagnosis and treatment strategies that will ultimately lead to better patient care."
IU is the state's largest academic recipient of external public and private research funding. It is also the state's largest university, educating more students each year and employing more faculty than any other Indiana university or college, and it has the state's only medical school.
"More than $680 million in external funding translates to a massive impact on the economic development and quality of life in our state, as our researchers work to quickly move their discoveries into the marketplace," McRobbie said. "It also reflects the strong confidence that our state's business leaders and health professionals have in IU as a center of knowledge, innovation and entrepreneurship."
IU Research
Indiana University's world-class researchers have driven innovation and creative initiatives that matter for nearly 200 years. From curing testicular cancer to collaborating with NASA to search for life on Mars, IU has earned its reputation as a world-class research institution. Supported by $680 million last year from our partners, IU researchers are building collaborations and uncovering new solutions that improve lives in Indiana and around the globe.