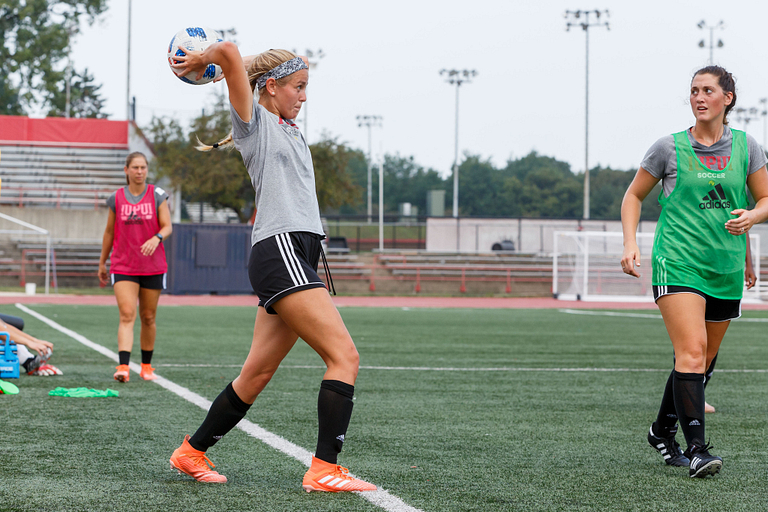 Nationally, the Women's World Cup tournament and the thrilling victory by the United States team was the sports story of the summer.
More than 14 million viewers savored the combined 12 goals from star forwards Megan Rapinoe and Alex Morgan. They celebrated every save by goalkeeper Alyssa Naeher. They roared when the American team stood victorious after a grueling month of intense international competition on the pitch.
At home, in a restaurant or in person, members of the IUPUI women's soccer squad took in every minute of every World Cup match. While Team USA raised their trophies back on July 7 near Lyon, France, the student-athletes are still feeling momentum from those epic matches as their season opens this week – 7 p.m. Thursday, Aug. 22, versus Toledo at Carroll Stadium.
"All of those women in that World Cup are huge influences," said midfielder Emma Chambers, who watched the World Cup action from her Carmel, Indiana, home. "I think it's going to be really important that we look up to them this season, look at what they've done and show that women can accomplish these things. We'll definitely use that this season."
Description of the following video:
[Video: Shots of the IUPUI women's soccer team practicing at Carroll Stadium]
[Title appears in upper-left corner: IUPUI presents]
[Video: Goalkeeper Sophia Lipka works on some drills.]
[Lipka speaks: This summer, I've been working a lot on my distribution.]
[Lipka appears onscreen, and title appears: Sophia Lipka, Goalkeeper, senior]
[Lipka speaks: That's something that's always been my weak point. So, I'm hoping to bring a little more of that this year. But on top of that, I think the biggest thing this season …
[Video: Players do passing drills on the pitch.]
[Lipka speaks: … for us is just the energy that this team has brought over the summer.
And we've translated it into our preseason already. It's a special team. So, I'm excited to see, you know, where our energy takes us, because I think we could be unstoppable.
[Valentine Pursey speaks in voiceover: People should come to the games because, I mean … ]
[Pursey appears onscreen, and title appears: Valentine Pursey, forward, junior]
[Pursey speaks: … we keep it interesting, we try new things.]
[Video: Shots of players continuing to practice and stretching. Pursey dribbles and passes the ball. Another shot shows her stretching her knees. Another shot has Pursey taking a photo of her teammates.]
[Pursey speaks in voiceover: We don't just kick it up the field. We actually try and play soccer. We get it down, we try and get the job done. And we're a fun team to watch. We're a good group of girls, and we have fun with it. And we wanna win every time we step on this field.]
[Video: Players stretch their legs and backs.]
[Emma Chambers speaks in voiceover: Well, I think the major goal for everyone in the team …]
[Chambers appears onscreen, and title appears: Emma Chambers, Midfielder, senior]
[Chambers speaks: … is to be conference champions. We won back in 2017, and that was such a great feeling. And I really want that for my senior year.
[Video: Shots of the team lined up for their team pictures]
[Chambers speaks in voiceover: And I think it's also important this year that everyone's together, and everyone is on the same page, and just have the real family feel for the team.]
[Titles appear: IU trident and IUPUI fade in and out.]
[End of transcript]
After winning the 2017 Horizon League championship during its first season in the conference, the team dropped to seventh place in 2018 with a 6-10-3 record. Seniors like Chambers want to hoist their own trophies later this fall.
After weeks of practice and an exhibition match at Southern Illinois-Edwardsville, the women are looking for better ball distribution, more creativity with the ball and more offense.
"We've got some freshmen who are going to be good attacking-wise," said Valentine Pursey, a junior studying sports management who enters the 2019 season with 17 career goals at IUPUI. "Last year, we struggled scoring goals, but I feel like we will do a lot better. We've always been solid defensively, but it's about creating some opportunities going forward."
Nothing like it live
A native of Ticehurst, East Sussex, England, Pursey was able to travel overseas to witness the Sweden/England World Cup match on July 6 in Nice, France. Her home country lost 2-1, but the experience was unforgettable.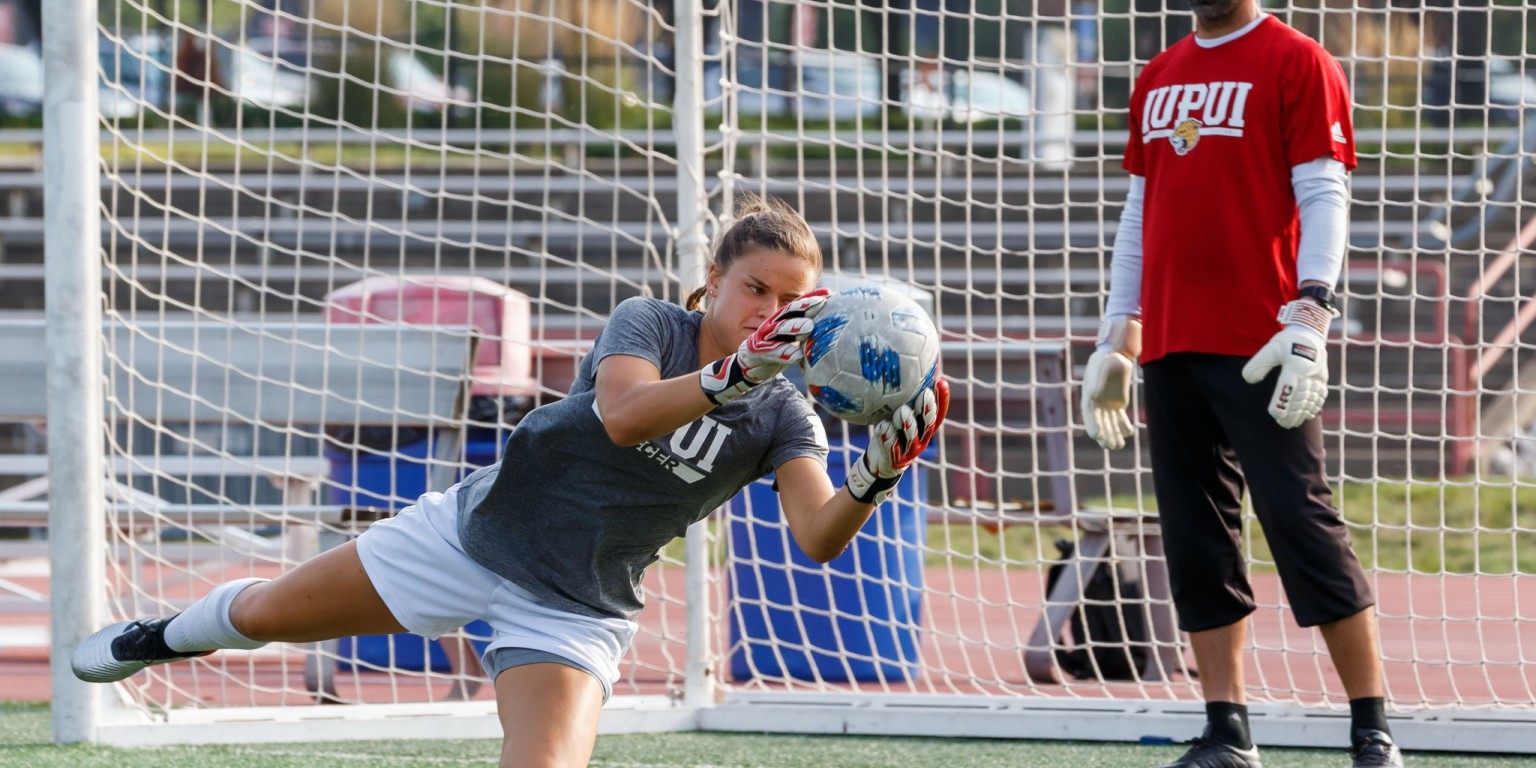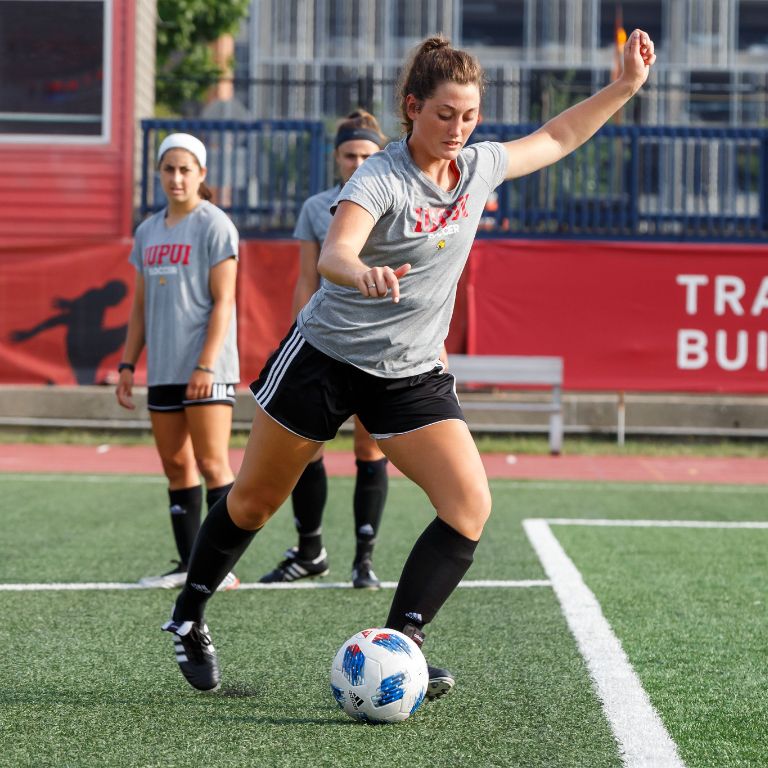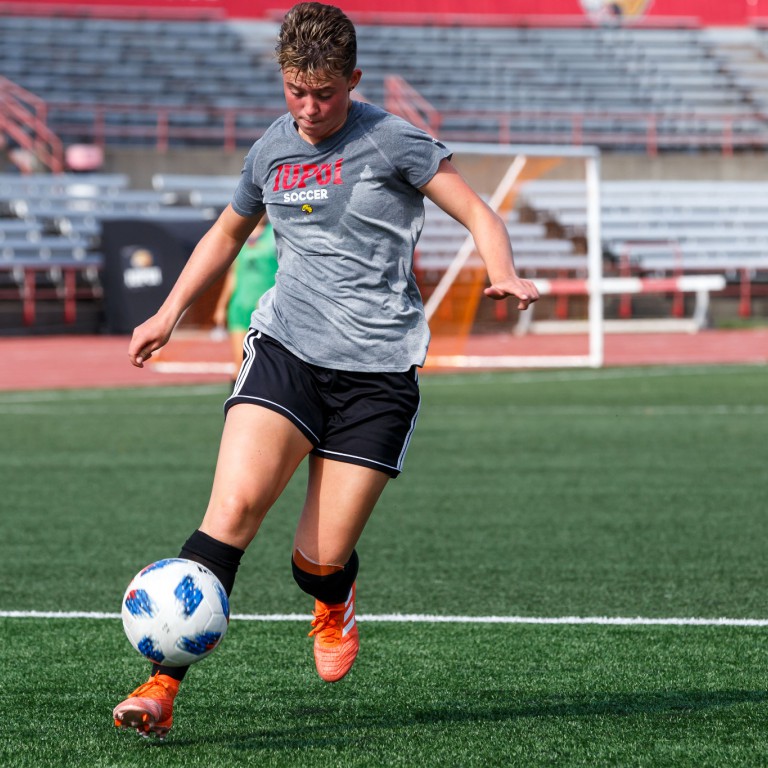 Photos by Liz Kaye, Indiana University
"It was crazy. It was an awesome arena, and just to be in that atmosphere was incredible," Pursey said. "It was an amazing opportunity for me – to watch players and aspire to maybe be them one day."
In the United States, soccer doesn't get a lot of airtime, but the World Cup intoxicated a nation. The IUPUI women's soccer team hopes fans will come see games in person. From the Carroll Stadium bleachers, fans can see plays formulate. They can hear the players communicate and the thunderous boots from goalkeeper Sophia Lipka as she clears the ball out of the box.
Upcoming women's soccer home games at Carroll Stadium
"The atmosphere is different," said Lipka, who finished second in the league with 92 saves in 2018. "You can see the team bonding together on a different level than what you see on TV."
Coach's corner
Coach Chris Johnson enters his 17th season at the helm of the IUPUI women's soccer program, where he ranks first in wins – 114 – in school history. Before an Aug. 14 practice, Johnson said that most of the players had reported in at peak physical condition. After team photos, the women were posing for group selfies, cutting up, feeling loose and ready to run drills.
"I feel very positive about the group we've brought in," he said. "We're staying positive with players staying healthy, with 22 passing their fitness tests already."
Johnson acknowledged the unique opportunity for his team to reap benefits from a spectacular World Cup showing by Team USA.
"That was an opportunity for our players to watch other women go out and play soccer at a very high level," Johnson explained. "The sport isn't on TV as much as it was this summer, so they got to see some creative things from an individual point of view – things to emulate to help us be successful this season."