Description of the following video:
[Words appear in upper-left corner: IUPUI presents]
[Video: IUPUI Junior Destiny Willis attends a Weeks of Welcome – or "WOW" – planning meeting. She is in a conference room, wearing a "Weeks of Welcome" T-shirt and sitting with her colleagues. Her colleagues, including two female students and a male staff member, are briefly shown.]
Willis speaks in voiceover: The IUPUI student steering committee is a group of students, made up into three categories. So, there is marketing and communications, there's volunteering, and then there's planning. And they all work together to kind of help WOW become what it is.
[Video: Three photographs of previous WOW events are seen. The video slowly zooms in on each picture. The photographs include a picture of two WOW volunteers high-fiving one another, a group of students dancing in Taylor Courtyard and a student getting free ice cream at the annual Ice Cream Social.]
Willis speaks in voiceover: Weeks of Welcome is various events that are put on by IUPUI's campus.
[Video: Willis appears on camera.]
[Words appear: Destiny Willis; Weeks of Welcome steering committee member]
Willis speaks: My involvement with WOW is that I work the marketing and the communications. I work the Facebook page.
[Video: Willis walks along IUPUI's campus. She is seen walking toward the Campus Center and then walking into the Campus Center Atrium.]
Willis speaks in voiceover: Being a part of the WOW steering committee has given me the opportunity to experience a lot of things that I wouldn't have experienced just in classes. I think it's important for students to get involved on campus because it kind of helps you find your place around campus.
[Video: Willis appears on camera.]
Willis speaks: Especially with IUPUI being such a large campus and community …
[Video: Willis walks into a meeting room and says hello to a person sitting there. Later, Willis is seen talking to her WOW steering committee group in the same meeting room. Lastly, a close-up of Willis is shown, as she smiles toward the person she is talking with.]
Willis speaks in voiceover: … finding your place, it really helps you get to know people. It really helps you get experience, especially, and it just helps you kind of fit in better with your community.
[Screen goes to black]
[IU trident appears]
[Words appear: IUPUI]
[END OF TRANSCRIPT]
Get ready for the two busiest – and most fun – weeks of the year. With more than 30 events in 14 days, it's impossible to walk the campus and not see students reaping the benefits, so here's a guide to the can't-miss Weeks of Welcome events.
Grab your CrimsonCard and strap in.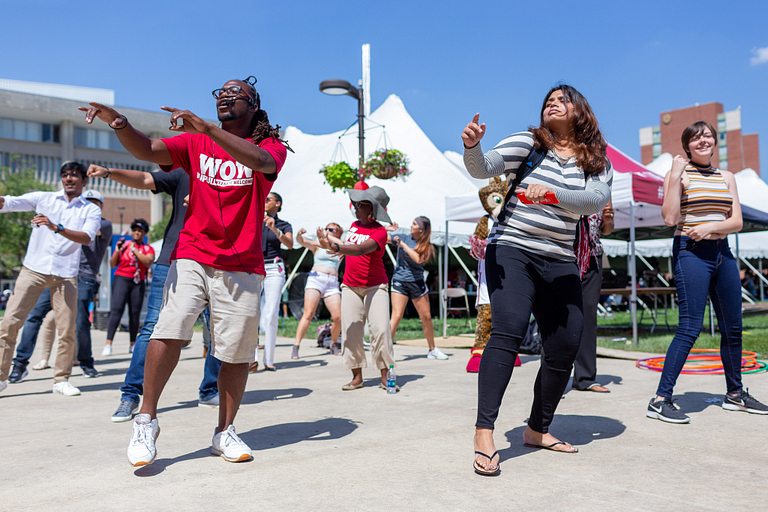 If you're on campus the weekend before school officially begins, you've got the First Night and Bookstore Welcome Fest, put on by the Student Activities Planning Board and Barnes and Noble, from 7 to 11 p.m. Saturday, Aug. 24, in the Campus Center. It's a night of free food, entertainment, giveaways and more for an estimated 1,500 students. SAPB has events throughout the year, so this is a good starting point.
On Wednesday, the Involvement Expo runs in Taylor Courtyard from 2 to 6 p.m. This is your one-stop shop for hundreds of student organizations and opportunities to get involved with that will build personal and professional skills that will last a lifetime.
Thursday features the longest-running tradition on campus: the ice cream social. From 11 a.m. to 2 p.m. in Taylor Courtyard, you can take a break from classes to rep your Jag swag and enjoy a sweet treat.
Aug. 30 is Super Jaguars Friday, which includes a soccer doubleheader kicking off at 4 p.m. in Carroll Stadium, with the men's team facing California Baptist and the women's team taking on Western Illinois. Then, at 7 p.m., you can head over to The Jungle to see the volleyball team play South Dakota.
On Wednesday, Sept. 4, Taylor Courtyard is where to be for all the day's activities. Most notably, from 2 to 4 p.m., volunteers will work in an assembly line making sandwiches for Paws' Pantry with Million Meal Movement during the Million Meal Pack. 
On Friday, don't forget to finish the week with Light Up the Night at 10 p.m. in Carroll Stadium for a night of fluorescent fun featuring a live DJ, free pizza and giveaways at the largest glow event of the year.
If you miss out on these welcoming weeks, you'll have to trudge through 50 more weeks until you get another shot at them next year.
Be sure to follow IUPUI and Student Affairs on Twitter to stay up to date with Weeks of Welcome, or visit the full schedule online.