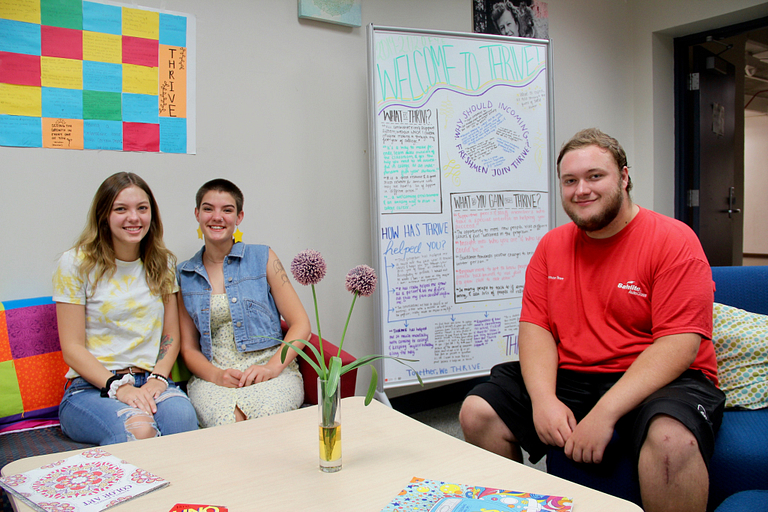 Being independent and 18 may sound like freedom, but for some students, it comes with hefty responsibilities and expectations. Thriving in the collegiate environment comes with extra layers of worry and processes to navigate.
Supporting independent students on campus is the primary goal of the THRIVE program at IUPUI, and it helps make graduation feel more achievable for 40 students each year.
Sunshine Gambill applied for the program as she struggled through completing FAFSA verifications and trying to appeal for independent student status. She noted that independent students have more struggles to overcome and things to consider than dependent students and is glad she found THRIVE.
"This program created an environment where I didn't feel alone in what I was experiencing, and I gained the support I felt I was lacking while trying to navigate college," Gambill said.
As a first-generation student with independent status, Quentin Foltz had no knowledge of college and the processes he needed to follow to fully integrate himself into the community. With THRIVE, he's not only gained the support of ensuring he is connected to the resources he needs to be successful – he's gained a family and sense of community.
"My parents weren't always around, and I am the youngest of five kids," Foltz said. "I didn't always have that support system growing up, and now I'm connected to a group of friends who understand what I am going through."
Sierra Bradway can relate to Foltz's sentiments. She learned about the program from her caseworkers as a child in the foster system. She had always wanted to attend IUPUI, and THRIVE made that dream a reality.
"I had a lot of questions my first year on campus – how to do this and how to navigate that, and I'm not sure I would have gotten the help I needed without being connected to this program," Bradway said.
THRIVE creates a sense of community and belonging for independent students through wraparound services and scholarship support. It fosters a mutually supportive community through mentorship and engaged learning in which students learn about emotional intelligence, their strengths and their values, among other topics.
Michael Kendall, assistant director of scholar support programs at IUPUI, directly advises and mentors the students in the THRIVE program. The program's curriculum follows the transformative education model – a transdisciplinary approach to building communities and teaching students how to thrive in life, in college and through the challenges they face.
"We are trying to teach students an understanding of how we all think and behave, how to recognize thoughts and feelings and accept and express them, and how to process and move through everyday life," Kendall said. "We are teaching the unwritten rules of thriving on campus with an eye toward the particular challenges our students in the program face."
Gambill shared that many of the students have developed coping mechanisms they didn't know they had because of their challenging experiences, and THRIVE has helped them become more self-aware and more understanding of who they are.
For Bradway, the program has pulled her out of her comfort zone and opened up new opportunities.
"I have learned how to be a better version of myself," she said. "I can now see a problem or challenge, take a step back, look at the bigger picture, and then move forward positively."
THRIVE connects each student with a peer mentor and assists students in finding on-campus employment. Gambill, Foltz and Bradway each had jobs while in the program, which helped give them an extra sense of security.
"Managing paying for rent, my car payment, insurance, food and just daily adult responsibilities on top of being a full-time student – and doing well – is difficult, and THRIVE has helped make it a little easier," Foltz said.
The THRIVE program is made possible by a grant and partnership between IUPUI and the Nina Mason Pulliam Charitable Trust, the primary granter. The grant for THRIVE was extended earlier this summer for the 2019-20 and 2020-21 academic years.
The program is designed to accept all students who apply, and first-year students who meet the qualification for independent student status are eligible to apply. While nearly all students are declared financially independent by the Office of Student Financial Services, there are some additional factors that might allow a student to qualify for the program.
Students who would like more information or have questions can contact Michael Kendall, mikendal@indiana.edu, or visit thrive.iupui.edu.