BLOOMINGTON, Ind. – In new rankings of national and regional universities released today by U.S. News and World Report, Indiana University Bloomington climbed 10 spots and once again is listed among the nation's top 40 public universities.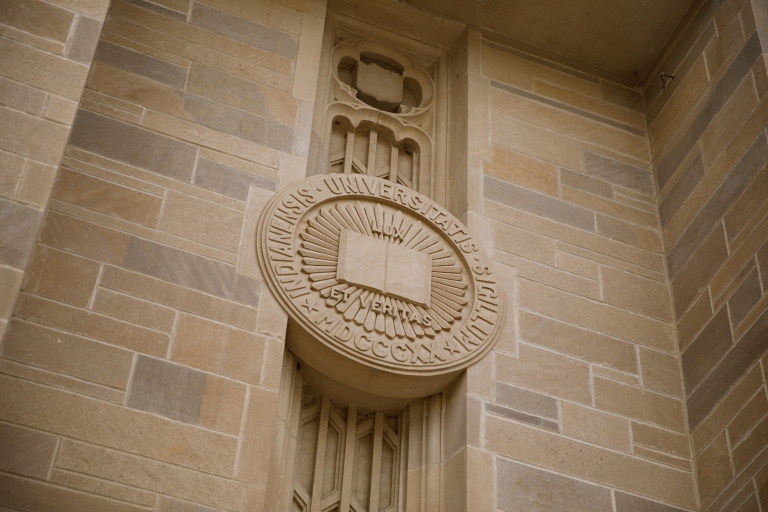 In a year in which the overall category of national universities expanded in size by about 80 institutions – from 336 to 418 – IU Bloomington increased its ranking to 79th and rose to 31st among public universities, up eight spots from last year. The campus also tied for 48th as a best college for veterans and tied for 77th in a listing of most innovative schools.
"While rankings can never tell the whole story of a campus, these latest rankings by U.S. News help reflect the success of our strategic campus initiatives to ensure positive student outcomes, enhance the diversity of our community of scholars and increase support for our impact-focused research enterprise," said IU Bloomington Provost and Executive Vice President Lauren Robel.
In May, IU Bloomington set a record by awarding more than 10,000 degrees, and the campus leads all public four-year residential campuses in the state in on-time graduation rate (69 percent).
This fall semester, IU Bloomington has welcomed its largest-ever class of 8,291 first-year students. In addition, the campus has welcomed record numbers of Hispanic/Latino, African American and Asian American students, with a total now of over 9,300 minority students – representing a doubling of this number since 2007.
Kelley School remains in top 10
IU's Kelley School of Business continues to deliver a quality experience for undergraduate students, as demonstrated through record enrollment gains and another top 10 ranking among all business schools in the U.S. News rankings.
Kelley also was ranked 10th last year and continues to be ranked second among its Big Ten peers and sixth overall among public institutions. The school has ranked in U.S. News' top 10 in four of the past five years.
"We always appreciate being seen as a top 10 business school through rankings like these, but also important to us is the confidence placed in our program by our students and their families, who see tremendous value in the education we offer and our talent-management model, as well as from companies across the country and the world who recruit our graduates," Kelley Dean Idalene "Idie" Kesner said.
This fall, the Kelley undergraduate program had the largest class of freshman direct admit students in the school's 100-year history – 1,973 students – with an average entering grade-point average above 3.9 and an average SAT score of just over 1434. Overall enrollment totals nearly 7,940 students, and the program has seen gains in the number of admitted women and underrepresented minorities. Female enrollment has risen by 115 percent since 2011, and underrepresented minority enrollment has grown by nearly 224 percent over the same period.
Kelley's entrepreneurship specialty remains first among public schools and third overall, and its accounting program moved up from sixth to fourth overall. Seven other specialties also were ranked in the top 15: marketing (sixth), management and management information systems (seventh), finance (ninth), production/operations management (11th), quantitative analysis (12th) and supply chain management/logistics (15th).
Recognition for IUPUI, IU regional campuses
IUPUI is tied for 109th among public national universities and tied for 228th overall. The campus also ranks in several specialty categories. It is tied for 57th in the listing of most innovative schools and tied for 61st for best undergraduate teaching.
Three of IU's regional campuses also ranked in specialty categories. IU Northwest ranks 18th for campus ethnic diversity among regional universities. IU Kokomo is 46th and IU East is tied for 51st for social mobility rankings among regional universities, recognizing good graduation rates among students who receive federal Pell Grants.