BLOOMINGTON, Ind. – In his Bicentennial Year State of the University address, Indiana University President Michael A. McRobbie spotlighted a number of recent record-setting and other major accomplishments that have the university well-prepared for continued excellence as it rapidly approaches its third century.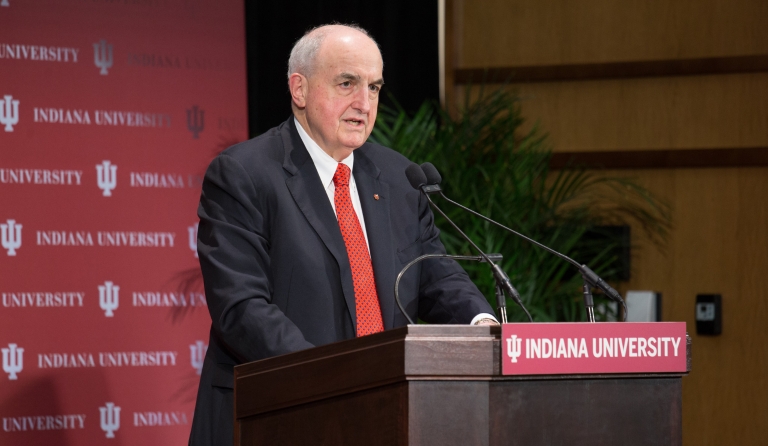 During his annual address to members of the IU community, McRobbie emphasized achievements in key areas – including student success, research, the health sciences, information technology, international engagement, online education, philanthropy and preservation – that reflect IU's commitment to advancing the goals of its Bicentennial Strategic Plan and responding to the evolving educational needs of Hoosier communities across Indiana.
These achievements include:
Graduating a new record of 21,500 students from all IU campuses last spring.
Welcoming the largest freshman class in IU's history (16,162 students), including record classes at IU Bloomington and IUPUI, and a record number of minority students (22,068).
Increasing financial assistance for resident undergraduate students by 227 percent since 2007, helping to ensure that an IU education remains accessible to Hoosier students from low-income backgrounds.
Reducing annual student loan borrowing by more than $126 million, or 19 percent, over the past six years.
Surpassing the $3 billion goal of For All: The Indiana University Bicentennial Campaign, well ahead of the universitywide campaign concluding on June 30, 2020. This has resulted in more than 4,700 new endowed scholarships and fellowships for students and over 200 endowed faculty chairs and professorships.
Receiving $680.2 million in external funding to support research and other activities last fiscal year, the largest total in the university's history.
Cementing the university's position as the state's online education powerhouse for four-year and graduate online education, as evidenced by a record 31,254 students – representing more than a third of IU's current student body – enrolled in at least one IU Online class.
Continuing to pursue an expansion of IU's clinical and health sciences educational and research programs through the development of a new IU Health Regional Academic Health Center in Bloomington, expected to be completed by the end of 2020, and a new IU Health Academic Health Center in Indianapolis.
Completing a master plan for IU's central athletics campus, which is now linked to IU Bloomington's main academic campus and represents an investment from IU donors and other sources of about a quarter of a billion dollars over the past 10 years.
Doubling, since 2007, the number of IU students who study abroad and ensuring that about a third of IU Bloomington students have studied abroad before they graduate.
"The state of the university at the bicentennial is strong, vigorous, innovative, ever-adapting and ever-committed to the fundamentals of an outstanding liberal and professional education," McRobbie said in his 13th State of the University address since becoming IU president in 2007. "As we celebrate the bicentennial, I am confident that Indiana University is well-positioned to leverage the strengths of its schools, its outstanding faculty, the dedication of its staff, its academic centers, its magnificent collections and, indeed, all of its assets, so that the enormous success of IU's first 200 years can continue and be built upon."
Transforming the university's academic structure for the 21st century
Speaking Tuesday afternoon from Presidents Hall on the IU Bloomington campus, McRobbie also outlined the progress IU has made in strengthening "the academic core of the university."
Since McRobbie announced the formation of a New Academic Directions Committee in 2010 to ensure IU was offering the "right kinds of degrees and educational opportunities for a university that aspires to be one of the finest of the 21st century," IU has established 10 new schools. Among them are the School of Public Health-Bloomington and Richard M. Fairbanks School of Public Health at IUPUI, the first two schools of public health in Indiana; the Lilly Family School of Philanthropy at IUPUI, the nation's first school of philanthropy; the Hamilton Lugar School of Global and International Studies, named last year in honor of former U.S. Rep. Lee Hamilton and the late six-term Indiana senator Richard G. Lugar; and the newly named Eskenazi School of Art, Architecture + Design, which includes the new J. Irwin Miller Architecture Program based in Columbus, Indiana.
McRobbie noted that this year is the 20th anniversary of IU trustees approving the nation's first school of informatics, which was founded in 1999 upon the vision of the late IU President Myles Brand. With the recent addition of IU's first engineering program, it is now known as the School of Informatics, Computing and Engineering, and it has become one of IU Bloomington's largest and most popular schools.
On Tuesday, McRobbie announced the naming of the school's building on the corner of 10th Street and Woodlawn Avenue as Myles Brand Hall in recognition of the pathbreaking contributions that Brand – who passed away 10 years ago this month – made to the university and its academic core.
Preserving and effectively employing IU's precious collections
McRobbie devoted a portion of his address to discussing the progress IU has made toward preserving its research and scholarly collections of video, audio and film – some of which was at risk of deterioration or was already deteriorating – and ensuring their most effective use in support of the university's teaching and research missions.
IU's Media Digitization and Preservation Initiative, first announced in McRobbie's 2013 State of the University address, has digitized 99 percent (more than 320,000) of its time-based media objects. The university also is halfway through the second phase of the MDPI project, which calls for digitizing 25,000 of the most important films in IU's extensive film collection by the end of 2020.
"Together, the two phases of MDPI are the largest, most ambitious, most systematic and most comprehensive such project at any university in the United States," McRobbie said. "When both phases of MDPI are complete, hundreds of thousands of hours of priceless and irreplaceable audio and video recordings and films will be preserved for all times and made publicly available for all people."
McRobbie also discussed recent and new investments in IU's material object collections. To this end, November will bring the grand reopening of the Sidney and Lois Eskenazi Museum of Art, which is undergoing an extensive $40 million renovation. IU's renowned Lilly Library will close at the end of 2019 for its first renovation, supported by a nearly $11 million gift from Lilly Endowment Inc. The renovation will take place in the same year that the library celebrates its 60th anniversary.
Additionally, McRobbie announced that IU will establish a new Museum of Archaeology and Anthropology to be formed from the acclaimed collections of the Glenn A. Black Laboratory of Archaeology and the Mathers Museum of World Cultures. The new museum will focus on the pre-Columbian Native American civilizations of the American Midwest and beyond. It will highlight IU's unique collection of – and engagement with – artifacts from the Mississippian civilization site in Angel Mounds near Evansville, Indiana, one of the nation's most significant pre-Columbian archaeological sites, as well as from other notable sites in Indiana and the Midwest.
The full text of McRobbie's address is available on the president's website. For an archived broadcast of the State of the University, visit broadcast.iu.edu.