BLOOMINGTON, Ind. – Indiana University, along with Purdue University, will develop integrated initiatives to better equip students and faculty to address ethical challenges presented by digital technologies thanks to funding from Lilly Endowment Inc.
The $348,980 planning grant to IU will bring together faculty and outside experts to develop an integrated curriculum to prepare faculty and students to confront current and future ethical challenges of an increasingly digital world. The work will be undertaken collaboratively with Purdue, which also has received funding from Lilly Endowment.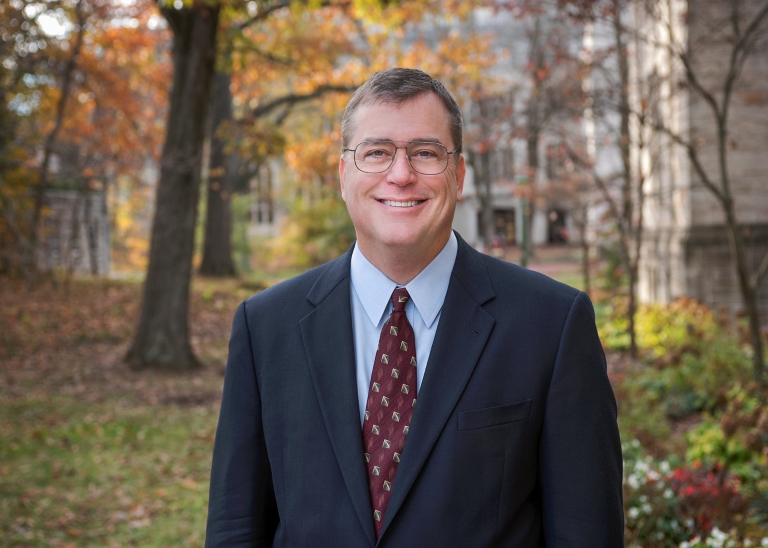 "Digital technologies from artificial intelligence to genetic engineering present new and challenging issues," IU Vice President for Research Fred H. Cate said. "This planning grant will provide critical support for IU to collaborate with our colleagues at Purdue to build curriculum and other programming to better prepare our students to address these challenges. We are deeply grateful to Lilly Endowment for its leadership and support in this critical area."
The initiative, Developing Character for a Digital World, will be led by a steering committee of faculty from a cross-section of disciplines, including information technology, law, medicine, business, philanthropy and humanities. Deliverables will be tailored to reflect distinctive challenges and perspectives of specific disciplines.
Six focus areas will make up the core curriculum: life sciences; artificial intelligence; digital communications, including social media; national and homeland security; the intersection of finance, business, law and justice; and the intersection of digital arts and humanities, education and research.
"This approach reflects the distinctive needs of different sectors of the workforce, as well as the practical demands of developing courses and co-curricular activities that will be integrated into existing, discipline-specific degree programs," Cate said.
"It is imperative that students today be prepared to responsibly address the ethical implications of the ever-expanding digital technologies that will be so much a part of their lives and future careers," said Ted Maple, Lilly Endowment's vice president for education. "Character development has been a long-standing interest of Lilly Endowment, and we are pleased that Purdue and IU are collaborating on developing curricula and programs for their students that will instill ethical values while teaching relevant scientific and technological principles."
Purdue will use a $491,043 Lilly Endowment planning grant to create Leading Ethically in the Age of AI and Big Data, an initiative to be convened by Purdue's College of Liberal Arts and overseen by a steering committee from across the university. The effort will bring together national experts in academia, business, government and other fields to discuss how to foster certain character and ethical values in their students as they learn the science and technology relating to digital technologies, such as artificial intelligence and big data management.
"All sectors of society are concerned about professional ethics in the context of artificial intelligence and data science," said David Reingold, the Justin S. Morrill Dean of the College of Liberal Arts at Purdue and a professor of sociology, who will help direct the Purdue effort. "While there are many areas of concern, there is consensus that leaders need both an understanding of the ethical implications and the possibilities of AI and data management."
About Lilly Endowment Inc.
Lilly Endowment Inc. is an Indianapolis-based, private philanthropic foundation created in 1937 by three members of the Lilly family – J.K. Lilly Sr. and sons J.K. Jr. and Eli – through gifts of stock in their pharmaceutical business, Eli Lilly and Company. While those gifts remain the financial bedrock of the endowment, the endowment is a separate entity from the company, with a distinct governing board, staff and location. In keeping with the founders' wishes, the endowment supports the causes of community development, education and religion and maintains a special commitment to its hometown, Indianapolis, and home state, Indiana.
IU Research
Indiana University's world-class researchers have driven innovation and creative initiatives that matter for nearly 200 years. From curing testicular cancer to collaborating with NASA to search for life on Mars, IU has earned its reputation as a world-class research institution. Supported by $680 million last year from our partners, IU researchers are building collaborations and uncovering new solutions that improve lives in Indiana and around the globe.