EDITOR'S NOTE: IU Cinema will screen "Henry Glassie: Field Work" at 7 p.m. April 21, 2022. The event is free, but ticketed. Glassie and Pravina Shukla are scheduled to be present. Purchase tickets on the IU Cinema website.
Even though a new film bears the name of Indiana University Professor Emeritus Henry Glassie, he doesn't feel as if the film is about him.
"Henry Glassie: Field Work," a new documentary that chronicles the worldwide travels and cultural finds of the renowned American folklorist, had its world premiere at the 2019 TIFF, the Toronto International Film Festival, in Canada.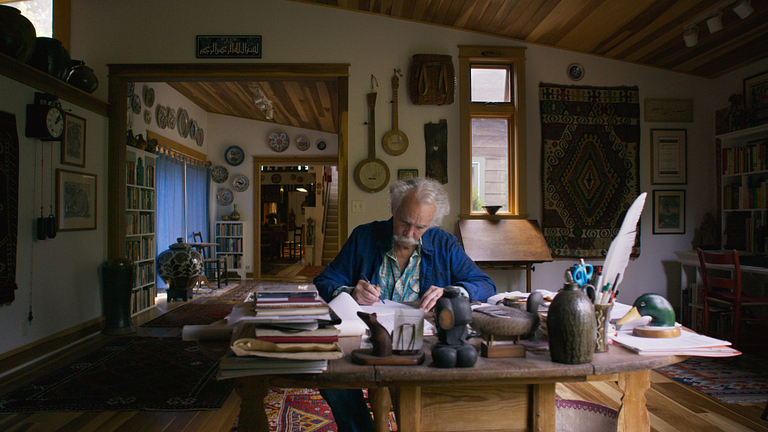 Glassie, who has spent his career studying the artistic impulse and how every culture manifests its own standard of beauty and meaning, believes that the true subject of the film is the talented artists he studies. In fact, that was the only reason Glassie agreed to work with director Pat Collins in the first place.
Collins, who is Irish, approached Glassie about making the film after hearing him interviewed on an Irish radio show. Even after a few meetings in Dublin, Glassie wasn't convinced. But a short time later, he and his wife Pravina Shukla – a professor of folklore at IU – returned to Brazil to provide copies of their latest book, "Sacred Art: Catholic Saints and Candomble Gods in Modern Brazil," to its subjects. Watching the artists he studies in action again made Glassie realize that high-quality footage of them working would be a valuable teaching tool for his wife's world arts and culture class.
"My hope is that our students will see a wonderful artist and our close friend Samwell – an impoverished guy from the streets of Salvador – making beautiful art and find it kind of upsetting," Glassie said. "I like the fact that it's a little shocking. Here he is in a dirty T-shirt with no teeth, but he goes into his father's forge and welds material into very beautiful, dangerous looking stuff."
Beyond joining Glassie and Shukla in Brazil, the filmmakers traveled to North Carolina, where Glassie began doing his field work in 1960 studying folk singers. The team also came to Bloomington and interviewed Glassie in his home. Throughout the process, Glassie said he came to realize how patient Collins and his team were with their craft and how their process of filmmaking drew parallels to the work he and his wife do as researchers.
When Collins and Glassie sat down to review the first cut of the film, Glassie realized that not enough female artists were represented. He knew that female artists are prevalent in Turkey from his years of research there, but the Turkish government wouldn't allow camera crews into its countryside to film these artists. Luckily, Glassie had shot nearly 15,000 photos during his time in Turkey. Collins was able to incorporate these photos throughout the film and make the final product more inclusive. The addition also made Glassie love the film.
"I think the big message for the film is that this kind of highly refined artistic skill is not restricted to people who have been to college or live a bourgeoisie existence," Glassie said. "It's all over the world, and it's all kinds of people."
Glassie and Shukla attended the premiere on Saturday in Toronto. Ultimately, Glassie and Collins plan to travel throughout rural Ireland to show the film in hopes of inspiring residents to find beauty in their surroundings.
"I think this film shares how exhilarating it is to come at the world from a different angle and to accelerate what's good about it," Glassie said. "It can all be so wonderful if you don't go in with a bad attitude. The world is really big and full of wonderful people and beautiful art."