IU President Michael A. McRobbie to deliver State of the University address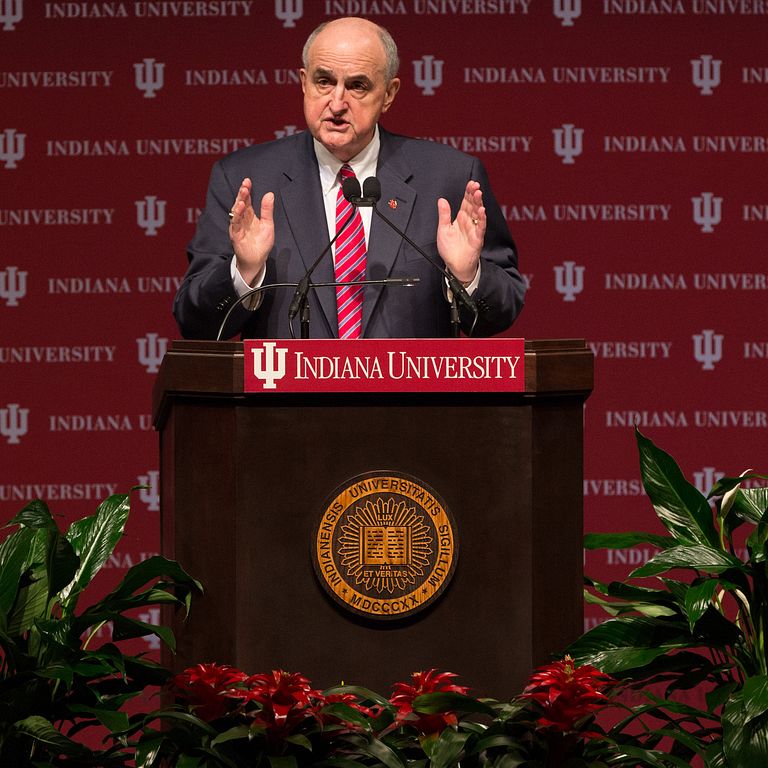 IU President Michael A. McRobbie will deliver his Bicentennial Year State of the University address at 1:30 p.m. on Sept. 24. The event will take place in Presidents Hall at Franklin Hall on the IU Bloomington campus. A reception with light refreshments will follow the address.
Members of the university community are invited to view the president's address in person or in the following ways:
Via live-stream broadcasting at broadcast.iu.edu.
On tape delay at 5 p.m. Sept. 24, off-air on Digital Multicast Broadcast Channel WTIU-HD 30.1, on WTIU Comcast/Xfinity Cable Channel 5 or Channel 1030 in Bloomington, or where available.
On tape delay at 7 p.m. Sept. 24, off-air on Digital Multicast Broadcast Channel WTIU-World 30.2, on Comcast/Xfinity Cable Channel 17 or Channel 419 or Channel 1162 in Bloomington, or where available.
On tape delay at 10 p.m. Sept. 26, off-air on Digital Multicast Broadcast Channel WTIU-HD 30.1, on WTIU Comcast/Xfinity Cable Channel 5 or Channel 1030 in Bloomington, or where available.
Via archived broadcast, available soon after the address, at broadcast.iu.edu.
Heads up, staff: Apply now for professional development grants
Applications for professional development grants through the Bloomington Professional Council are open through Oct. 1.
The purpose of the grants program is to award recognition and financial support to individual professional staff members who engage in professional development activities that will enhance the status of and demonstrate the value of the entire professional staff at IU Bloomington.
Grants are jointly funded by the Bloomington Professional Council and the Office of the Provost. Learn more about eligibility and how to apply.
Pelley: Journalism can disinfect government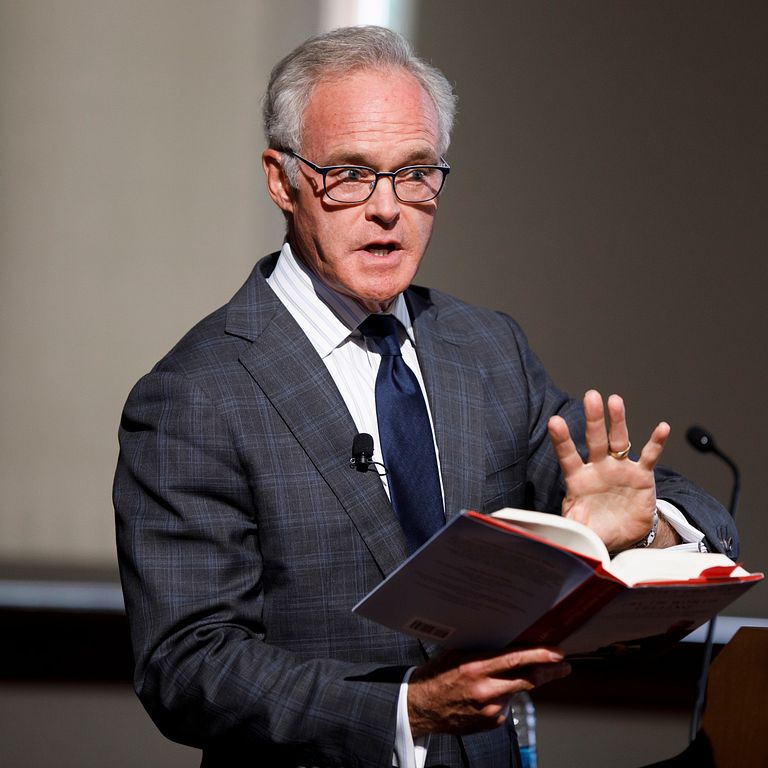 "60 Minutes" correspondent Scott Pelley delivered the keynote speech during the Sept. 12 full-day launch event for the Michael I. Arnolt Center for Investigative Journalism at The Media School.
He said today's young journalists must learn to combat the increasing amount of bad information in the world to preserve democracy's future.
Funded by a $6 million gift from alumnus Michael I. Arnolt, BA'67, the center will teach about and produce high-quality, multimedia investigative journalism.
IU alumnus wins Lasker Award for developing anti-cancer drug
For the second year in a row, an IU alumnus has won a Lasker Award. This year's recipient is H. Michael Shepard, who received a Lasker-DeBakey Clinical Medical Research Award.
Shepard is an innovator in the field of biotechnology and pioneer in cancer research. He earned his Ph.D. in molecular, cellular and developmental biology in 1977 from the IU Bloomington College of Arts and Sciences' Department of Biology, where he also completed postdoctoral training as a Damon Runyon-Walter Winchell Research Fellow. He returned to the Bloomington campus in 2018 as an IU visiting scholar to speak to biotechnology students.
The Lasker Awards, established in 1945 by the Mary and Albert Lasker Foundation, are widely regarded as America's top biomedical research prize, with nearly 90 past recipients going on to win a Nobel Prize.
Last year's alumni recipient was C. David Allis, who won an Albert Lasker Basic Medical Research Award for a fundamental discovery that opens up a new area of biomedical science.
B-Town Improv Hoedown will benefit IU camp for teens with autism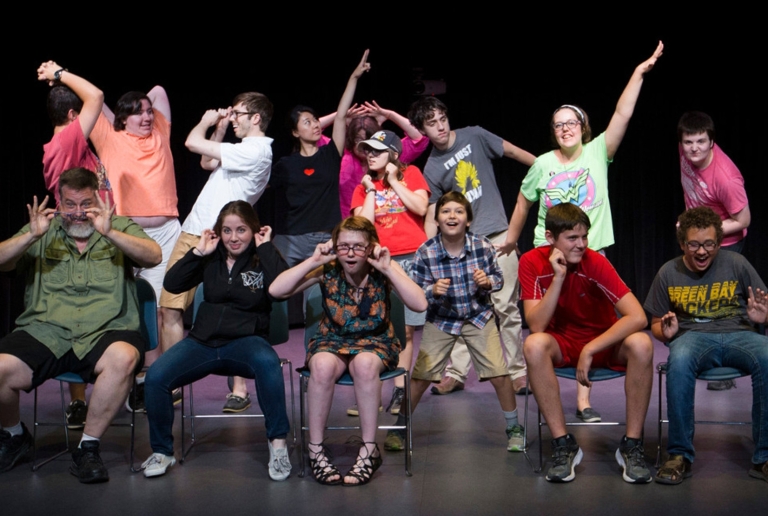 Bloomington residents of all ages are invited to learn, laugh and do some good at the city's first and only improv festival. The B-Town Improv Hoedown will feature daytime improv workshops for professionals and performers, as well as evening improv comedy shows for all ages.
All proceeds will benefit theater programs, including Camp Yes And, a free summer camp for youths with autism and teachers.
The festival takes place from 9 a.m. to 11 p.m. Oct. 5 at the Ivy Tech John Waldron Arts Center. Ticket costs for workshops and performances vary.
More information is available by visiting the Improv Hoedown web page or calling 812-855-8343.
WTIU hosting 'An Evening with Judy Woodruff'
Broadcast journalist, host and editor of "PBS NewsHour" Judy Woodruff will speak at "An Evening with Judy Woodruff," hosted by WTIU at 7:30 p.m. Sept. 21 at the Buskirk-Chumley Theater.
Tickets are available on the Buskirk-Chumley website, including a special front-of-house deal in return for a member-level contribution.
Bradford Woods employee receives Educator of the Year award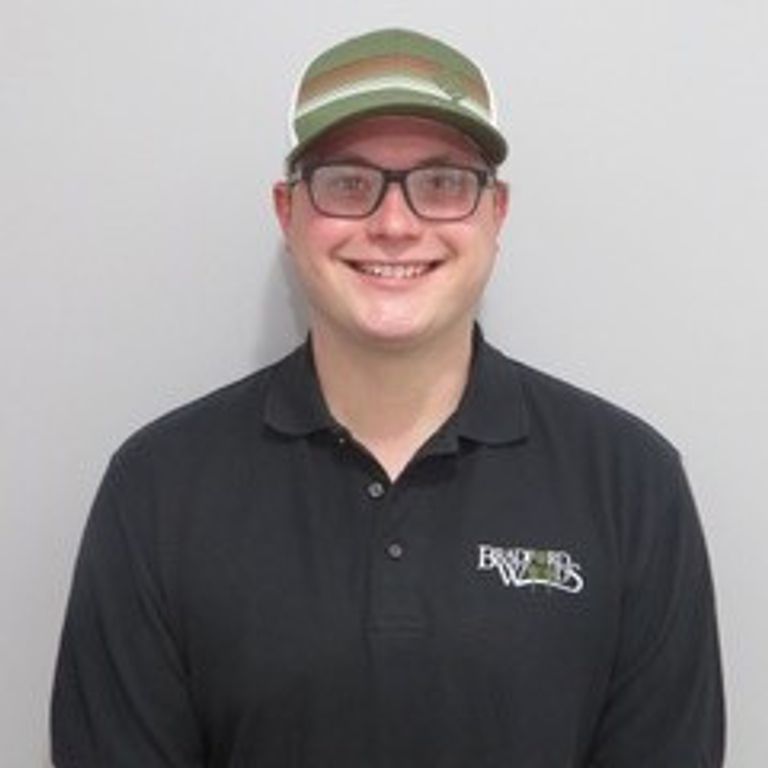 Chad Simmons, assistant director for retreats and special events at Bradford Woods, has been named Recreation/Leisure Educator of the Year by the Indiana Society for Health and Physical Educators.
The award recognizes the work of an individual who exhibits outstanding and creative leadership in the recreation profession or as an innovative leisure educator at the college/university level. Simmons was nominated by a former professor and was selected from all the nominations received within the state of Indiana. He is also in the running for the Midwest District Recreation Professional/Leisure Educator Award.
In his role at Bradford Woods, Simmons coordinates about 200 events each year, while also facilitating outdoor education and adventure therapy programs. He is pursuing a Ph.D. in leisure behavior from the School of Public Health-Bloomington and sits on the Board of Directors for Recreation Therapists of Indiana.
National doctoral education initiative kicks off with 8 member campuses, including IU Bloomington
IU Bloomington is joining seven other member institutions of the Association of American Universities to improve the educational experience of doctoral students and to more effectively promote the diverse career pathways available to them.
The AAU PhD Education Initiative aims to promote more student-centered doctoral education at AAU universities by making diverse career pathways more "visible, valued and viable."
As a member of the pilot cohort of the new initiative, IU Bloomington will seek to implement reforms within its graduate programs in the arts and humanities and in the STEM fields of science, technology, engineering and math. These reforms will address the culture, behavior, policies and practices necessary to construct student-centered educational environments and to successfully prepare doctoral candidates for careers both within and outside of academics.